The former world number eight Cory Lopez remembers his best friend Andy Irons… 
Cory Lopez is the 37-year-old surfer who can claim Andy Irons as his best pal. The pair met when they were both lighting up the boys division at the US amateurs at Diamond Head on Oahu. Cory was 13; Andy was 12.
Andy thought Cory, with his long dyed black hair, was "a punk." But, still, they hung out, 'cause Cory, being Cory, and Andy being Andy, well, "we were the radical kids in our group. I came from a single dad and he was running loose and having fun. We weren't bad kids but we were wild kids. My brother Shea was three years older than me and so when I was 13 I was doing the things 16 years old do. Andy saw me having fun and… you know how it is. We were ready to surf and have a good time…"
And so from amateurs to the qualifying series and to the world tour, the pair became as tight as friends get. Every January when the tour went into its yearly hiatus after Pipe, the pair would grab their girls and vay-cay somewhere not necessarily for the waves, but anywhere away from the heats and cameras and phones and whatever else, somewhere, and it was usually in the Caribbean, where they could surf a little, swim, scuba dive, inhale a cocktail here and there. Flash trips.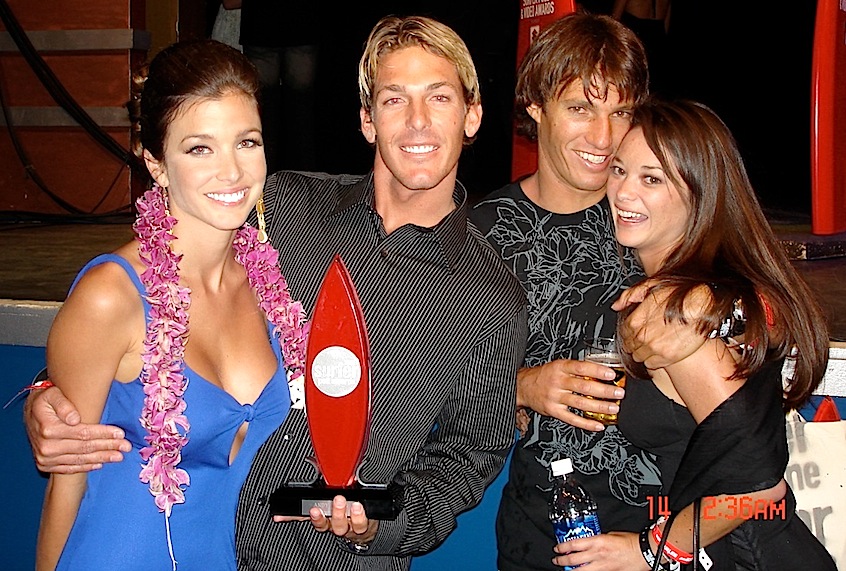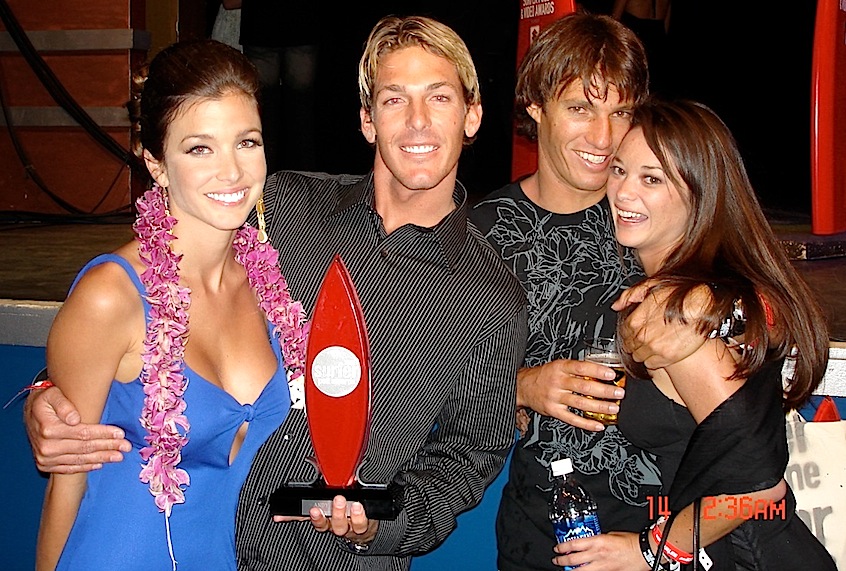 "No pressure, just me, him and our girlfriends," says says Cory today, speaking on one of those wonderfully clear autumn nights at Indian Rocks on Florida's Gulf Coast. A day that also marks the fourth anniversary of Andy's death in room 324 at the Grant Hyatt, Forth-Worth International Airport.
Cory had just landed from a trip to maybe the Azores, or was it Donkey Bay, Cory can't quite remember, but he was listening to voicemails from Andy, who was in Miami the night before, saying, "Cory! Where you at?" And this is where Cory laughs 'cause Andy couldn't quite fathom that even though Cory lived in Florida, Miami was a four-hour drive, even with your foot to the floor.
And then he heard from the Venice Beach filmmaker Alek Parker that Andy had just been found dead in Texas. "Alek told me and I didn't want to believe it. I got another phone call and you just don't start a rumour like that. No one would fake a rumour like that. It instantly hit. There's disbelief, all these emotions, you can't believe it's true but you know it…is… true. You want it to be a nightmares that you can wake from. I still have dreams that it's not true."
Let's talk a little about Andy, the dynamic motherfucker. "You know how Andy was. Everything was full-bore. We were best friends and I'd have him in a heat, and in some of those years I was top eight and he was running for the title, and we'd be in the water screaming against each other. It'd take a good two hours or even the next day for us to be normal again. Andy was a real passionate human being but he had so much love for everyone."
Cory says that Andy's great social skill was his phenomenal memory. "He could go anywhere in the world and anyone he'd met at any time in the past, he'd remember their name and what they were talking about, even if it was five years before. He'd make them feel so special. Y'know, I was lucky to have been so close to him for so many years. I think about him all the time. (His death) is something I'll never get over, no matter how much time goes by. I think about his every day. I've had dreams about him, crazy dream, dreams that would blow your mind, but I'm not going to share them.
"Life and death is such a fine edge we ride. Andy wouldn't have been who he was if he didn't do what he did. That's why we loved him so much, because he was so extreme. We lived vicariously through his radical and wild life."