A lonely death.
A bodyboarder has been killed by a shark, likely a Great White, on Christmas Eve morning at a San Luis Obispo County spot near Morro Bay called The Pit, an open beachbreak less than a mile north of Morro Rock.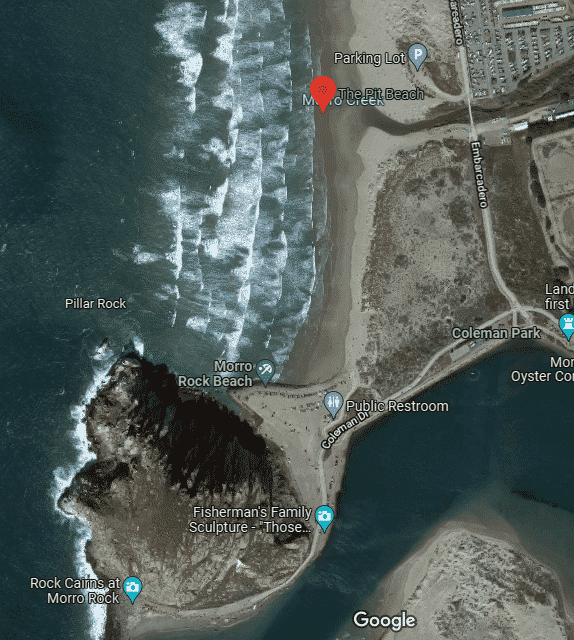 Most of the information comes from Facebook posts.
According to Jennifer Little, no one witnessed the attack, and the boydboarder's body and board were found by surfers:
"Fatal Shark attack at the rock in Morro Bay on Christmas eve. Very sad Surfers found the body. Sheriff's were in the pit parking lot going car to car trying to figure out who the victim was based on cars still parked."
At 1:17 PM, the Morro Bay Police Department issued a press release that wasn't much more illuminating:
This stretch of beach is no stranger to shark sightings and attacks.
In September of 2015, a shark sighting cleared 70 people out of the water tout suite. This was one day after a 72-hour clearance order was issued four days after 54-year-old surfer Eleanor Dempsey was attacked by a shark around 10:15 AM at Morro Strand State Beach, according to a news article in the San Luis Obispo Tribune:
Dempsey said she had been in the water about 35 minutes when she saw the shark approach her about 2 feet underwater. "First I thought it was a dolphin and I thought, 'What the hell is he doing?' " she said. "And he kind of landed on my board. Then I realized he had taken a chunk. And I was, like, that's not what dolphins do."
Dempsey estimated the shark was 7 or 8 feet long and as big around as a stout man."
More as it comes.