Can Julian Wilson, Mick Fanning, Taj Burrow and Josh Kerr really be wrong?
In the good old days, there were no Audis. Surfers drove ugly long-snouted station wagons and those fat maggots called Kombis. Every surf trip was a pain-in-the-ass that kinked the spine and drained the wallet in gas money.
That was back when the surfer was damned, persecuted, ostracised; when he was wild and deadly. When we were radicals and self-proclaimed wave-dancing outlaws, however fatuous.
Our fascination with being hard-core changed sometime in the nineties when the money spigot got turned on. Pro surfers became millionaires. Whomever happened to fall into the surf clothes game early drowned in his dividends.
The rest of us on the periphery soaked a little in it, too. Shapers made some cash if they were smart enough to market 'emselves. Even the toy-collecting graphic designers who enslaved 'emselves to brands were scooping up six-figures.
And so, naturally, our car of choice changed.
Who wants to be broken down on the side of the road or driving a car that sounds like it has asthma or swallowed by a cabin of grey plastics and cheap digital clocks pressed into the dash when we could be embraced by the finest in German engineering?
No, it ain't Mercedes (median age of owners, 55) or BMWs, (a garish kind of teutonic Subaru).
Audi. Don't the name just ring? Cars so graceful and beautiful they make our dreary lives seem richer. Luxury in simplicity.
Ask Julian Wilson, whom I see patrolling the streets of Bondi in a black A1 (with co-pilot Jimmy Lees) or Josh Kerr, rolling through Baja in a Q5, or even Mick Fanning, in his nut-brown A4.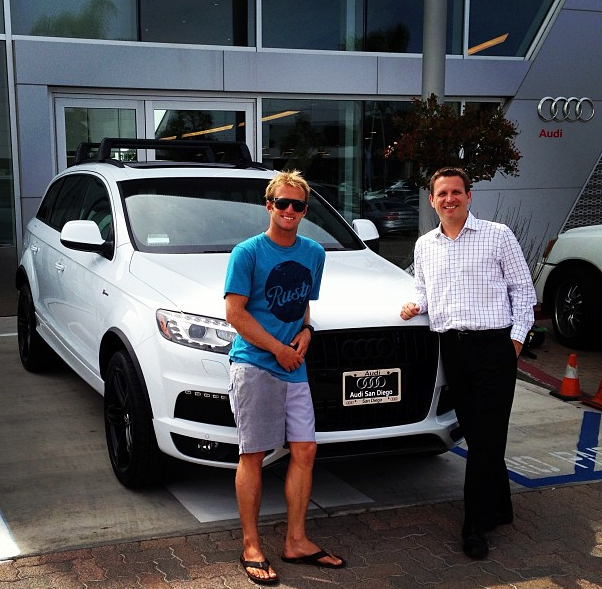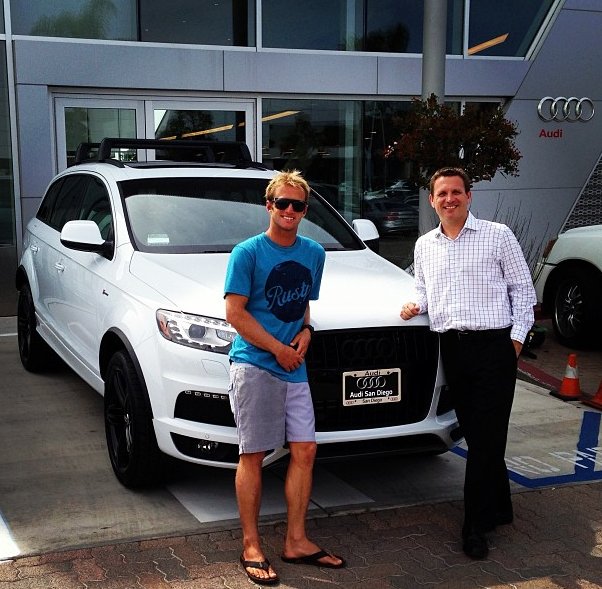 Luke Stedman had a S-series wagon; Andy Irons drove a Q7, Bruce drives an A4. Taj Burrow's three-litre  A6 became legend among his pals as it was handed from one to another, a lifeboat to his carless friends.
When Matt Biolos goes surfing at Lowers he doesn't sling his Couch Potatoes and Rockets in a Dodge; he chooses a sleek black Audi A3 Sportback.
The Audi is an angel that stands in quiet piety among a crowd of grotesque bland.