Buy an original Aichner transparency! Get the king back in the drink!
Scott Aichner is a Ventura-based bodyboarder with a wrestler's neck, torso and hams. He is also, or at least was, maybe still is, more on that soon, one of surfing's great exponents of the wide-angle water shot.
In the early to mid-2000s, Ike based himself on Oahu, never missing a swell at Off the Wall, and when that season passed, would walk the camino trail to Puerto Escondido. Ike was Surfer magazine's prized staffer and his images filled 80 magazine covers across the world.
A thinker, Ike even came up with a dual-camera device able to shoot a 270-degree angle. But, like a lot of surf photographers, Ike quit the game when print mags began their inevitable contraction as surf co's moved to cheaper, more effective advertising online.
"The mags were shrinking rapidly," he says. "This was in 2009 and selling print ads was becoming harder. I also wanted to surf when the waves were good."
Ike says he always had this "little guilty dude on my shoulder whispering, 'You should really be shooting not surfing."
Lately, however, the old itch is back.
"I miss the hunt and the score, when you and the surfer realise you just nailed it."
But it ain't stills this time. Ike wants to shoot motion. Slow motion. Using the vaguely accessibly ($25,000) RED cams developed by Oakley founder Jim Jannard.
And so, in the words of Ike, he's selling "30 of my most-prized images to raise enough dollars to buy a high-speed movie camera. Get a housing built and jump back in the water."
Ike says it's like "selling a little bit of your soul, Yeah, it stings."
He's posting one image a day on ebay. "Opening bids are $US1400 for the main image. The image is an 8 x 12″ print with the original slide mounted below, lit with a  battery-powered LED light box behind. The matte is 16 x 16 and the total frame size is 19.5 x 19.5″. I wanted to produce one-of-a-kind surf art."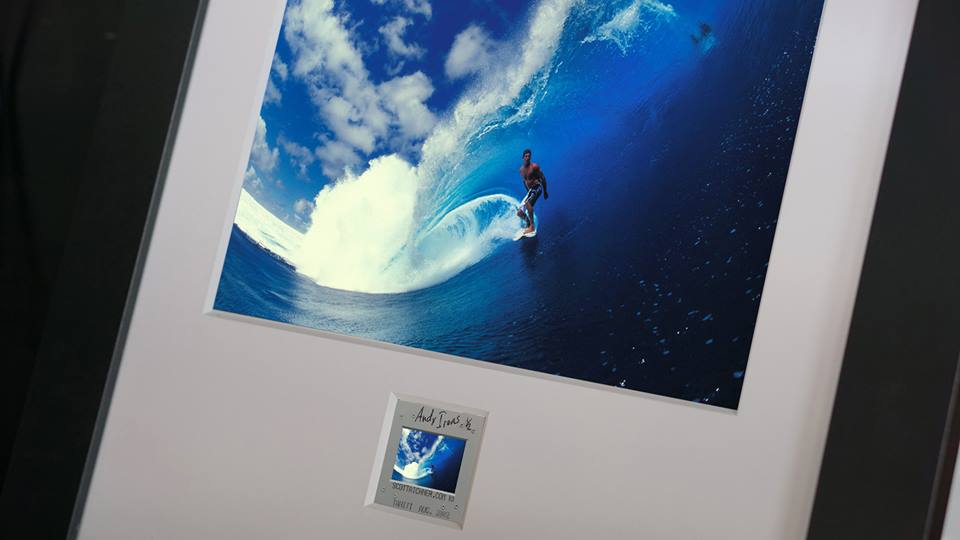 What thrills him so about slow-mo that he's willing to give up a crucial slice of his body of work?
"It's where I started before stills. I was always fascinated by Jack McCoy's films. The watery wide-angle slow-mo's just captured me. The ability to expand time in the barrel from one second to 20 seconds or more. Back then, I bought a high-speed 16mm camera, had a housing built and moved to Hawaii. Then I gave stills a go and had a couple of covers in my first North Shore season. I was hooked! But I love motion!"
Got room on your wall? Room to move on your credit card?