Good old fashioned big-wave schmaltz!
Opening day at a big wave is always a thrill. The jetskis are wheeled out of garages in the very early morning, ropes are checked, tanks are fuelled, cameras of every flavour are readied, those little inflatable vests, each with fresh air cartridges, are strapped on to the surfer, surfboards are carefully waxed (one slip!) and
…just wow.
A few days ago, the wave Nazaré opened its gate. As the best surfers in the world drifted home after surfing four-foot beachbreaks in Peniche, the not-best-surfers in the world headed out to ride the world's most photogenic, if dubious, big wave.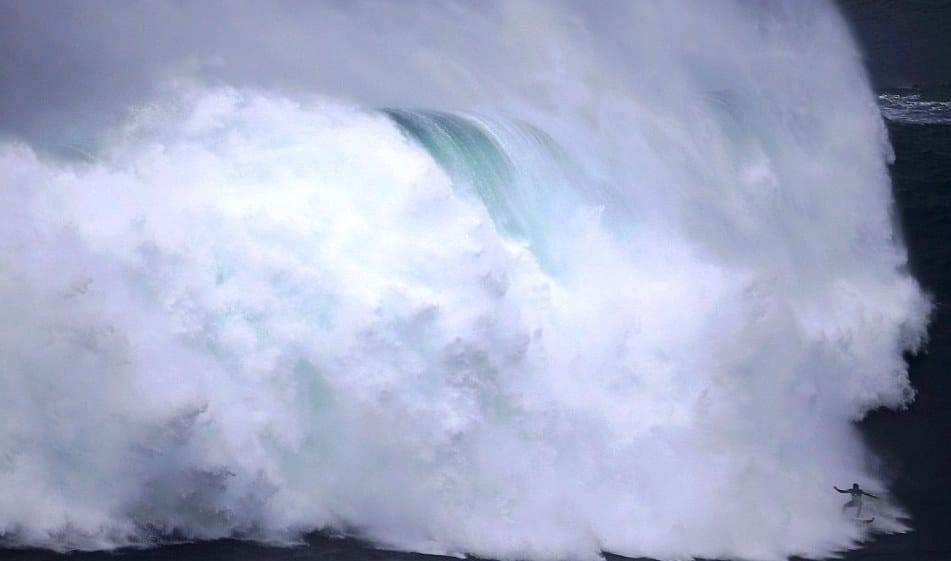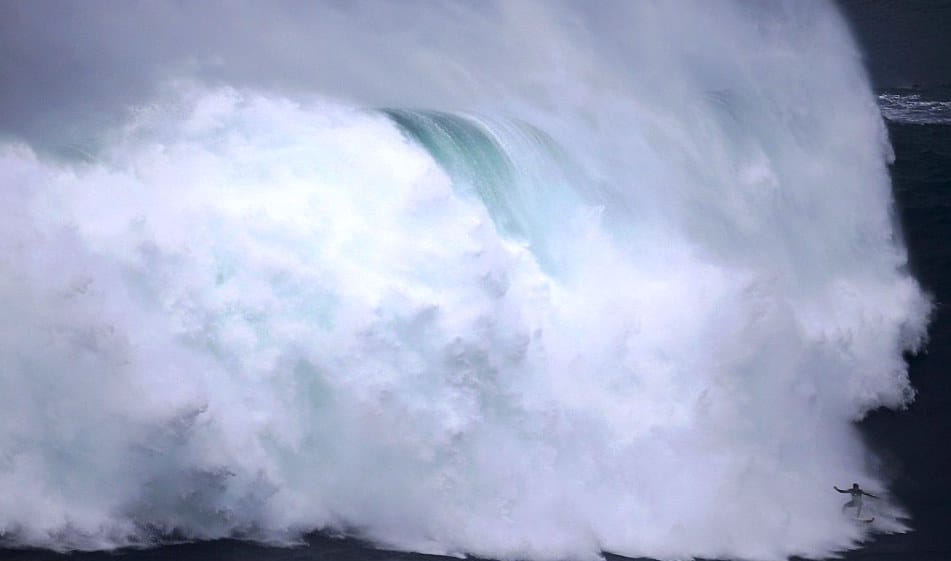 As the UK's Daily Telegraph reported, "It's the world's most powerful and monstrous wave – yet it didn't put daredevil surfers off showcasing their skills.
"And as huge tide crashed into shore from a stormy sea, the wave-riding heroics saw it as an opportunity to show just what they're capable of.
"Their spine-tiggling displays were guaranteed to leave stunned spectators with hairs standing up on the back of their necks.
"Photos captured the remarkable attempts to surf the monster waves whipped up by powerful storms in the North Atlantic at Praia do Norte in Portugal today.
"Amazing images show the tide as it comes roaring towards surfers who risk it all to ride them.
"The beach has become famous for huge waves since Hawaiian surfer Garrett McNamara received a world record for the largest wave surfed in 2011."
I can hear you laugh! Me too!
But not so quick. It's easy to rip into somewhere like Naz when you're safe tapping the keys at home.
I asked Shane Dorian about the joint once and he recalled being tossed like a salad at the joint.
"The place is a logistical nightmare," said Shane. "We lost a couple of skis. And, it's really hard to do rescues there, really really hard. Each surfer needs his own water rescue guy on a ski. At all times. It's really super dangerous. There's a cliff there. All that shit. Once, I caught a wave and we lost one of the skis in the shore break. I finally got back out there an hour later. I got a couple more waves and then we had to ditch another ski on the sand. It is just chaotic. I had one of those feelings that I should be happy with the two waves I caught. It's a full on beach break. It's like these big wedges down the beach so every time you catch a wave there's no way to paddle back out. You need a jet ski to come and get you right away and there's a rip sucking you straight into a big cliff. It's a lot like the north shore when the waves are big. The water's really angry."