On the road with the world number six, Brazil's Italo Ferreira…
The stubby, handsome, friendly face of the Brazilian surfer Italo Ferreira answers the door to his Margaret River rental like a surprised big-eyed animal.
"Yeah, yeah, yeah!" whoops the twenty-five year old, flinging open the door to a scene of Timmy Patterson surfboards dressed in yellow camouflage and cast around the lounge room as if his board bag has unexpectedly erupted.
Of all the world title contenders, a category Italo firmly belongs in, three contest wins last year and a last-minute 540 on a two-foot wave to win the Quiksilver Pro this year and that is still being discussed in the Margaret River carpark one month later, he's the only one that carries the perpetual ecstasy of the looter.
It's an old and hackneyed story, but in Italo's case it's true: the key to the pro surfing kingdom wasn't presented to him on an upholstered velvet cushion via a dad that surfed, a benevolent sponsor and a training program where men stand on the beach under an umbrella filming the children for later review of technique.
Italo grew up in a fishing town in north-east Brazil, population eight thousand, called Baia Formosa; a joint where the only paved roads are the ones that lead into the village.
Italo's pops would wander the beach and buy the catch of local fisherman and make his profit, a slender one but enough to feed his family, selling fish to restaurants.
His skinny son wanted to surf so Pops gave him the foam lid from the box he kept his fish in.
Eight-year-old Italo was so small it just worked on Baia's little righthander.
Then, and in short order, an older friend who saw the boy's love of surfing gifted him a fibreglass surfboard, he won the first contest he entered, moved onto regional events and then national, trying to win "cars, motorbikes and tickets to fly overseas."
The rest, the elevation to stardom, came quickly
In 2014, when Italo would finish seventh on the WQS, Dino Andino, whose own son would miss his first tour victory four years later because of Italo's preternatural ability, came up to Timmy Patterson, Italo's shaper since he was fifteen, and said, "Who is that Italian guy? He's doing floaters on eight-foot closeouts on grinding beachbreaks and making 'em. He's going to be on tour next year. That guy's a freak."
The following year, Italo was the in-form rookie on tour, third in Rio, fifth in Fiji, fifth in Tahiti and second in Portugal, finishing seventh in the world and rookie of the year.
Patterson had been turned onto Italo's talent in 2008 when Italo's manager, Luiz "Pinga" Henrique, told 'em they should get in on the ground floor with this kid. Patterson, who builds the boards via Silver Surf Surfboards in Brazil and until 2011 with Oakley picking up the tab for the raw materials, made him a five-four that was barely fifteen inches wide from a modified version of Adriano de Souza's CAD file.
"I think Pinga sent us the wrong dimensions," says Patterson. "The boards looked kind of weird but he managed to make them work."
When he first met Italo, Patterson describes the skinny little kid with the big hair him as looking like a "match".
And then he saw him surf, for real.
"That was when we all saw his potential," he say.
When you interview Italo, who along with another Brazilian, Yago Dora, is redrawing the lines a goofyfooter can make, it's not the usual exchange over a table or on the beach, a telephone doubling as a voice recorder.
When you come to interview Italo, you live with Italo.
You eat, you surf, you train, you sing.
Italo travels with his girlfriend, the Disney Brazil host and singer from Rio, Mari Azevedo, whom he met last September on a shoot; she, host, he, talent.
Mari, the big city girl, Italo, the archetypal country mouse.
The difference in lifestyle between Rio and Baia Formosa is stark.
Heels versus bare feet; flashy city money versus men buying fish on the beach to feed their families; jewels v shells.
When I ask 'em if Mari's on the tour full-time, Italo barks a definitive and relationship confirming, "Yes!" over Mari's shy "Ahhhh."
https://www.instagram.com/p/BzWCYxVA9pn/
Later, after a surf where Italo scoops up the inside cream at Main Break, he makes the interviewer a Brazilian-Style lunch of beans, chicken and sliced banana, a concoction that tastes better than it sounds, the tender fruit collapsing through the meal of flesh and legumes.
Over lunch, Mari, who is twenty-three and who has barely left Italo's side since they met, hits play on the song, Voce, which she wrote about Italo, and which you can download from Spotify.
Translate the Portuguese lyrics and you get,
"Butterflies that were never there come with your scent"
"The heart of stone you melted"
"You took care of me in ways that I could never imagine."
You'll note the cover of two lovers' hands entwined, one forearm dressed in tattoos that will be immediately familiar to surf fans. The pair shot the photo on their iPhone, using the timer feature, and Mari designed the cover on her computer.
Mari's English is a little better than Italo's and he'll defer to her mid-sentence to make sure his intended meaning is conveyed.
The language barrier does mean no great truths will be discovered although this isn't any different to those English-speaking pro surfers for whom education was removed from their lives like a troublesome cyst some time around their twelfth year.
At one point, and at my request, Italo'll show me the Instagram post which he'd examined prior to their first meeting and that made him fall in love with her.
Mari sits astride a chair in white bikini bottoms. Her yellow hair waterfalls over brown skin and a red brassiere. Both eyes are closed and Mari's tongue laps at an imaginary milk bowl in the sky.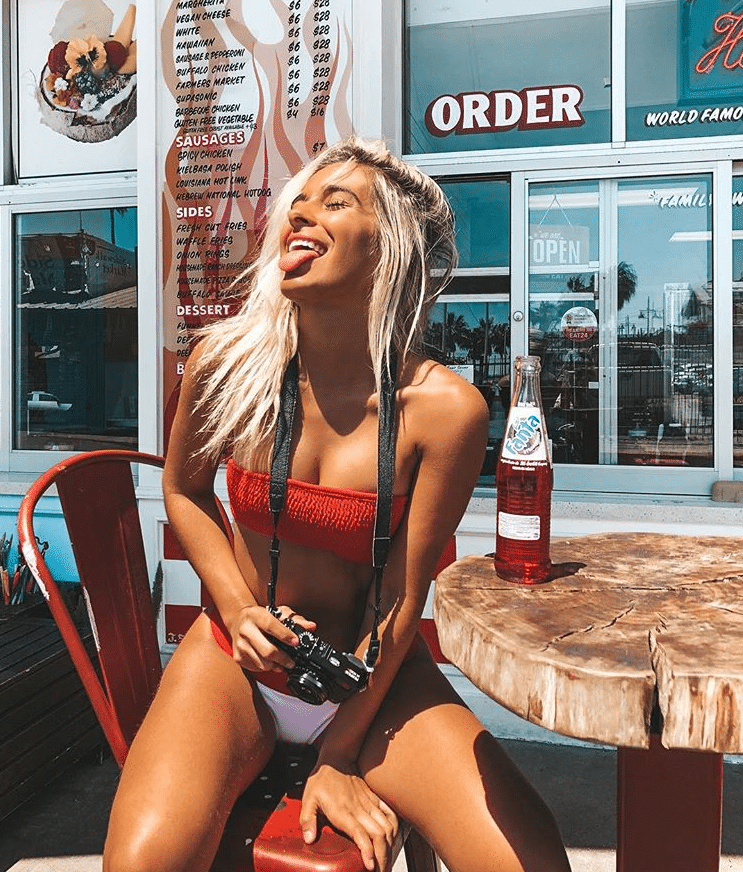 Italo looks at me. One man to another.
I get it.
                                                                               **********
The ankle. Look at the right ankle. It's perpetually swollen to hell because, as anyone who can spin 540 degrees using the Cote/Richards method ("The full rotation is a 540, it's obvious," says Italo), you land on the front foot. In Bali, while training for the Keramas event, Italo's foot was pushed backwards on a bottom turn.
Two year earlier, same thing. Blew it out at D-Bah. Missed three events.
This year, he sent for his physio from Brazil who worked on him for ten days straight.
Italo is serious about winning.
And Italo is, like Filipe and Gabriel, among the only surfers on tour who can huck 540 on a two-foot wave, something Kolohe learned to his eternal chagrin at D-Bah.
To demonstrate how the front foot gets worked on 540s, Italo will perform the 540 motion, leaping off the carpeted floor, comparing it to a 360 where the back foot jams the car back into gear.
The ruined front leg means Italo has had to become an animal on the leg machine at whatever gymnasium he's hitting.
It also means he'll freesurf four times or so a day, but call it at ten waves, one hour max.
"Save my body," he says.
Or, in the case of Western Australia he won't surf for four days because there's nobody around and the last time he was here Whites hit two surfers in two days and the contest was cancelled, partly at his and Gabriel's behest.
The Australian writer Tim Winton, whose surfing-themed book Breath had just been turned into a movie, described Italo and Gabriel as "conniving", as if their concern was contrived for competitive advantage.
If you could see Italo now when you start talking hits by Great Whites, the panic in his eyes, the stutter in his voice, you'd know the fear isn't a confection.
For four days, Italo and Mari, who doubles as filmer and shark-spotter, got up as that gorgeous citrus sun rose over the vineyards in the east, the grapes dressed in a hiss of fog, put on their signature all-back outfits which contrast perfectly to hair on both heads bleached white, and drove to the beach.
But, there wasn't a soul around.
For four days.
No surfers.
For Italo this meant no surfing.
"We watched a lot of movies," says Italo, who jokes that if he wins Margaret River he'll have a shark inked on his back.
(He doesn't, of course. His event highlight is a wave at the Box that involves a miraculous escape from the lip and into the barrel which earns a ruthlessly underscored eight and a piece. We're told it was his first-ever ride there. It wasn't. Italo had surfed there before, took one wave, face planted and came in.)
Italo's head noise about sharks got the point where he hit up an old pal from Brazil who was living in Perth and who subsequently dropped everything to spend a week down south with Italo.
Big sharks aren't a theoretical construct down here in the south-west, three hours drive from the capital city, Perth. They're real.
People, mostly surfers, die.
The names Brad Smith, Nick Edwards, Kyle Burden and Chris Boyd, all killed by Great Whites at popular waves, carry a weight, a gloom.
Italo shakes his head.
He doesn't feel good, he says.
Usually when he goes for a surf he can delete everything, problems with his life, his family, the tour, and just surf, focus on moves, combos, all the elements that will deliver a world title.
But in Margs?
"The energy is bad," he says.
                                                                        **********
Energy. Spirit. Passion. More hackneyed phrases.
But, for Italo, they just work.
SCENE: A portable toilet at Bells Beach in 2018. Italo is in the second semi-final against Gabriel Medina. Spectators see Italo enter the toilet with his surfboard. He gently closes the door for overt politeness is a character trait of the Brazilian. The door clicks locked an the crowd watches as the little tower suddenly starts shaking from side to side.
There's a fortississimo boom…boom…boom… as the walls are, what, punched?
Inside, Italo is bouncing off the walls, telling himself, "Just one more! Just one more!"
Before the final against Mick Fanning, who is in his farewell event, Italo enters again.
The toilet shakes and bangs.
"Just one more!"
Italo punches the wall.
Repeat, repeat, repeat.
He leaves, smiles meekly at his fans and takes out Fanning.
At Bells. At Fanning's final event.
He walks the stairs, steps back into the toilet.
The toilet reverberates with such violence it appears it may topple.
Italo explains to me,
"I was talking to God, just saying, I got it! I got it!"
Contrast 2018 to the following year's event where he was left to drown in front of the cliffs at Winki Pop by water safety unable to pick him up in the fifteen-foot seas, and was booted from the event in the quarter-finals on a contentious interference call, a newly introduced rule, against a belly-boarding Jordy Smith.
After the interference was confirmed, Italo bypassed the portable toilets and headed to the competitors' locker room where he "broke everything."
Mari interjects, "I think in the athletes area they should have a punching bag. Yes! Yes!"
I ask Italo if he feels pain when he loses, punching plywood walls and "nearly breaking my fingers" notwithstanding.
"A lot, a lot," he says shaking his head. "I came out of the water looking for the judge, like, fuck that guys. I saw the photo, Jordy was on the whitewater holding his board."
Still, he knows he blew it.
"All the Brazilians, we do crazy things, we always hungry, we do everything to win. That's why the rule was changed. (And) Jordy played the game with the rules."
The previous day, in the biggest waves in a contest at Bells since 1981, Italo was caught inside and became quickly convinced he was going to die, that his Catholic God had decided to vacuum him to the heavens.
Italo's board hit him in the face, he was held under for what he estimates was thirty seconds and when he surfaced he couldn't get to the water safety crew's jetskis.
"In that moment, you rely on instincts. I tried not to panic or do desperate things, to lose energy,"
Mari, meanwhile, was panicking, asking anyone who would listen, "What about Italo? What about Italo?"
Eventually, he got onto the Winki stairs and had started to climb when a local said the water part had made it to the inside and was looking for him.
Italo jumped back into the maelstrom, got back on the ski, competed, and won, the heat against Jeremy Flores.
On the walk back up the Bells stairs, Italo collapsed, Mari's arms around his neck.
"I was exhausted. I have no energy, nothing. I can't feel my legs. My adrenalin went from a hundred percent to nothing. I stayed there for minutes, breathed and drink waters and came back again."
I ask Mari if Italo said anything to her.
"The first thing he told me, the first one," she whispers.
Italo watches her face.
Mari chokes up.
"He said," says Mari, "the first thing. First thing!
"'Mari, I thought I was going to die.'"
                                                                         **********
Bells, 2018, Italo's first WCT event win, was one of three for 2018, which included Bali and Portugal.
When he got back to Brazil, Italo went straight to a tattoo artist who drew a roaring Koala ringing the Bells trophy across the not inconsiderable canvas of his right bicep.
Italo, like most of the Brazilian surfer on tour, has been getting on the (ink) spike since he was a teenager.
If the reader will allow the interviewer a brief indulgence, we'll take a tour of Italo's illustrative body.
He has a map of his hometown Baia Formosa on his left forearm, Believe In Your Dreams (in Portuguese) written under a feather on his right; the word Jesus, the majuscule J crowned, fills the nook near an elbow; on his left deltoid there's a drawing of himself at sunset and holding a board with the phrase Let The Light Illuminate You (in Portuguese); his birthdate in Roman numerals is written under his neck near where his gold chain falls; Blessed is written between his shoulder blades and a lion owns the back of his neck.
On the side of one hand is the word Surf; one the other is Fé, the Portuguese word for Faith.
There are more, of course, bats and angels and so on, but those are the most significant.
Of course, it's all window dressing to Italo's surfing.
For Italo is a surfer who leaves waves ruffled and ravished beyond words.
His secret, he says, is…
Italo, pauses, whispers to Mari,
"Ah…"
"Ahhhh…"
More whispering.
Mari and Italo go into conference to find the word.
"The word," announces Mari, eventually, "is Perseverance."
If you're ever at WCT event you'll note that Italo is the first in the water, and last out, with the obvious exception of Margaret River.
Event security know him and Mari well.
The dawn shift guard will lift the gate to the carpark to let them and their rental car through and make the same joke, "You again!"
"Thats why things happen, win contests, get good sponsors, you need to dedicate one hundred percent to your job," says Italo. "I can win the world title one day because I am the guy who has the perseverance."
You almost won it last year, I say.
"Almost. I know. God's plan. We never know. I'm here and I have all this opportunity to win again. That's why I work every single day."
Italo has a piece of paper with his career and life goals written on it. He looks at it most days, more when he's stressed.
"When bad things happen," he says.
Italo won't tell me what's on it or, for that matter what his ongoing family problem is that he says is troubling hell out of him, but says that when he wins the world title, and he emphasis when, he'll post a photo of the page on Instagram.
Italo likes his social accounts.
There's @italoferreira, his athlete page, 419,000 followers,
https://www.instagram.com/p/Bq5TkKsg9d-/
and there's @ittalot_, for Italo's nickname is Eat-a-lot, named so for his insatiable appetite. The account shows his photography: African animals, drone shots of beaches, sunsets and so on.
https://www.instagram.com/p/B0oyd2iptsc/
What he don't dig about Instagram, what he don't understand is the anonymous hits he, like everyone else who puts it out there, gets.
"Sometimes stupid people say stupid things because some peoples didn't know what I do, what work I do outside the contests. I wake up early, go to the gym and surf and when I surf a heat like with Jack (Freestone) at Keramas…"
Italo stops and shakes his head.
His mango-sized deltoids pop as he squeezes his hands together.
That heat at the Corona Bali Protected. Round of 32. Caught two waves, one a botched turn for a 0.80, the other, three standard turns for a miserly 3.97.
The year before he owned the joint, scored a ten, and won the event.
This year?
"Every single day I was in the gym. Every single day at five-thirty I was in the water. I train and I try to win that thing and when I lose the stupid people say shitty things. Mari knows. She saw the other surfers enjoying the pool and drink beers while I was training and surfing five times in one day. I think this is not cool."
                                                               **********
You might've guessed that Italo ain't your usual jock surfer. He's uncommonly, now what word we gonna throw in here that doesn't rip the top off his swinging masculinity…
Kind?
Loveable?
They all work. He's a man with a sentimental feeling.
When Italo's bank account started to get filled with sponsorship cash and prizemoney his first goal was to set his family up in Baia Formosa. He bought 'em a hotel and restaurant called Pousada do Porto.
Once they were sorted, he bought himself a house on the beach in Baia and a restaurant in nearby, and fancier, Pipa Beach.
"Always trying to invest with my money rather than spend it all on shitty things," he says
Italo hates drugs and doesn't party. Three pals died chasing the dragon.
"You have two ways to go, the good one and the bad one. It's a choice," he says.
I ask a final question.
What's your path in life?
Italo doesn't hesitate.
"To be a good surfer that everyone can remember…"