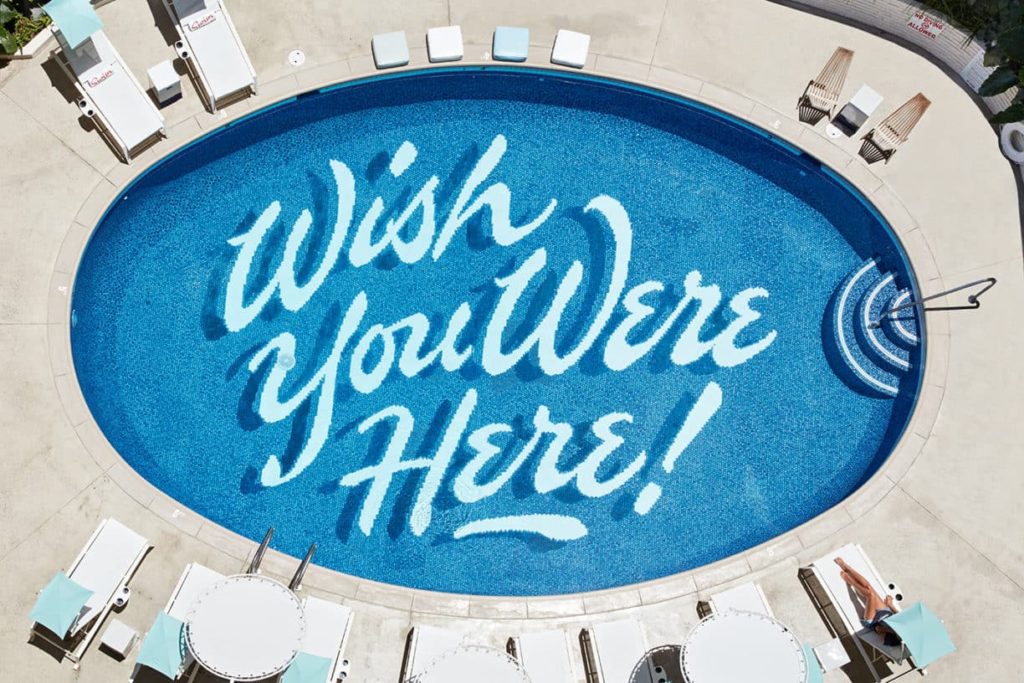 Oahu's other coast lights up May through October. Ask Mason Ho how good Ala Moana Bowls is!
Recommended By...
On a balmy Honolulu afternoon, you could, if you had the inclination, straddle a bike in front of The Surfjack Hotel and Swim Club and after crossing Lewers Street, pedal a leisurely block along Manukai Street, make a right turn on Royal Hawaiian Avenue and riding steadily west-south-west, you would arrive at Waikiki Beach, its white sands and aquamarine seas gleaming in the tropical sun.
Stand, toes in the sand, and imagine Hawaii's kings and queens surfing the reefs under the watchful gaze of Diamond Head.
Picture the sun-bronzed Duke Kahanamoku at the turn of the last century riding his "papa nui" shaped from koa wood, standing so straight and casual. Mentally flip through the faded snapshots of beach boys, lounging under the palms in the 1920's. Strumming their ukuleles, they cast their lures to the mainlanders, promising adventure and the exotic.
You can picture it all so easily.
But you're here to do more than imagine.
In addition to a Surfjack tote bag, The Surfjack has provided a towel for your beach excursion. Sit and relax a while, then go slide your body into the warm, clear waters. Tomorrow, you'll explore Town's reefs: Queens, The Wall (when the lifeguards split), maybe you'll get a little adventurous and ride over to Kaisers in Ala Moana.
For now, though, it's enough to feel the warm tropical water on your skin and gaze at the coastline's legendary beauty.
Your stay at The Surfjack Hotel and Swim Club feels perfect so far. There's 119 rooms decorated with a mix of modernist clean and textured island patterns. The atmosphere is relaxed, welcoming. A pool invites lingering and provides a venue for evenings of film screenings and live music. Chef Ed Kenney serves locally sourced fish and produce at Mahina & Sun's, The Surfjack's in-house restaurant.
Riding back from the beach, you travel along bustling Kalakaua Avenue, stacked dense with everything from H&M's fast fashion to silk scarves from Hermès. The vibe is frenetic as you pilot your borrowed bike through the teeming streets. But you retrace your steps successfully and arrive safely back at The Surfjack.
After your trip through the city streets, brief as it was, The Surfjack offers a calm embrace. A cocktail crafted from chilled, sage-infused vodka refreshes instantly. Totebag over your shoulder, you head upstairs to your penthouse bungalow and consider a nap on your private lanai's cushioned lounge chair.
Why not? It's your vacation, after all.
You awaken to a tropical sunset's golden light. The surrounding buildings glow golden and lights blink on in the windows one by one. You put on a fresh shirt, try to tame your disordered hair and head downstairs to see what's doing. A happy hum of chatter greets you in the hotel's courtyard.
An acoustic duo sings poolside and you decide another cocktail sounds good.
This time you try Unkle's Punch made with rum and citrus, and a few other ingredients that you don't entirely remember. It goes down easily, maybe too much so. Fresh-cooked Ahi from Mahina & Sun's sates your appetite. Maybe tomorrow you'll find a board and go surf like a royal.
Gallery
The Surfjack Hotel & Swim Club 412 Lewers St. AQUA-ASTON