She was only 14, but, yes, a different time… 
Yesterday, on the excellent Surfer magazine website, the surf historian Matt Warshaw posted a story on the iconic surf photographer Ron Stoner and his young girlfriend Paulette.
By young, ah, real young. Fourteen. He was 21.
Now I ain't one to swing back in time to 1967 and start pointing 2015 fingers at a man and an almost-woman clearly in love. That same year, the singer Elvis Presley married Priscilla Beaulieu, a girl he met when she was 14.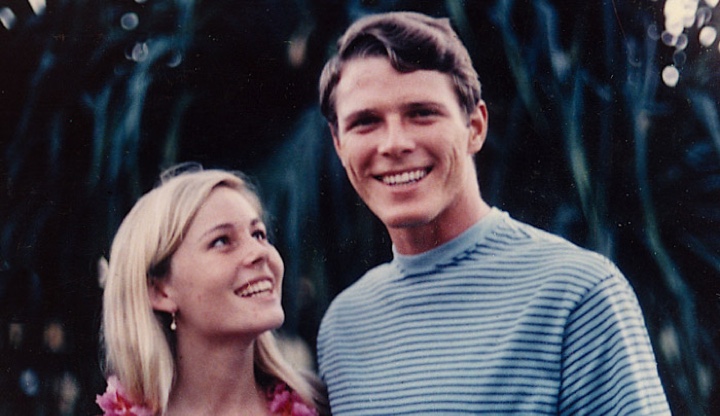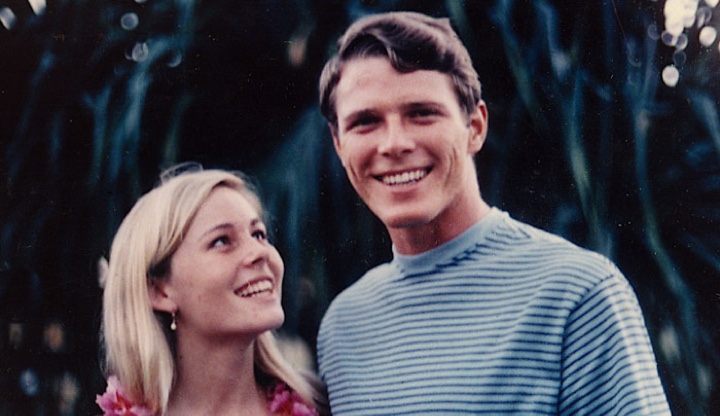 Meanwhile, American boys were getting shipped off in their thousands, against their will, to die in the muck of Vietnam. Back home, everyone was either soaked in LSD or living in a Mason Family commune in Death Valley. Or both.
Why wouldn't you chase your kicks?
Anyway, the idea of young girls has always been anathema to me. In year five I had a big-tittied teacher whose uniform was a canary yellow jumpsuit unbuttoned to the naval (did I dream this I often wonder in hindsight?) and, ever since, the sight of an aged, and freckled ideally, cleavage has sent me into the stratosphere.
Which brings me back around to Ron Stoner and Paulette Martinson, the sweet lil 14 year old, he swung with. Apart from the moral question, there was the issue of teen pussy v the seasoned woman.
I had a little back-and-forth with Warshaw on the merits, or not, of both.
BeachGrit: Tooling a 14-year-old?
Warshaw: Fuck, did you even read the post?
BeachGrit: What?
Warshaw: Stoner was, I don't know what you want to call him — not just schizophrenic, but otherwise damaged. So yes he was 21, and Paulette was 14, and I'm not saying that's great. But they dug each other, her parents were okay with it, and when Ron went down the tubes, Paulette was pretty much the only person from his past who didn't bail out. The story here isn't about sex with a minor. Can you even understand that?
BeachGrit: You're invested in Stoner, aren't you.
Warshaw: If you're a Southern California surfer of a certain age, like I am, Stoner is a touchstone not just for your surfing, but for the whole place, the whole era. He's Brian Wilson. Terrible beauty and sadness. Paulette, for me, and who knows, maybe I've built this up in my head, but Paulette was probably the best thing in Ron's life. For just a little while, anyway. And how fast it all goes away, it's like that mid-'60s period in California surfing. You know the Beach Boys song "Caroline, No"?
BeachGrit: Hmmmm, maybe not.
Warshaw: Paulette was always going to leave Ron, cause of their age difference, and also because schizophrenia was taking over. So yeah, she leaves him, and before Ron falls completely into the abyss, when he's just heartbroken completely, he does some of his best work with the camera. It's this last burst of color before his career, his health, his sanity, all of it just gets blacked out. And that's like Stoner's version of "Carline, No." He knows he's losing it, but still has it together enough to make art. It kills me. The song kills me, and Stoner's story kills me.
BeachGrit: So the 14-year-old pussy angle. That does nothing for you?
Warshaw: You're fucking retarded, you know that?
BeachGrit: Answer the question!
Warshaw: Okay, first of all, again, fuck you, you've missed the whole point here. But look, I'll say this. You saw The Graduate?
BeachGrit: Oh my god, yes!
Warshaw: Okay, so . . . Katherine Ross or Anne Bancroft? Daughter or mother?
BeachGrit: Easiest question of the day. Anne Bancroft! Mrs. Robinson!
Warshaw: Yeah, that imprinted on me at age eight. Older woman all the way.
BeachGrit: So what is it about older gals? Describe the thrills you receive.
Warshaw: Older women know how to do subtlety. Sexy-wise, Anne Bancroft does more with an eyebrow and a bit of exhaled cigarette smoke then whatever teenager you're watching on PornHub right now.
BeachGrit: Oh, Matt, I couldn't hear you any louder. I've been pushing up against older gals since I was a teen and I always found little ones to be unfinished masterpieces, works that wouldn't be complete until mid-thirties, forties, or later. Nymphets? With their dull, sucked-a-hundred-cocks-already looks? I'm not sure how many people picked it up, but a piece I wrote on Noa Deane's gal Zoe was all based around Lolita. But, there must be some fire in your groin, for some of the more famous surf teens. Do you like Sage Erickson for example? Malia Manuel?
Matt: Of course. Knockouts, both of them. But I'd crawl over Sage and Malia and a dozen like them to get with Helen Mirren.