Quiksilver Pro wildcard Dane Reynolds to give prizemoney to charity. But who? Nation of Islam? PETA?
@Sealtooth dropped some interesting info today. Dane snagged yet another wildcard spot, he'll be heading to the Quiksilver Pro in France, maybe killing it, probably making it a few rounds then fizzling.
He'll break my heart once again and leave me screaming at the webcast as I watch my Fantasy Surfer ranking plummet.
It's interesting how the rebirth of his competitive drive has coincided with the arrival of his little one.  I get it, babies are the worst, I'd taking every chance to bounce as well.
Or maybe he's carting the thing along with him. In that case, shame on you Mr Reynolds!
There's a special place in hell reserved for those who bring infants on international flights. Hours and hours of screaming and pooping and screaming inflicted on the poor souls around you! It's inhumane.
Dane also announced that he'll be kicking down whatever scrilla he reaps from the ordeal, which is pretty cool. He's even asking for suggestions as to which group he should bless with what amounts to his appearance fee.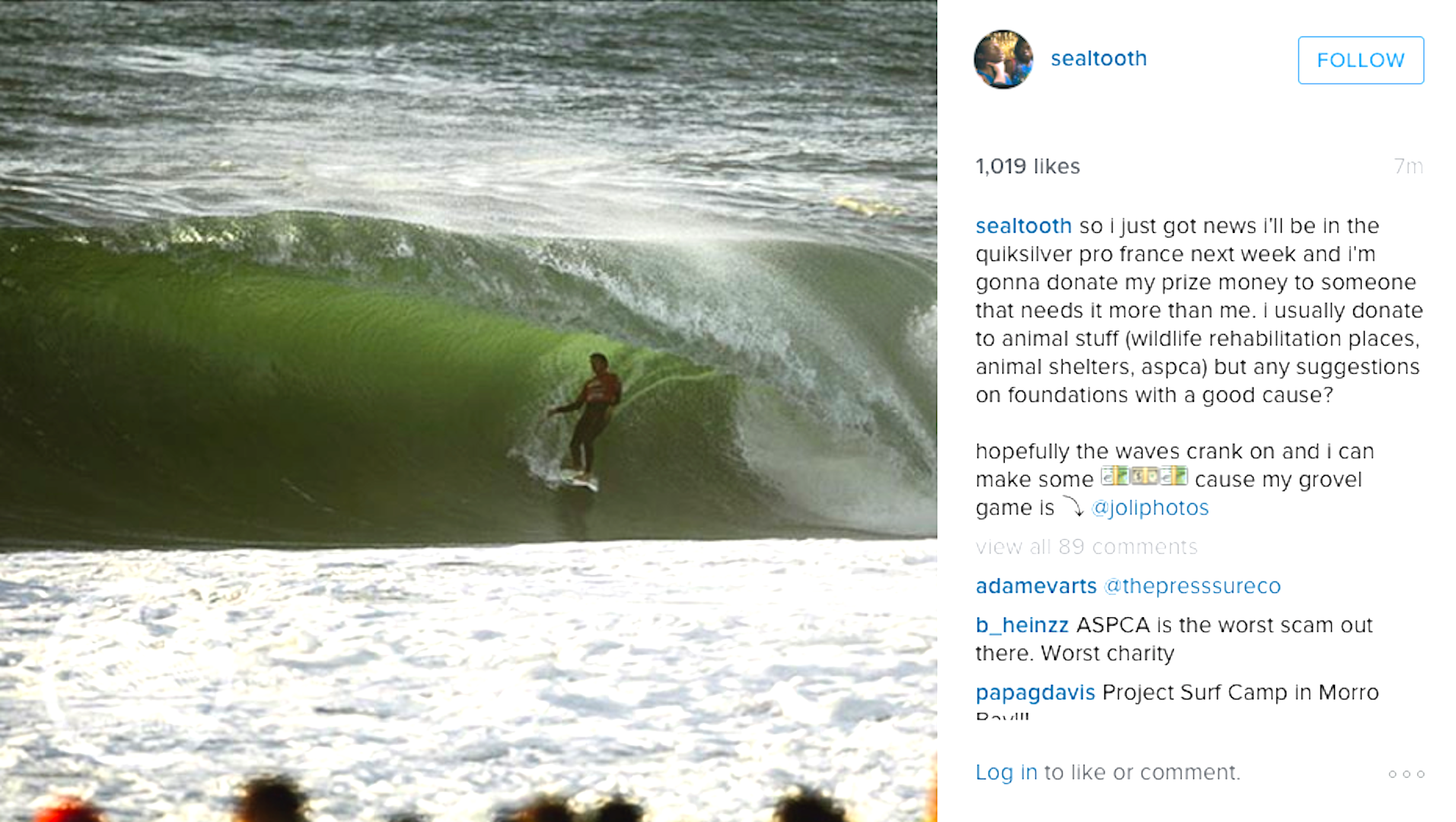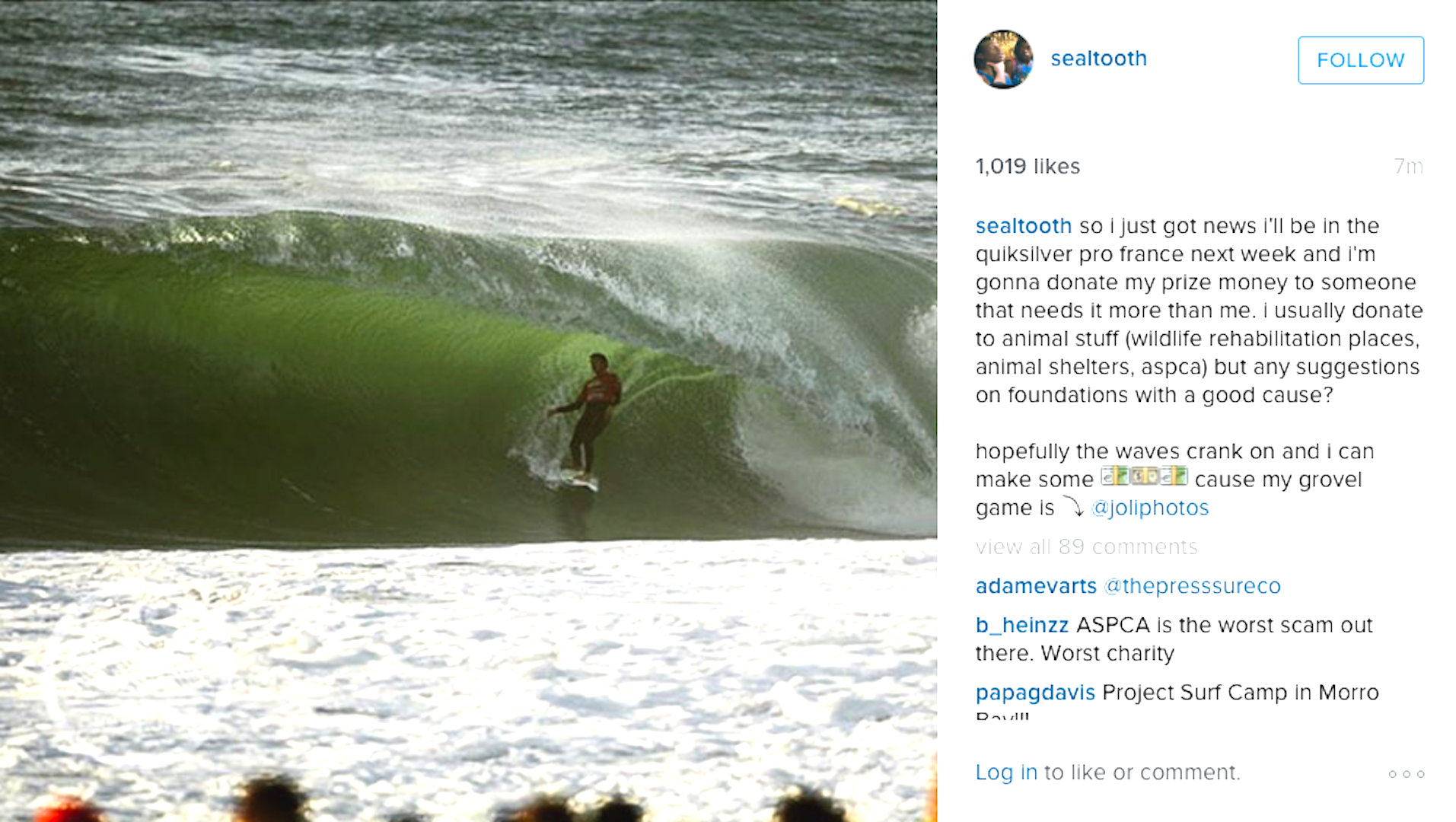 Because I tend to interpret blanket requests as personal invitations, and because Derek clued me into the instagram post and asked me to write something about it, here are my suggestions.
PETA's awesome.  Doing the dirty work, taking the blame, ignoring the legions of morons who explode with indignation whenever the organization gets a mention. It's on the shortlist on groups that have actually wrested some money from my tight fist, along with NPR and the ACLU.
Because petakillsanimals.com invariably gets mentioned, I'm gonna head y'all off at the pass and point out that it is run by the Center for Consumer Freedom, a lobbyist group that spreads disinformation on behalf of the fast food, meat, alcohol, and tobacco industries. If you buy their bullshit you're nothing but an empty headed chump.
A Randian non-profit, has irony ever been so delicious? Not that Ayn was anti-charity, kind-of-ambivalent seems a better descriptor.
"There is nothing wrong in helping other people, if and when they are worthy of the help and you can afford to help them. I regard charity as a marginal issue. What I am fighting is the idea that charity is a moral duty and a primary virtue."
Such a beautifully ugly philosophy.
Derek pointed out that Dane's profile picture features a picture of a strong black man being strangled by an oppressive white hand. How to interpret that? Is Dane a secret racist, using babies and surfboards and adorable bulldogs to slyly disseminate his racist propaganda?
Does he stand strong with his black brothers by illuminating the racial hegemony pervasive in the American system?
Is he merely a fan of Doug E Doug's contribution to what may be the best ensemble cast ever assembled for a movie about bobsledding?
Whatever the case, be it to publicly make amends or support the movement, the NOI is the place to be.
Rory's Super Duper Surf Crusade Against Brainwashing and Other Forms of Insidious Indoctrination
RSDSCABOFOI for short.
There's no shortage of Christian missionary outreach organizations soliciting money to finance surf trips to the deepest darkest, spreading their faith to people who've got along just fine without it, maybe picking up some trash along the way.
With Dane's help I'll be able to spread the glory of fornication, intoxication, and deviation to the poor boys and girls raised in a system that denies them the joys of humanity.
What RSDSCABOFOI does is reach out to those reaching out, providing a passionate counterpoint by which poor deluded souls may evaluate their own outdated, ineffective, and imaginary ideology.
With Dane's help I'll be able to spread the glory of fornication, intoxication, and deviation to the poor boys and girls raised in a system that denies them the joys of humanity.
My extensive program of alternative indoctrination, built around a heavy consumption of illicit substances and sexual experimentation, will assist in converting an entire generation of  devout young men and women to my personal brand of solipsistic nihilism.
Because existence is meaningless, no one is keeping score, and there is no reality but your own. The moment you become a corpse you may as well have never existed, so you better live for now, because the future doesn't really exist.