A great question.
Generally, this is how I would describe professional world tour surfers (and professional "free surfers" as I understand they're called).
Generally, too, I would be lying if I said that the only reason I don't look away when my boyfriend forces me to watch "surf contests" on his iPad while we are cooking a nice, elegant meal is because there are (allegedly) hot babes on the tour.
I say allegedly because I'm still looking for them.
According to "Mimi" at a "magazine" with an exceedingly violent name, there are at least 10 hot surfers.
Hmmmmmm, wrong!
Sure, "Mimi's" scoop of the century was published eight years ago and those guys are long gone, but the way I see it, there are only five hot professional surfers:
1. Christian Fletcher
This guy is basically Bodhi. He speaks in Radical Zen Koans and drives motorcycles with a death wish. He's fast. His motorcycle even has a sticker that says "Live Fast, Die Last." He invented "aerials." He has a surprisingly-not-terrifying skull tattoo. 10/10.
2. Michael February
I saw one picture of this guy in GQ (congrats, Michael!) and I was sold. He looks both tall and whimsical, which I like. He also has the smile of a beauty pageant contestant, but I'm told he's no longer on the tour anymore, why WSL? Why?
3. Chippa Wilson
I swear I don't have a tattoo fetish, but this guy is smoking! He makes wetsuits look sexy and not like some amoebic neoprene tube sock. He also has a cool name and does sick "airs." Hot.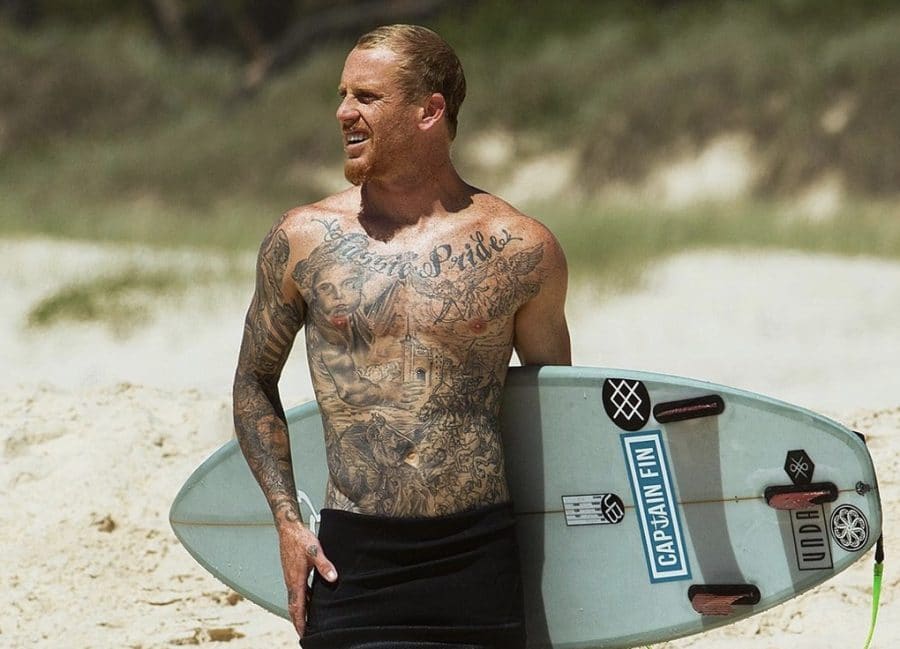 4. Jack Freestone
Honorable Wonder Bread mention. Hot Dad entry. Athletic. Currently not blonde. By the way, what are you feeding your ginormous baby? He is very cute but I'm concerned he might smother you or your very hot wife in a few years.
https://www.instagram.com/p/BufUgGHlf2p/
5. Actually, there are only four hot surfers.
Why Your Favorite Hot Surfer Didn't Get Mentioned?
Julian Wilson — too predictable, too boring, too much of a bratty baby?
Danny Fuller — lost his spot to Jack (there can only be one Hot Surf Dad)
Craig Anderson — very beautiful woman (which is cool, if that's what you're into)
Luke Davis — spends too much time perfecting his look for Instagram
The Brazilians — too good at surfing to also be called hot
As I compiled this list, I recalled several of my boyfriend's agitated conversations with fellow "surfers" about an "industry crisis."
Might I propose a cause and a solution. There is an overwhelming drought of hot surfer dudes (isn't this what riding waves is all about, being hot and picking up chicks?), so the WSL must recruit more, and then start making them eat whatever Jack Freestone is feeding his child.
Problem solved.