A magazine called Acetone "dedicated to keeping alive alternatives to the internet and computers."
Did you weep when Surfer magazine shuttered after sixty years?
Yeah, me neither, for it was a grape long withered on the vine, a repository for drink cooler and cruiser skateboard advertisements and "brave" outrage suited to teenage girls on TikTok.
But print mags disappearing, one by one, well, that might break your heart a little if you grew up on 'em.
Now, Andrew Kidman, creator of game-changing surf film Litmus in 1996, its 2019 sequel Beyond Litmus and the surfboard design documentary On the Edge of a Dream where an impossible to ride board is filmed ruining the live of myriad surfers, has made a newspaper magazine that will act, I believe, as a cultural bulwark to the great WSL/VAL replacement.
He works from the angle that he has to produce work that offsets the WSL's "utter bastardisation" of his beloved sport.
Kidman, along with surfer Sam Rhodes, who is a student of writing at Southern Cross University in Lismore, launched Acetone six or so months ago, with issue two landing over the past two weeks.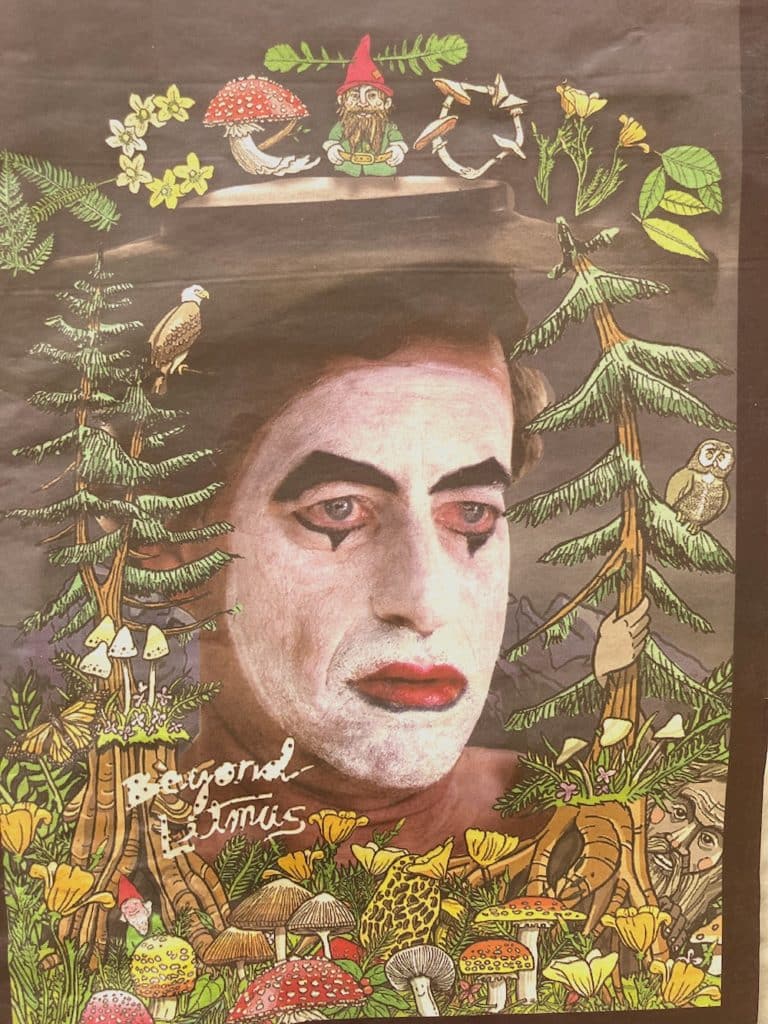 The pair edit, write, design the whole thing, with San Francisco artist Barry McGee providing pockets of illustrations throughout the compendium of sprawling interviews, photos and drawings.
Issue two features a cover photo of Tom Curren in white face, a rare piece of writing by Dave Parmenter, Wade Goodall on cartooning, George Greenough and the most detailed account you'll ever read of two waves ridden fifty years ago, drawings by Kidman, all sorts of wild gear that appeals to a niche within a niche.
If you got surf in your veins, you'll feel it.
Sam Rhodes, who is twenty-nine, stopped by Bondi three days ago to deliver a copy of issue two, and which BeachGrit has a quarter-page ad contained within.
He's a juvenescent part-blond who cut himself loose from following pro surfing when Andy Irons died in 2010, although he has started following WSL CEO Erik Logan on Instagram, for laughs.
"The other day he put a story up during that crap contest on the Goldie or Cabba, wherever, and he had three screens open at once. On one screen was the basketball, another one the NFL or some other American sport and on the other was surfing.
And he wrote, 'Such an exciting day to be a sports fan.'"
It makes Sam want to regurgitate his barbecue chicken.
"It implies that surfing is just another thing," says Sam, "and I don't want to get too earnest, surfing is this supernatural thing elevated above all else, but it…isn't… in the same realm as those sports. It goes back to that old cliché when Nat Young said, "When they asked us what is surfing, I wish I said that it's a spiritual activity, and not just a sport, cause that's what put us on the wrong track". Again, I don't want to subscribe to the melodramatic spiritual stuff but surfing does feel a more sacred than football or basketball."
I ask Sam about the magazine being a tiny niche within a niche, but, conversely, an important bulwark against intruding kook culture.
"Well, the surf industry is in a pretty embarrassing state," he says. "It's a classic example of the fatal flaw of capitalism, something becomes of interest, people jump on it, don't really know anything about it, and the reason why it's interesting, a small, unique culture full of freaks, becomes this big monetised thing, and then it no longer exists."
Sam and Kidman ain't gonna make any money off of this venture.
There's 104 pages of editorial, including the cover, and eight pages of ads.
Every cent that comes in from online sales, twelve bucks plus shipping, goes into a bank account to pay for the printing of issue three. If you don't wanna pay, go into a surf shop that has 'em and if you're quick, 'cause they only print two thousand worldwide, you'll get a copy for free.
The next issue, which'll be out in six months, maybe, Sam has to wrap up his writing degree, will be built around a story Kidman describes as "crazy" although he won't tell anyone what it is until the magazine gets a little closer.
"Ank (Kidman) is heavily committed, and so am I, to keeping alive alternatives to the internet and computers. His feeling was that the surf mags still surviving had disintegrated from their heydays and he's committed to not doing advertorial-style articles and having total control on what we think is interesting and important."
Does he imagine great riches from Acetone?
"I hope there's enough support to keep it open," he says.