"An abnormally high number of sharks."
A bumper season for Great Whites in Australia, to be sure. 
Just two weeks after the second-biggest Great White ever recorded in Western Australia waters forced the closure of Cottesloe, another Great White has put swimmers and surfers at the same beach back on the sand.
The White was three-hundred feet offshore when it was spotted at three forty-five, prompting the now familiar sounds of klaxons and megaphones and the scene of swimmers exiting the water, with haste. 
Forty-five minutes later, the White had disappeared and the beach was reopened although swimmers were especially tentative, few willing to venture into depths beyond their waists. 
Two weeks ago, Peter Godfrey from the Department of Fisheries had told 9News, "It's very rare to have such a big White shark so close to the metropolitan area."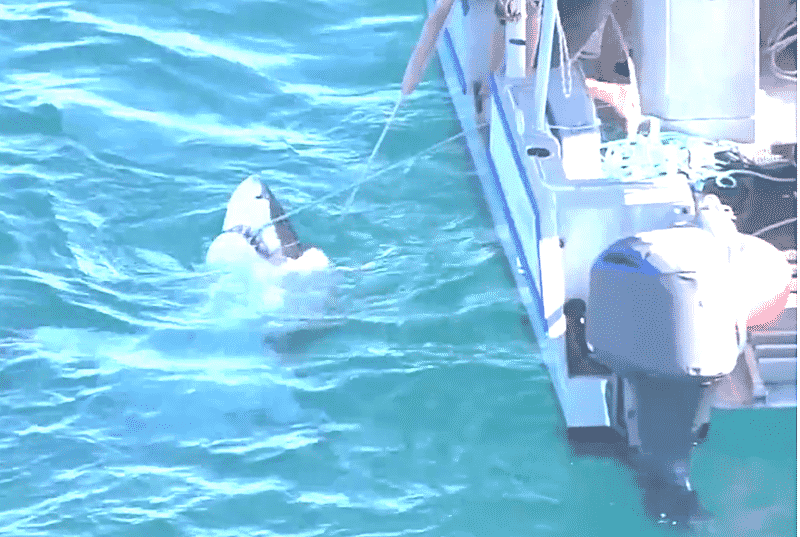 And, Surf Life Saving WA had warned of an "abnormally high number of sharks."
The "mammoth" Great White swimming so close to a popular beach, it said, was "not an isolated incident."
For generations, pretty Cottesloe Beach, seven miles (11 km) from the centre of Perth, was known for its dreamy grass terraces and even dreamier afternoons in its hotels' beer gardens, a tangled sea of brown bodies and loose lips. 
Then, in 2000, one year after Great Whites became protected by law, a swimmer, Ken Crew, was attacked and killed by a fifteen-foot Great White in waist-deep water and in front of other swimmers, early morning joggers and cafe diners. He bled out in the arms of a Catholic priest on the beach. 
Also on Christmas Eve, Bunker Bay, an awesomely pretty crescent of white sand and green water almost at the tip of  Cape Naturaliste, a little north of Margaret River, the same joint that hosted an attack on a surfer by a "freakishly big Great White" in July, was closed due to a lingering Great White
Great White stocks appear to be abundant, at least anecdotally.