"We've gotta steamroll this thing and wake people up. We don't need people to get jabbed."
Seven months after warning his 326,00 Instagram followers of the "poisonous needle" former world #2 Taj Burrow has headlined a "Freedom Rally" at Bunbury, a small city an hour's drive north of Tez's award-winning "nautilus shell" house in Wardanup Crescent, Yallingup.
Tez, who is forty-three and a daddy of two, has been pretty vocal, along with a few other high-profile surfers of his opposition to mandated vaccines, mask-wearing and so on.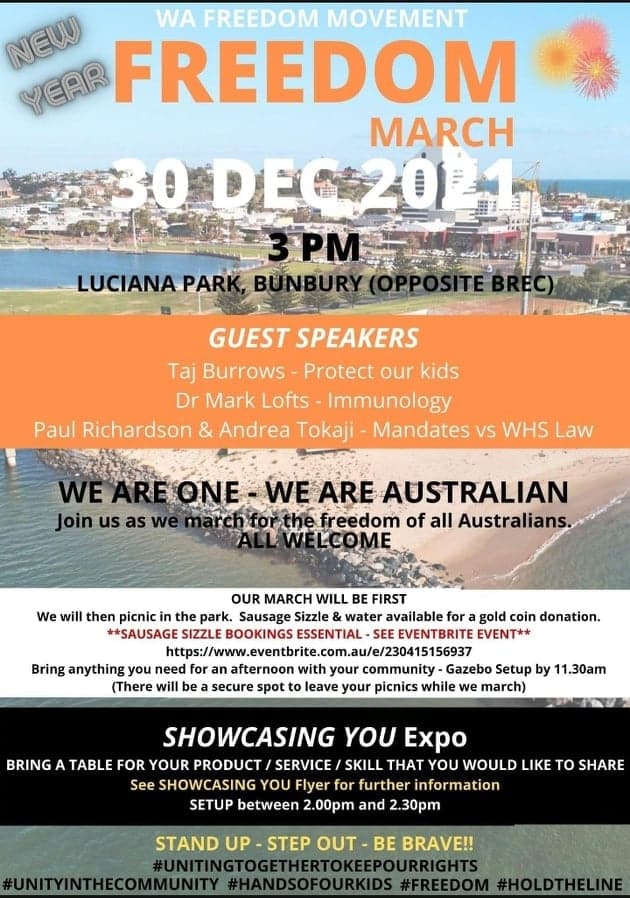 In a speech to a crowd of a hundred-ish, (around the one hour fifteen mark), Tez, first, said he was a little wary of putting his opinion under the spotlight. 
"It was pretty tough. I hated the scrutiny. The scrutiny you cop is horrible. I questioned whether I should be doing it or not but it got to the point where I'd had a gutful and had to speak up. I don't have a boss to answer to, my job's not threatened."
"You know," said Tez, "in the early days when I started to question things, I was hoping his bloody jab was a money-making scheme. I was fearful it was something more sinister. I do feel like it's something quite sinister that's happening. I gotta stand up and talk about it." 
Tez said it "blows my mind that we have to have this conversation about kids taking this experimental needle they have no need for whatsoever. Too much risk and no reward, in my opinion." 
Rallying the crowd, Tez said he was "here to stand up and talk about it and spread the word. We need to wake people up but we've got to do it in the most loving, peaceful thing you can. You gotta come at this whole thing with love. As pissed off as I get with people walking down the street like zombies with masks, scanning everywhere, it pisses me off and I feel like a stranger in my own town, I tell myself, relax, try and plant the seed, show some love, maybe ask 'em to question things. That's what we should be doing. Our so-called leaders I do not trust." 
Tez added he'd joined world surfing champ Barton Lynch and ironman Trevor Hendy's Voices4Choices, an anti-mandated vax group. 
"The cracks are appearing," said Tez, "We've gotta steamroll this thing and wake people up. This is not about being healthy. We know how to look after ourselves. We don't need people to get jabbed and this shit."