Carnage!
A female dolphin found stranded on a Texan beach is dead after she was "pushed back to sea where beachgoers attempted to swim with and ride the sick animal."
The Texas Marine Mammal Stranding Network reports the dolphin, a cute little six-footer, was found at Quintana Beach along the Gulf of Mexico there.
"(She) was further harassed by a crowd of people on the beach where she later died before rescuers could arrive on scene. This type of harassment causes undue stress to wild dolphins, is dangerous for the people who interact with them, and is illegal, punishable by fines and jail time if convicted."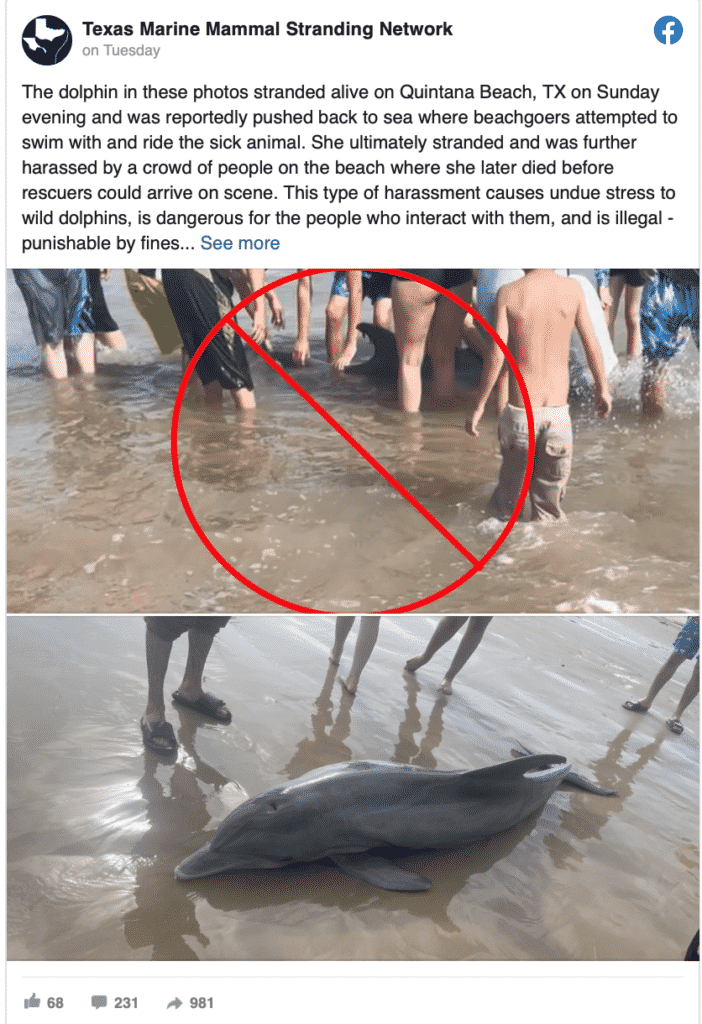 Meanwhile in Florida, NOAA Fisheries are looking for the killers of a bottlenose dolphin, an adult lactating female, found dead on Fort Myers Beach, seven miles of sugary white sand famous for its "dolphin eco-tours." 
A necropsy, non-human autopsy, revealed "the dolphin was impaled in the head with a spear-like object while alive."
"Based on the shape, size and characteristics of the wound, it is suspected that the dolphin was impaled while in a begging position," NOAA said in a statement. "Begging is not a natural behavior for dolphins and is frequently associated with illegal feeding."
Probs worth noting that killing or torturing dolphins, mammals that are smart as hell as well as photogenic, in these parts can result in a fine of a hundred gees or a year in the pen.