Peak silly goose.
World Surf League Chief of Executives Erik Logan is mad as hell and not going to take it anymore. Mere days ago, at the end of the MEO Rip Curl Pro Portugal, the Oklahoman took to social media with a whopping claim that there were "51,000" souls on the beach to witness Joao Chianca's maiden Championship Tour victory.
"THE MOMENTUM IS REAL" he exclaimed in all caps.
Well, those watching the broadcast could see many people, two or three thousand, standing on the shore. Five thousand maximum. An insanely far cry from 51,000, pointed out directly by Derek Rielly who penned, "If you've ever been at a stadium that holds fifty-thousand people you know the immenseness of that number, columns and columns of human beings sitting shoulder to shoulder as far as the eye can see. But, still, wild crowd numbers are regularly thrown out by event organisers."
The "longtime Australian surf journalist" went on to recount absurdist people pumps from Egypt to Washington D.C. before circling back around to Supertubos and the ludicrousness of the 51,000 number.
Logan, mad as hell, not taking it, headed back to social media with a serious clap back.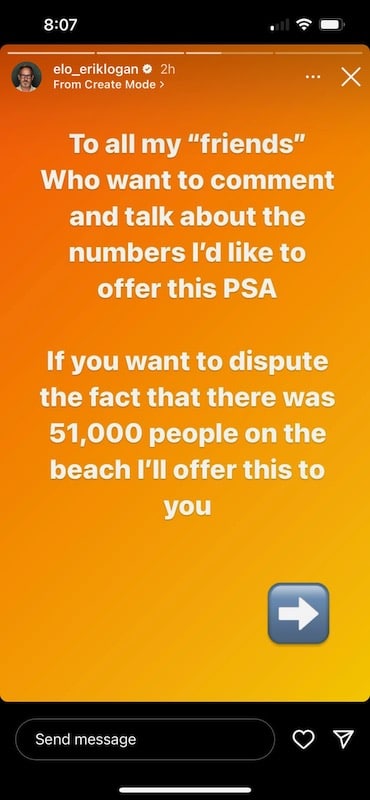 "To all my 'friends' who want to comment and talk about the numbers I'd like to offer this PSA…" he wrote on Instagram Stories. "If you want to dispute the fact that there was 51,000 people on the beach I'll offer this to you…" and littered an arrow emoji pointing to the next slide.
Mic drop.
Except.
A little research, as in first Google hit, will reveal some comparisons.
50,000 every seat full.
And/or a concert.
And/or a different concert.
What a silly goose that Erik Logan remains.
David Lee Scales and I discussed his willful, malignant ignorance today, anyhow, as well as laying rest to a dear old friend.
RIP Drummer Dave and your work in resuscitating Kolohe Andino's career will echo through… probably not eternity but at least a couple years.
Listen now.