"Your (sic) lying. Stop it…your mistruths and lies about what happened are just that – lies… this is one area where you're (sic) attempt to rewrite history won't work." 
As music fans move heaven and hell to get a seat at one of the Taylor Swift Eras Tour gigs, a three-hour show that covers each of Swift's studio albums, freshly exhumed tweets from dumped WSL Erik Logan have revealed the wild blood feud between the two cultural giants. 
Logan, now fifty-two, you'll remember, was disappeared by the WSL mid-event at the Vivo Rio Pro, no reason given, only a curtly worded press release that neither thanked nor exalted their high-profile CEO. 
"Today, the World Surf League (WSL) announced that CEO Erik Logan has departed the company, effective immediately. As the WSL begins the process of identifying a new CEO, Emily Hofer, WSL's Chief People and Purpose Officer, and Bob Kane, Chief Operating Officer and Chief Legal Officer, will jointly lead the company and continue to drive the WSL's mission to showcase the world's best surfers on the world's best waves as the global home of competitive surfing."
You'll remember the contrast with his predecessor Sophie Goldschmidt's presser.
"Sophie has had a huge impact on the WSL. She is responsible for transforming both our business capabilities and culture in her tenure as CEO. With the converging trends in sports, media and entertainment, we mutually agreed it was time to make a change. Erik Logan is a proven leader and a world-class media executive with a profound personal connection to the sport of surfing. We are excited about what he will accomplish as CEO. We will always be grateful to Sophie for her contributions to surfing and we look forward to the WSL's next chapter."
In the deleted Tweets from four years ago, Logan, in the words of BeachGrit's Chas Smith, "came swinging in on a dispute she has with a man named Scooter Braun. Scooter Braun is a manager who represents or represented Kanye West, Justin Bieber etc. He somehow gained control of Taylor Swift's back catalogue and she wrote an angry missive on Tumblr (the "lemon squeezey" Instagram) declaring, "I learned about Scooter Braun's purchase of my masters as it was announced to the world. All I could think about was the incessant, manipulative bullying I've received at his hands for years."
According to Elle Magazine… "Erik Logan, the former president of the Oprah Winfrey Network and a board member of Big Machine, wrote a scathing letter to Swift on Twitter that he has since deleted. In the message, he said, "For someone who draws such power from being the 'voice' and against all the things you talk about, I'm watching you violate what you allegedly stand for. You're the real bully."
The deleted tweets are something, Logan telling Swift "your power is fading, your shine is dull and this is what bully's do, they lash out – especially when they are called to stand in the truth. Your (sic) lying. Stop it…your mistruths and lies about what happened are just that – lies… this is one area where you're (sic) attempt to rewrite history won't work."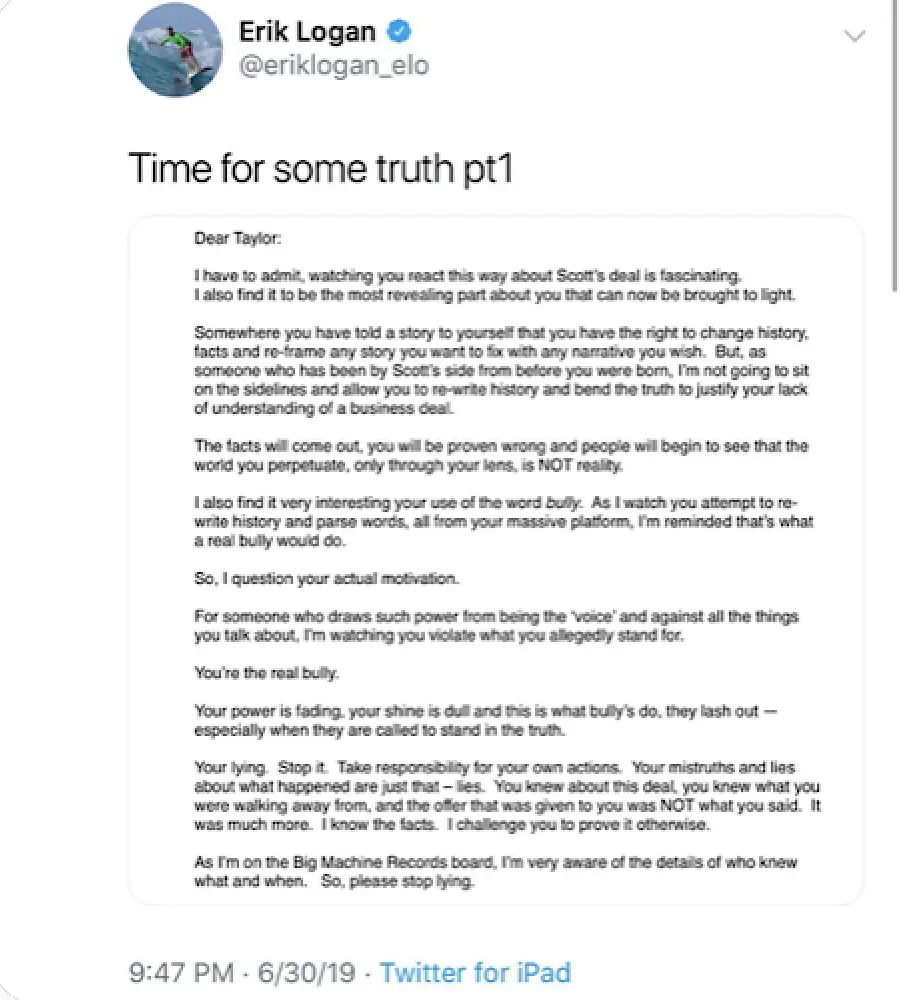 The main takeaway from the old tweets, I suppose, is Logan's struggle with the concept of your and you're.
The confusion between "your" and "you're" often arises due to their similar pronunciation. However, as Logan must know, they have different meanings and uses.
"Your" is a possessive pronoun that indicates something belongs to or is associated with the person or group being addressed. For example, "I like your pussy" means that the pussy belongs to the person you are speaking to.
"You're" is a contraction of "you are." It combines the pronoun "you" with the verb "are" to express a state of being or an action. For example, "You're going to get sacked" means "You are going to get sacked".
The confusion often occurs because both "your" and "you're" sound the same when spoken, making it easy to mix them up in writing. Logan may not fully understand the grammatical rules or may simply have made the  mistakes while typing or writing quickly, perhaps too furious.