The Tahitian photographic ace Domenic Mosqueira and his superstar muse…
When your game is wide-angle surf photography, your muse is John John Florence and your home ground is Teahupoo and the psycho reefs that surround it, it ain't all high-fives in the channel.
And, so here, and for just a moment, let's place ourselves in the mind of the 36-year-old Mexico-born photographer Domenic Mosqueira as he endeavours to snatch a water photo, with wide-angle lens, of John John Florence at a wave we'll refer to as The Right. Not far from Teahupoo, it is a wave suited to North Shore Hawaiians and natives of French Polynesia, specifically, those surfers of better than average talent around Teahupoo.
The wave has elements of Pipeline, in its unpredictability. Will it break here, there? Will the wave closeout or will it allow entry and exit? The reef, meanwhile, is what Domenic calls "pure evil."
On the day pictured, below, Dom was swimming, always a brave thing to do at The Right, for two reasons. One, you can't see clearly much above a few feet out of the water and, two, if there's a 15-foot closeout set, there isn't a lot you can do except, perhaps, find solace in the arms of your God.
And this day, the 15-foot closeout appeared. Dom could hear all the jet-skis revving and thought, 'What's happening?' He turned around and the wave was almost on top of him. He dived underneath the wave and saw a tiny space where the violent columns of whitewater weren't hitting and grabbed hold of the bottom. He knew he must not let go until the wave had passed him. Slowly he dragged one hand in front of the other to gain distance. All the time he was waiting for that bolt of whitewater to land on top and "obliterate me. I waited as long as I could, and I made it. I made it. I survived the nightmare wave. I was the happiest kid ever."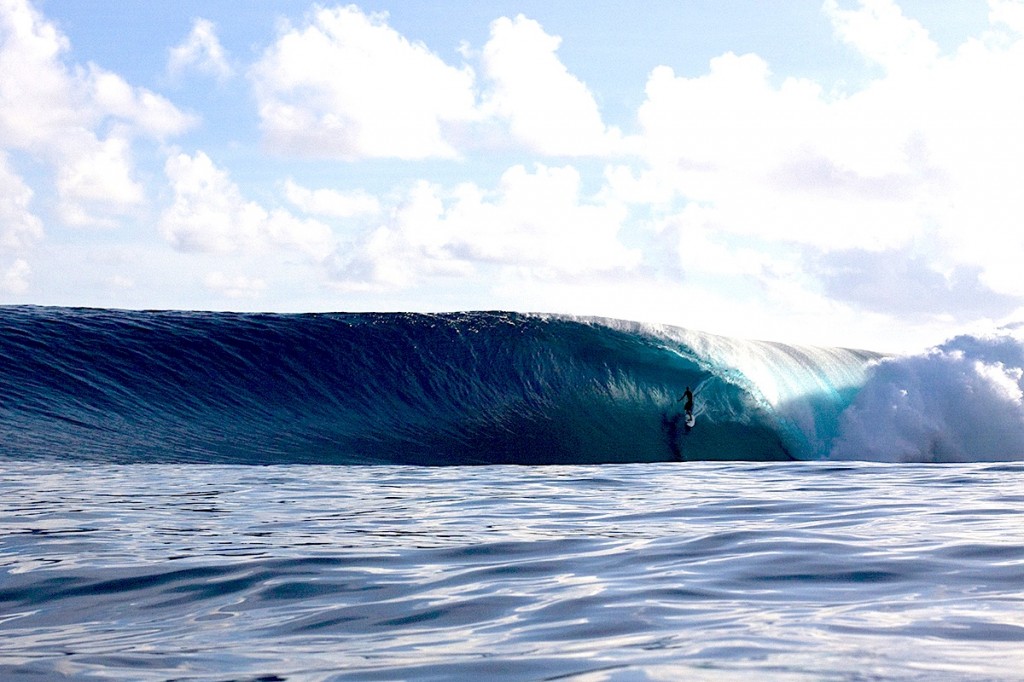 But who isn't going to try a little harder when they've become the go-to water guy for the best surfer in the world? Dom was put on John's radar when the Hawaiian photographer Daniel Russo (see his outrageous work here) asked him to shoot the stills for an O'Neill campaign while he shot RED slow-mo. That was three years ago. And, now, whenever a swell is about to hit, Dom ain't surprised when the name John illuminates on his iPhone 5.
"When I see his name I feel adrenalin," says Dom, "'cause as soon as he calls, it's go-time. He's always excited to surf and you know you're going to have your hands full for a week. It's exciting and motivating to have that much talent and you don't want to let him down. It lights a fire under your ass."
Dom ain't one to boast and if you ask him why he thinks John has made him his number one shooter in Tahiti, he says, "I think that I'm discreet. I don't make too much of a fuss and I respect what he wants to do with the images. He's a wonderful man, a nice guy, that's calm and not sped up."
Nice, sure, but in rhythm like no one else, as least far as the Fly-in-Fly-Out gang goes. "The wonderful thing about John is he shows up and he seems to be in rhythm with Teahupoo every time. He's always on the best wave and the way that he surfs it is as stylish and it is apparently simple. He seems to stroke and paddle a lot less than most people. He draws such amazing lines on the wave and he looks so casual when most people are fearing for their lives, the Kamikaze look at the bottom turn, the strung-out look on their face as they grab the rail… John is calm from beginning to end. It's obvious he's got some sort of link to Teahupoo. It's in synch with him."