Young man attacked in Florida wearing his new Christmas present!
And let the lawsuits begin! Shark repellent magnetic technology's PowerBalance moment! First, let us read the tale of brave Florida surfer Zack Davis and his fight against a watery beast in The Mirror shall we?
Zack Davis, 16, was surfing in Florida, US, when he was attacked by a Blacktip shark.
The schoolboy, who had never been attacked by a shark before, says he was wearing a new shark repellent armband Christmas present for the first time when he was attacked.
The attack left him with gashes across his arm which required almost 50 stitches.
His mother has been left outraged and is seeking a refund from the maker of the anti-shark device.

The local CBS12 channel reports the teenager ended up in hospital with a large jaws bite on his arm.

Zack says he was wearing a new band with magnetic technology that advertises it repels sharks away from swimmers.

"I got this for Christmas," Zack said.
The green plastic band that looks like a watch with no face "is a shark band and it was supposed to keep sharks away and the first time I wore it, and I go surfing a lot, but the first time I wore it- I get bit. "
"Zack's mum, who is shaken by all this says she hopes to at least get her $80 back for the Shark Banz that the family say didn't work.

The armband maker has been approached for comment but has yet to respond.
An outraged mom, a bloody mess, a Christmas present gone horribly awry! And do you recall how surf brand Modom incorporated Sharkbanz tech into very expensive leashes ($180 in the U.S. $250 in Australia)? Do you recall how our friend's at Stab jumped in with both feet, thrilling at the product and pushing it through parent company Surfstitch? Oh read a wonderful piece of investigative journalism from the dearly departed Rory Parker here!
Now that the wheels are all the way and spectacularly off… read this sentence again… "the first time I wore it, and I go surfing a lot, but the first time I wore it- I get bit." What will happen? Of course lawyers are circling the Davis family, promising forever riches. But will Modom pull the leash? Will Stab issue an apology? Will they disappear the embarrassing post?
Let's wait and see!
But while we're waiting have you ever seen a cooler post-attack look than Zack Davis's?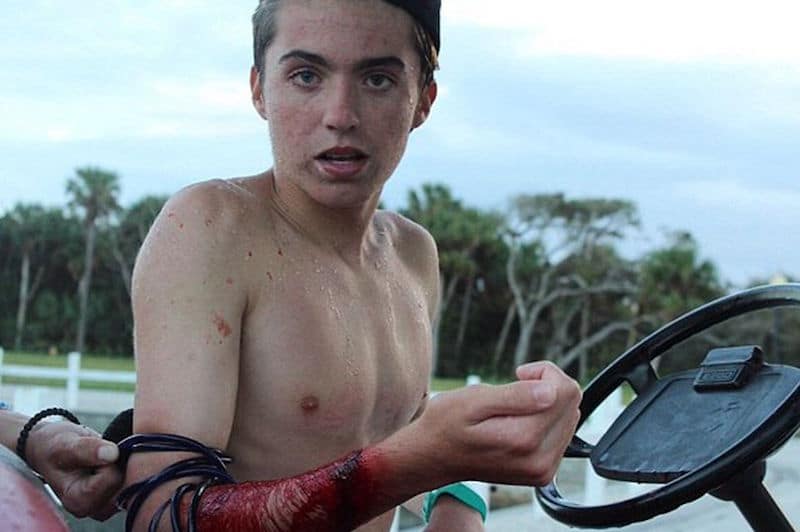 So long Sharkbanz… Hello fame!