Unbowed.
And for certain you are aware that a very electric election is but days away in these United States of America. Odd seeing as the two main candidates are doddering septuagenarians but here we are and exciting. Trump Trains driving Biden Busses off the road. Historic turnout.
Do you have an opinion? A favorite candidate? Many celebrities and brands are posturing as apolitical, not wanting to exacerbate fans/customers, simply encouraging people to vote.
Vans, for example, posted a message on its Instagram account reading:
The US election is just days away. @SteveCaballero, @PerrisBenegas, @PatrickGud, @R.Barbee, @BigAirMare, @DylanGraves, @GeoffRowley, & @LeilaHurst are here to remind you to get out and vote! Head to vans.com/vote for resources.
Notably missing from the list is iconic team writer Joel Tudor.
The professional longboarder and BJJ enthusiast, elsewhere on Instagram, wrote, "Neither party will ever get my support until one of them does the right thing and sets the plant free."
Actress Lysa Cooper begged him to change his mind, "Joel!!!! YOU have to vote for it. Also… VOTE for my VAGINA. It needs to be protected. As well as the reproductive rights of your 2 SONS!! You got 3 days to step up!!! Please. I beg you as your best friend!!!!"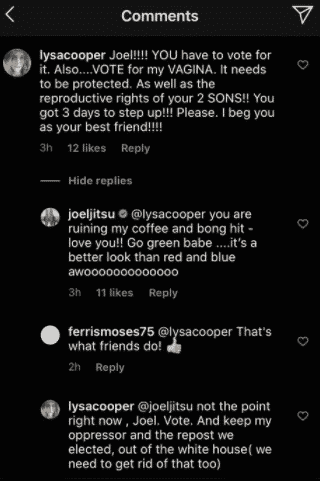 Tudor, unbowed, responded, "You are ruining my coffee and bong hit – love you!! Go green babe …it's a better look than red and blue awoooooooooooo"
Many questions but mostly which plant is being locked up and is Joel Tudor referring to the Green Party?
I have been a member of the Green Party for 26 years as I thought registering for a color was funny.
Very mature.
More as the story develops.