An important lesson in the caprices of the Australian property market… 
One week ago, it was reported that Mick Fanning, noted survivor of a Great White attack and three-time world champion, had listed one of his Coolangatta apartment buildings for sale.
Mick, who is forty-one, bought the joint at 213 Boundary Street, Coolangatta, for $3.1 million in 2007 and, last year, turned the old red-brick fifties build into something a little easier on potential buyers' eyes with soothing vanilla interiors, black faucets, wooden flooring and with breeze-block walls enclosing patios.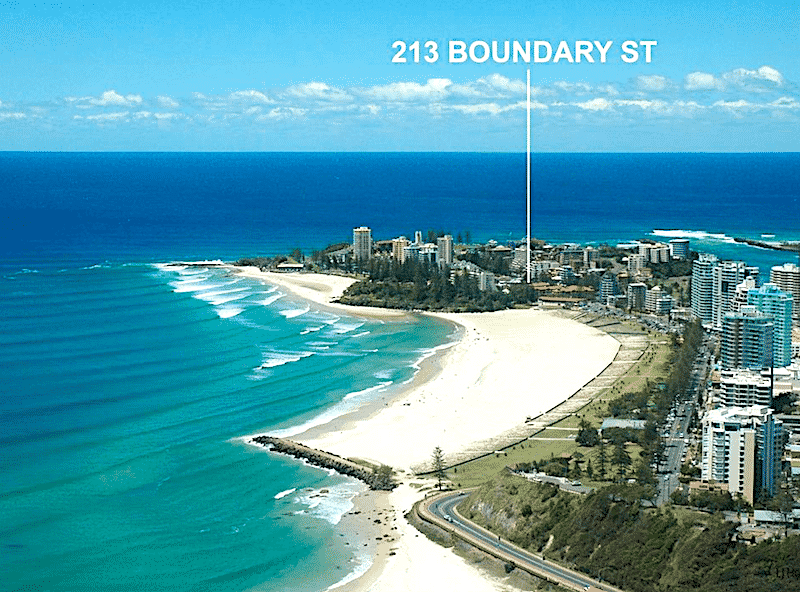 There are two three-bedroom apartments, each with its own studio or granny flat, two garages, and the building squats on five-thousand square feet.
Mick also owns the building next door, which he bought for 2005 for $1.39 million and another two doors down, bought for $1.2 million in 2006.
The selling agent described the joint as a "luxurious homestead" and told buyers y'could rent the big apartments out for eight hundred dollars a week and you'd get five hundred for the tiny joints underneath 'em.
Given the hot property market on the GC, I was thinking high-fours, maybe five mill.
Let's do a lil maths.
Mick bought in at three-point-one, dropped maybe five hundred on the reno, add in buying and selling costs, and you'd expect a profit of around one to two million bucks.
Not a bad earn, but not spectacular either after thirteen years.
The result? $2.86 mill.
One-forty thou' less than the 2007 buying price, add in thirteen years of rates, maintenance and whatever else, and, ooowee, y'got a stinker.
The auction started real slow with an opening hit of one-point-five as the auctioneer warned buyers and onlookers that photos and video were banned.
A bit of back and forth and the price stalled at 2.55 mill.
Agent called Mick.
Ten minutes later, auction was back on and at 2.75 mill it hit the reserve.
Then, strategic hits of one and five thousand-dollar bids as two buyers duked it out.
Eventually, $2.826 mill got the place.
Lesson: not all real estate, even in Australia, and especially the notoriously fickle Gold Coast, is destined for great things.