Exciting days.
The long-held dream of zero people leaving Arizona to head to California beaches came one shovelful closer to reality, today, as ground was officially broken on Cannon Beach east of Phoenix.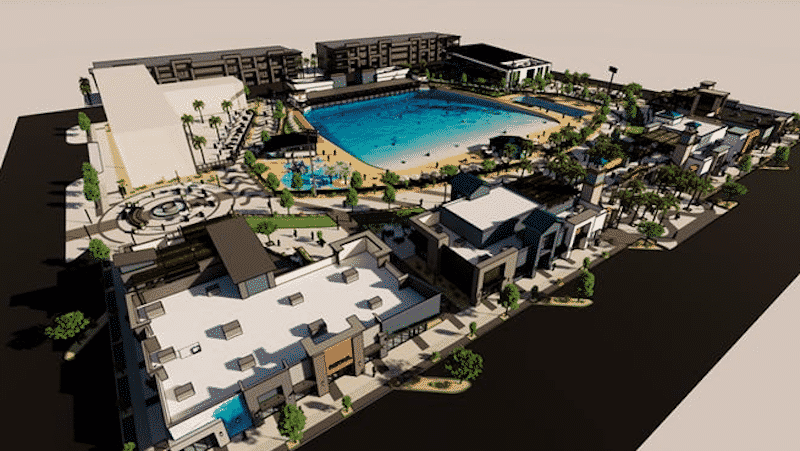 Set to open in May of 2022, the 37-acre water park and mixed-use project has been in the works for over two years. It will feature a hotel, restaurants (including a tiki-themed bar), office space and, most excitingly, a 3.3-acre surf tank powered by a yet-to-be-experienced new wave technology dubbed SwellMFG.
According to wavepoolmag.com:
Up to this point, we've only seen video clips of perfect little peelers from SwellMFG with no idea of what the outline of the pool or system will look like at scale. The new renderings show a handbag-shaped facility with a wall of either air chambers or levers (SwellMFG won't say how their tech is powered) in the deep end to pump out the surf. Within the short, a rectangle-ish outline is a peak splitting left and right. It looks like bathymetry will play a big role in how waves break in the facility, and right now a split peak will be something unique in the realm of open-to-the-public wave pools. Wavegarden's Cove design has separate a left and a right. Kelly's plow system only works in one direction at a time. BSR Surf Resort alternates between running lefts and rights during a single session. Only American Wave Machine's indoor New Jersey facility, Whitewater's new Endless Surf system and Surf Lakes, offer a split peak.
But are you intrigued by this fresh take on artificial waves? Would you like to try or have you burned out on the idea of freshwater surfing altogether?
I'll admit, I'm itching to give it a go as I've recently grown very fond of the Grand Canyon State (daughter is star freshman on U of A's soccer team).
Also, I love a good tiki bar. Do you think world's greatest surfer Kelly Slater is reconsidering his choice to build Surf Ranch in Lemoore?
Do you think he is jealous of Cannon Beach and its tiki bar and its direct tie to the historical root of inland surfing (see: North Shore)?
How could he not be.