Who didn't want a piece of 3904 Michael Avenue, only a short drive from mythical Ladera Heights, black Beverly Hills, a domesticated paradise?
Two days ago, it was revealed the Los Angeles home of Surf Shacks creator Matt Titone had been thrown onto the market for a little over one-and-a-half mill. 
Who didn't want a piece of 3904 Michael Avenue, there at the junction of Venice, Mar Vista, and only a short drive from mythical Ladera Heights, black Beverly Hills, a domesticated paradise, palm trees and pools etc, and a brisk stroll from the Venice beachfront?
Turns out it was sold five months earlier for $1.55 mill, forty gees less than its sticker price, and its owner, Matt Titone and his wife Courtney, had split the city for Silver Strand in Oxnard. 
Figured I'd ask Titone about it and the shift from LA to Oxnard.  
Y'sad about selling the best Airbnb in California?
I don't know about the best Airbnb in California, but we had fun whoring out the back house to renters and the occasional photo shoot as well. We definitely came away with some funny stories from doing all that… Similar to what they say about owning a boat: selling that house was one of the happiest days of my life.
It was real pretty, sorta joint I'd imagine living my days out in, a little degeneracy in the hot tub, warming spent limbs in front of fire pit and so on. 
Thanks man! Yeah, it was a great place. I bought it in 2008 as a young bachelor. It was actually a pretty sketchy foreclosure that was barely standing up back then. All my friends thought I was crazy to wanna buy it. My girlfriend at the time (now wife), Courtney moved in and cried when she first saw it — not tears of joy. There was cloth wiring throughout the house from the 1940s (huge fire hazard), mouldy, termite infested walls, and a total crack-den shanty shack in the back yard attached to the garage. I even had to come over with one of my bigger/ tougher friends with baseball bats during the escrow period to chase junkie squatters out. It was pretty gnarly.
Long story short, it was pretty much a ten-year process to get the place looking all fancy like the photos you see today. We just took it one project at a time over the years as we could afford them. Courtney was really the driving force behind every single renovation project, she has a great eye for that stuff. Then when my brother Sam graduated from architecture school, he convinced me to let him redesign the garage into a guest house situation for him to live in. So we took out a new loan and went for it. Sam even did pretty much all the finishing work himself (with our friend Tyler Canali and my help). That was obviously the biggest project we did to the house and the reason it's getting any attention at all.
The back yard was definitely my favorite part with the outdoor shower, hot tub, fruit trees and fire pit. It was a sweet lil oasis among the nightly police helicopters, traffic, and Venice High School bustle just across the street.
But you sold!  
You know, a lot of love went into that house over the years, but I was extremely happy to move on. We have two young boys now and the house was only 890 square feet with one small bathroom — stylish, but no bathtub even. The back house was amazing, but after my brother Sam (who designed it) moved out, we mostly just rented it out and didn't use it ourselves. As a family of four, we simply out-grew the place and were not cool enough to keep up with LA living anymore! We'd been wanting to move north ever since our first son was born almost five years ago, so I was stoked when it finally came time to pick up sticks last year.
And you swung north to Oxnard. Tell me the diff between LA living and Reynolds country? 
Yep, we've been in The Nard for over a year now. We love Ventura County in general, it's way more chill than LA, but still super close if we ever want to visit. I think the biggest difference is really access to more nature, and less people.
You see Reynolds around much?
Ha! No, not really… I've seen him out in the water ripping a few times here and there though. It's always cool to see the pros out in the water, it makes you feel like you made the right choice surfing the right spot at that time — then you realize how bad you actually are at surfing when you see them. I also saw Bobby Martinez and Tom Curren out a couple times when it was big last winter. That was pretty special to watch those legends do their thing in proper, pumping surf.
You been to the Silver Strand Fight Club yet? 
The first rule of Silver Strand Fight Club is you don't talk about Silver Strand Fight Club.
You see our tees? 
Haha! No, but I want one!
I like your Surf Shacks series, very much, achingly beautiful and so on. Do you ever want to photograph a house of ordinariness? No artfully placed photo books, racks of brightly coloured surfboards, gorgeous wooden decks etc but beige carpets, department store furniture, the stink of nicotine, shattered dreams, hopelessness? 
While the books end up having more of an "aspirational" (I hate that word) edit to them, we have covered our fair share of more "average joe" or slightly sloppy surf bro shacks you allude to in the series over the years. They're definitely not all Dwell-worthy abodes.
To me it has never been all about how nice and stylish the actual house is, rather I have always been more focused on the personalities featured in the series. I only focus on surfers who do something creative for a living (or as a passion) that I am interested in. It just so happens that these folks more often than not have really rad, stylish homes that reflect their creative personality — whether it's a cheap salt box rental, their van they live out of, or a high end coastal property.
(Titone has photographed a few beautiful shitholes in his time. See, here, and, here, and here.)
But yes, I actually have wanted to feature more homes like that — they just can't be too ordinary. I really wanted to shoot my friend Rick Massie's place in Venice for the second book because I felt like there were too many high-end homes coming together in the final edit and we needed to balance it out with some more "realness." There just wasn't enough time to get it done in the midst of Covid lock-downs, etc. He has a full on rusty outdoor gym in his back yard where he does ding repair and airbrushing for most Angeleno surfers. There is always a funny scene at his place with random folks picking up their boards and homies slamming Tecates, talking story every afternoon. Rick is a super funny, interesting, creative character though so he fits the series perfectly, it's not necessarily about what his actual home looks like (if that makes sense?). Maybe save it for Vol. 3 someday.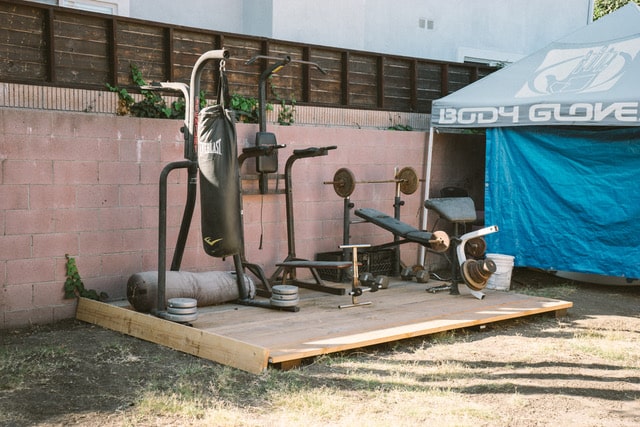 And, tell me, Surf Shack you'd most wanna live in until your dying breath?
I can't really decide on one. For me it's sort of a toss up between Jeff + Kara Johnsons A-frame in the hills of Santa Barbara, the McKinley Bungalow in Montauk, and the Goodwins Kauai compound. Those are three of my favorite places and all three are really beautiful homes that are totally my style. If I had a ton of money, I'd wanna just buy those three homes and rotate among them depending on the season.
Taste Surf Shacks here, volume one, volume two.