Lakey Peterson, coached by Filipe Toledo, wants a game change…  
Women's surfing fascinates me. When it's good it draws blood. Carissa Moore's slices, Lakey Peterson's grab-rail tail throws, the impeccable style of Stephanie Gilmore. It's damn rich.
But does it strike you as odd, as it does me, that there ain't a gal on tour who has an air-reverse on tap? Silvana Lima showed promise and disappeared (back this year on tour). Even half-way good twelve-year-old boys can throw 'em as an afterthought on a weak end section.
So why not the girls?
It isn't a strength or flexibility thing. Yeah, there's the numbers. Ain't as many players, ain't as much progression. But that doesn't account for nearly every single kid girl surfer I see is usually one of the best in their age group.
I blame a contest culture that shovels girls into their own divisions by the time they exit the micros. All these promising girls who used to haunt the boys' finals suddenly plateau. If three turns is going to win a contest, no one's going to toss the fins. By the time they're competing at the highest level, they're missing a fundamental element of the game.
How can a surfer be so good and yet so inept at the same time? My posit is that going into orbit is the last great barrier for women's surfing. Big waves are getting done. Jaws (sorta) and Mavs and Teahupoo showed that.
And when I'm talking about airs, I don't mean straight airs. And not one-eighty lippers into reverse. I want real, tail-high, vigorously hucked full-roter airs.
Can you imagine the response to a full spin, hucked a few feet above the lip? Meltdown, right?
A few weeks ago, BeachGrit kicked a proposal at the Hurley Surf Club and GoPro to take Carissa Moore to some wedge for a week and coach her into a full-spin.
Carissa tapped out. Didn't want to break a leg. Wants another world title.
I asked Lakey Peterson. She was thrilled at the challenge.
Who nails the best full-roters in the world? Filipe Toledo.
"How about you coach Lakey?"
"Of course! "
Two days ago, Filipe and Lakey, along with another coach, HB's Brett Simpson, landed in mainland Mexico for four days of intensive tutelage. Down there, behind electric fences and barbed wire (gorgeous part of the coastline is mired in a war between the Jalisco and Sinaloa cartels) and in the middle of the Virgin Guadalupe festival where firecrackers pop like guns and bombs from before dawn and into the night, chasing something that'll send a girl into orbit.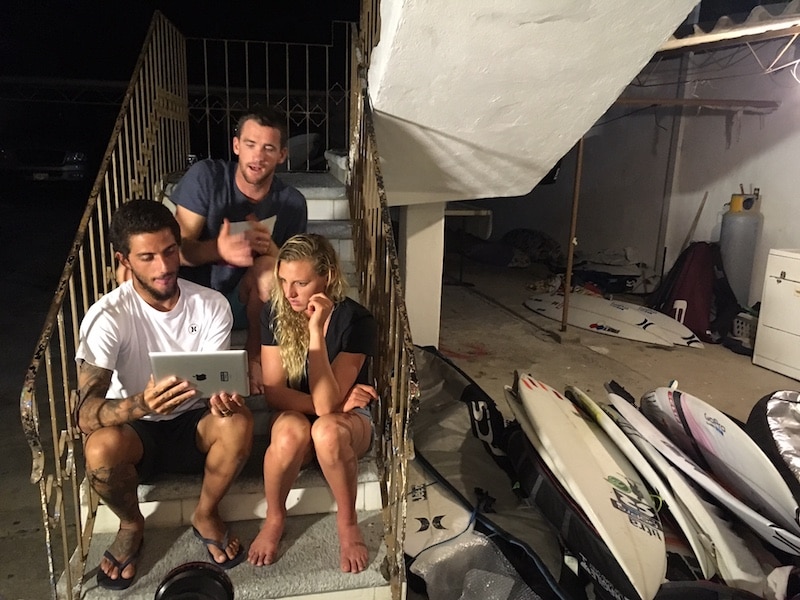 We hired three skis so she could step-off into a hundred waves a day in the rampy, if slightly too powerful and big, beachbreaks.
The pack's got the Hurley Surf Club program that runs split-screen footage, Lakey's throwaway hucks alongside Filipe's oily landings, and a dashboard of tools for drawing arrows, highlighting sections and drawing lines she should take into the lip. GoPro records an intimate account of proceedings.
I believe that women are only good technique away from the same airs as men. And that Lakey Peterson is going to be the first woman in history to ride out of a full-roter air?
Am I right?
Or am I right…