Is thrill-lizard Quinn Kasbar an environmental vandal or creator of gorgeous in situ artwork?
Thrill-lizard Quinn Kasbar from Newport Beach, California, has landed himself on the wrong side of popular IG account @kooksoftheday after, apparently, abandoning his famous air mattress  at The Wedge.
In a rare departure from its usual convulsive schadenfreude KOD teed off on Kasbar to its 625,000 fans.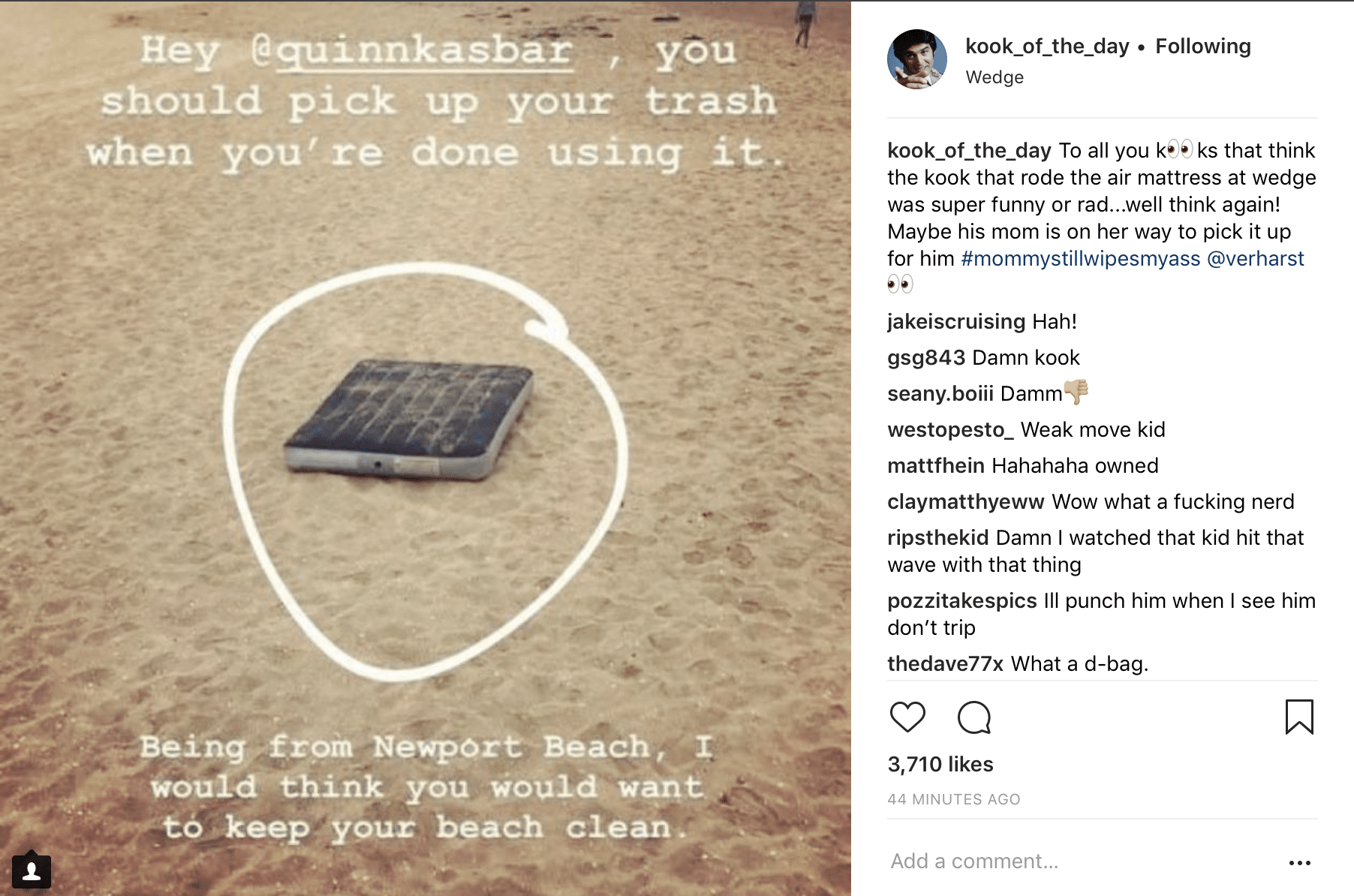 The response, as in typical in these cases where there appears to be some sort of superficial environmental crime, was immediate and furious.
"Ill punch him when I see him don't trip"
"What a d-bag."
"kook of 2018"
"Pack it out kook"
"Obviously es mum doesn't give a shit cause she didn't potty train em"
"His servant is headed down to pick it up. Don't trip y'all."
"What a tool. How hard would it have been to just shove it in a damn trash can??"
"@quinnkasbar fucking kook. Ride a surfboard."
"Fucking clown 🤡"
"Lame ass"
"Fucking Donkey. Pick up your Trash … ppl that litter are literally scum 🤦🏼‍♀️"
An examination of Quinn's Instagram account reveals a feisty go-getter of upper-middle-class stock who ain't afraid to throw it, himself, air mattress, whatever, over the precipice.
Here at Todos Santos in Mexico.
A pretty psycho roof-to-pool drop.
https://www.instagram.com/p/BOc_mDqDPrs/?hl=en&taken-by=quinnkasbar
And the air mattress at the Wedge.
https://www.instagram.com/p/BK4i9TSjh_p/?hl=en&taken-by=quinnkasbar
What's the verdict? If Kasbar did leave his mattress on the sand, was it a little souvenir on the beach for his fans? In situ art, the sort the well-heeled of Southern California pay millions for?
Or a long honeymoon dick in the guts for the environment?