The surfboard as boat!
Here's something you don't know. Gabriel Medina, the 2013 world champion with the slicked-back oiled hair and the eyes so dark they look like they've been stolen off a gingerbread man's face, has been riding the same surfboard models since 20o9.
Yeah, a few tweaks here and there to allow for fluctuations in weight and height but, for almost a decade, Gabriel, who is twenty four, has been riding two surfboard models shaped by the Brazilian-born, Spain-based shaper Johnny Cabianca.
For years I've heard about how wide, how thick, how straight these boards are. Designs unlike anything ridden by other WCT surfers.
I try not to fall for bullshit spells, but this hooked me.
On a recent hot summer's night in Zarautz, a gracious little beach town in the Basque country near the French border, I called Johnny, who is fifty four, to talk shaping and the secrets inside Gabriel's boards.
First thing.
Johnny has known Gabriel since he was born. He grew up in Maresias beach, north of Sao Paulo, a pal of Gabi's stepdad Charlie who owned the local surf store. And when Gabriel was born, he'd carry him around, make faces at the cute baby.
Gabriel started to surf when he was nine and a couple of years later, Gabriel's mother asked Johnny to make the kid his first custom. Johnny doesn't remember it so well, but it was probably a five-one and he made it after stripping all the glass off a bigger, older board.
"That was normal at the time," says Johnny.
These days, Charlie's old surf store is Gabriel Medina Rip Curl and on the other corner is the Gabriel Medina Institute of Surf, a joint where talented kids, aged ten to sixteen, can train as well as get medical care, dentistry and language instruction.
Gabriel hasn't always invested his money well, he's helped a pal out with a gas station that didn't work out, with a restaurant that ended up face-down in the ditch. But the Institute and the surf shop, says Johnny, are "very strong. The media is talking very well about it."
When Johnny left Brazil to live in Europe in 2000, he only saw the Medinas at Christmas. Made him that first board etc although it was another shaper from Rio who built Gabriel's boards as a junior. Problem was, says Johnny, he didn't have enough time and money to meet the kids' needs.
"Gabriel was always without boards for contests and he and Charlie were always travelling without any money, " he says.
Then in 2009, Gabriel won a six-star in Brazil and Charlie called his old pal to make boards for the European leg of the WQS tour.
"Then he did that famous King of the Grommets contest in Hossegor. Five tens and two in the final. It was a beautiful contest and it was my start with him," says Johnny. "Since then we've only had good results with him. The year after he was the world junior champ, he qualified when he was sixteen and after that, at seventeen, he won two contests in the WCT. The rest of the history, the world title, everybody knows. We've had many ten points."
And the boards?
Yeah, they haven't changed since 2009. Johnny threw three rockers at Gabriel and they settled on an average rockered board, although with a surprising volume, that he debuted at the King of the Grommets. The commentator Martin Potter kept referencing Gabriel as The Freak Kid on the webcast. So they named it The Freak Kid although this later morphed into DFK (Da Freak Kid).
The board that'll surprise the hell out of you if you ever pick it up is The Medina (it used to be called The Game, as in Gabriel-Medina): a wide-nosed, wide-tail, low-rockered, full-railed, concave-to-vee-bottomed, well, let's call it as it is, a boat. The Medina Gabriel will ride at Surf Ranch will be a five-ten by 19 3/8 by 2 3/8 inches. Twenty-nine litres.
Gabriel rides either The Medina or the DFK depending on the heat. If it's against Filipe or Italo and he's gonna fly he'll use The Medina. If it's about rail turns, against Adriano for instance, he'll use the DFK.
At Teahupoo, like now, all he has are DFK's.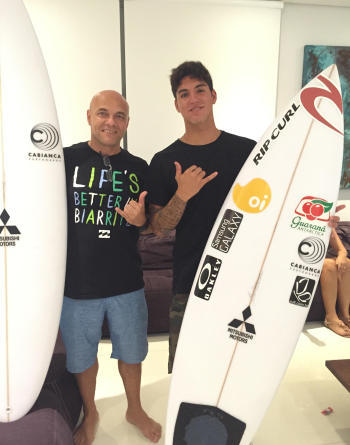 Since 2009, the elements of his boards have started the same, the dimensions changing slightly as he's grown from a boy to a man, and as his weight changes. Their volume from 28.5  to 29 litres.
"Gabriel today is 182cm and 82 kilos," says Johnny. "He's always changing, from 78 to 82 kilos. In Europe he's a little bit fat, I saw some pictures from Tahiti and he's a little bit heavy, a little bit belly, but when he's partying in Brazil he's more skinny."
So you want a Medina, right? I do. Stable. Fast.
But good luck trying to get one. Johnny married late and so he's got a baby and an infant and slipping off to the US or Australia to shape boards ain't real easy. Ordering a Cabianca online is…possible… but the shipping is gonna kill you.
So here's what you gotta do.
Get to Europe, drive down to Zarautz, which is just west of San Sebastian, and give Johnny a call. He says he'd be thrilled to service a good reader of BeachGrit and he'll have your shape ready to glass in a  day or two.
"If you need super urgent, no problem," says Johnny.