Meanwhile, TV drone reveals Great Whites still cruising Tuncurry shorebreak.
An arresting moment during a TV report on Tuesday's fatal hit on a surfer by a Great White at Tuncurry, a fishing town four hours north of Sydney.
A drone goes up, hovers over the site of the fatal hit and there, fifty feet from the shore, is a cruising White.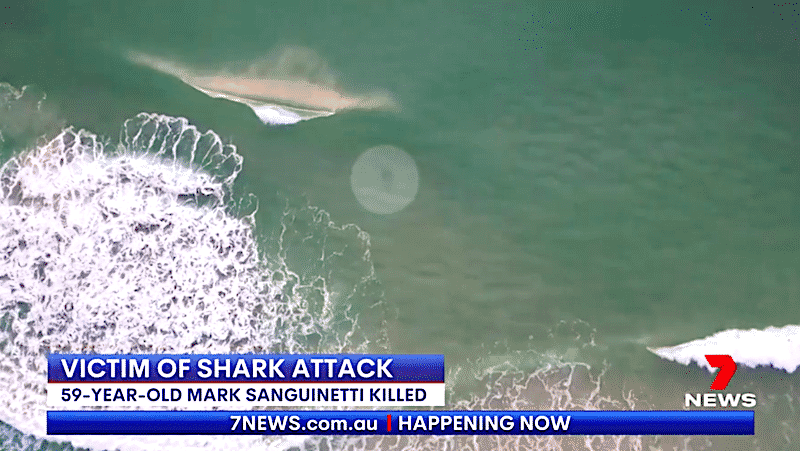 To get some perspective on the joint, imagine a dreamy slice of sand on the northside of a breakwall, protected from the prevailing southerlies and welcoming to any sorta swell with east in it.
Mostly, short, hollow A-frames fifty feet or so from shore.
The surfer, Mark Sanguinetti, who was fifty-nine and from Newport Beach in Sydney, died on the beach after being hit by a fifteen-foot Great White. He'd gone on a little surf trip with three of his pals.
Then the White hit.
A witness on the beach said, "The shark came out of the water, just smashed him, five seconds later he came round and hit him again… Just the whole bone exposed, not meat on him at all."
A note written by his daughter and posted on Twitter reads,
Some knew his as Skidders, some as Big Marky, and others as Ba, but we all knew him as a legend with a heart as deep and vast as the ocean, which was his first of many loves. If you knew him, you understand how you were to.
We're planning a paddle out in tribute of Mark – anyone who knew him, or surfed with him, we're he'd like everyone to be there. It'll be held on Tuesday the 24th at Palm Beach at 4:30PM.
Dad was a truly special soul. A kind, generous, thoughtful man, friend, and father. He saw the light within everyone and every situation. He's home now, in the ocean and in our hearts, and he'll be riding the waves of his life with us forever.
All beaches around Tuncurry remain closed.