Who has the best hair on the WSL!
Carine Roitfeld is the style icon famous, among other things, as the editor-in-chief of Vogue Paris. Her opinion on a man's hair bears retelling.
"The true test of a man's style is the haircut. There are some men who look good no matter how their hair is styled, whether it's trendy or not. A man can change his haircut many times, but to pull off any haircut, you have to be very chic."
In the spirit of Roitfeld, the newly minted BeachGrit writer Negatron has created a power rankings of the best hair on tour…
#1 Ricardo Christie 
WSL ranking 29th

What's not to like? Golden Shirley Temple curls with a touch of the Caribbean. So "surfie" to the mainstream. But to me, a nod to the era's past yet individual and contemporary at the same time. Even your girl looks at his hair with glaring green eyes. Unfortunately for Ric, it may also cost him his spot on tour this year. Too many times I've seen him brushing his hair out of his eyes while riding a wave… scoring an 8.75 when he needed a 9. The most respected rookie on tour. He needs to lose those locks as at this level a one millisecond delay from a swipe of the hair is enough for another undeserved 25th placing.
(Here we see the hair swipe in action)
California has  ego-inflated population base. If you don't look good you ain't good. Hair dressers from across the States go there to find fame and fortune only to end up homeless on the streets. Only the best survive and the Australian ex-pat has tapped into that source. Just the right mix of tradition, taste, function and form to match his expanding business empire.
#3 Taj Burrow
WSL Ranking 8th
Mr Burrow doesn't give a shit about how his hair looks, but two decades of hanging with models on his arm has his cellphone contacts brimful with top hair stylists from around the world. In the long term this could mean more than any World Title. Burrow strikes me as the sort of man that doesn't blink an eyelid at paying $400 for a trim, only to walk out the door without even looking in the mirror and straight into the ocean.
#4 Bebe Durbridge
WSL ranking 11th
Just natural surf hair. Timeless and honest. Gets haircuts from his aunt, out on her back lawn when he's back in town. Has a gruff curl that just screams, I could tile that patio in under three hours.
#5 Nat Young
WSL Ranking 7th
There's something bad-arse about letting your mum cut your hair. In a perverse way it's… gangsta! No nonsense, no fuss and definitely no frills. Much like his approach to surfing waves in competition.
Luckily for him, he's a top 10 pro-surfer as in the real world no woman under 45 would even look twice at that mop. Ain't no shame in winning heats though!
#6 Kelly Slater
WSL Ranking 6th
The King actually isn't bald. The brave decision to pretend to be bald  has him here in the top10. Being the mastermind competitor, back in 03 he worked out that if he shaved every hair off his head his opponents would be drawn faster into his laser like hypnotic eyes, rendering their competition savvy useless. Leaving them flustered and foundering around for scraps while he takes the best waves of the heat. Luckily for the younger generation, they have grown up with his dome and don't seem to be as affected as those in the dark years gone by.
#7 Keanu Asing
WSL Ranking 21st
For the life of me, I can't remember how Keanu surfs. But that boy-next-door short back and sides cut! With that cute little spiky quiff on-top. Any parent would be happy to see him walk though the door with their daughter.
#8 CJ Hobgood
WSL Ranking 36th
Nothing but respect for a dude who's thinning out but owns it. Cool, calm."It don't matter" his hair laughs!  CJ ain't gonna fall into the shaven head, club bouncer look like his tour contemporaries Freddy P and Slater. On a side note, it looks like a couple of  up and coming bouncers are looking to join the ranks in the coming years: JazzHands Jadson, D-Pain and my man Wiggolly.
#9 Glenn Hall
WSL Ranking 32nd
Micro has hair like my accountant, A simple side-part that says, listen to me… I know… just relax. I trust my accountant. He makes me money. I like this, therefore Glenn's just's slipped into the top 10 for the first time in his career.
#10 Michel Bourez
WSL Ranking 25th
The Spartan is a name an urban myth mobster would have on the streets of New York in the 50's. Michel's wise-guy hair demands respect and respect is not given lightly by the Spartan.
WSL Ranking 3rd
Look he's perfect all-round, so of course his hair is fantastic. Usually I punish people like him out of bitterness and resentment. But I really don't want to endure relentless badgering and trolling in the comments from his legion of pre-teen fan-girls.
#12 John John Florence
WSL Ranking 14th
JJF takes surf hair to the next level. Anyone's who has spent a month surfing non-stop knows the feeling, hardy, stiff, salt encrusted tufts only a surfer could love. Imagine surfing non-stop for pretty much your whole life. I'm guessing his hair is pretty much 85% salt. But I do get a sneaking suspicion that some yucky little pillow dreads may be lingering around the base of his neck. If anyone can prove it, Wilko and his mangey mop is taking JJF's spot.
#13 Mick Fanning
WSL Ranking  2nd
Ricardo should take note from his old Rip Curl stablemate. Short, sharp, concise and to the point. Not an ounce of vanity or emotion. It's the hair of a man that wins heats, titles, fights sharks. A buzz cut that the common man can identify with. I am Mick Fanning, give me the trophy.
#14 Gabriel Medina
WSL Ranking 15th
The Brazilian Storm doesn't seem to be translating too well into a well groomed headpiece. Sure they are a good-ish looking bunch of cats. But I identify more with an ugly man with a brave haircut.
Anyway, Gabriel just beat Pupo to make the list simply for the pure potential his hair has… so thick. Such body.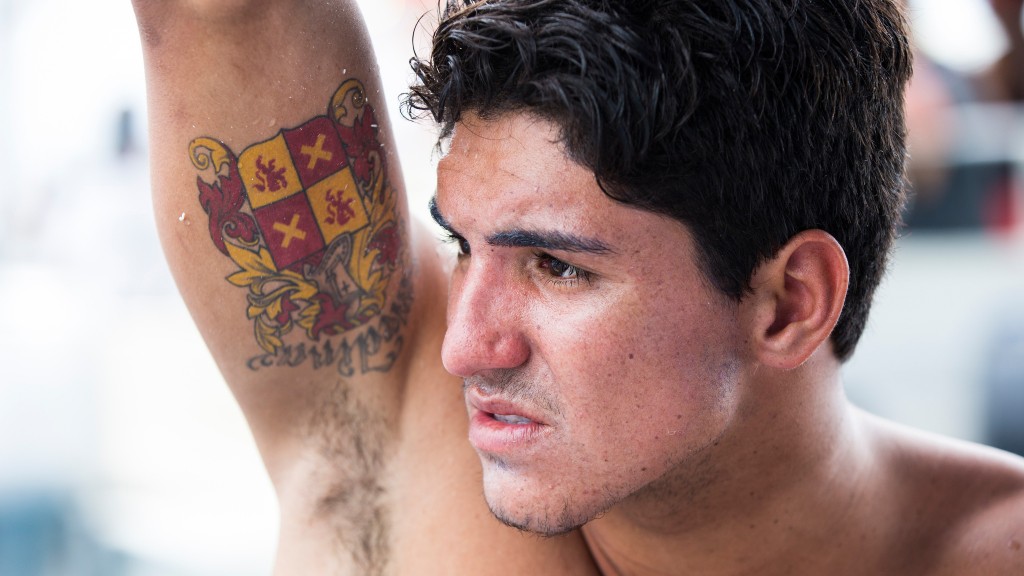 #15 Jordy Smith
WSL Ranking 22nd
The man with the most potential of them all! Oh so close he gets. Such height and combinations! He just doesn't know what to do and when to do it. I feel the frustration within him building and growing every month. I know he struts the mirror like Mick Jagger but the self-doubt and inner-rage once he hits the catwalk cripples him. I have a solution. Jordy, with a forehead of that size you need a long straight fringe to put the focus back to the hair and your eyes. Half Emo, half 80's styling. Covering one eye, with it short at the back but lightly layered. Dyed black of course.
#16 Owen Wright
WSL Ranking 5th
Owen knows it's going. Every death pit he gets spit out of (while lesser men quiver on the shoulder) shoots a few more strands off the top. Wave by wave it going. Like CJ he's owning it. With a nod to the late 60's songwriters he looks like he could be playing bass guitar along side Neil young. But caution must be taken as it's a fine line. One minute you are playing with Neil young and the next you are in a Michael Bolton cover band playing the sax solos.