Completes metamorphosis from goose to swan! Wins Red Bull Unleashed at Surf Snowdonia, Wales!
Earlier today, the Red Bull Unleashed event at the Surf Snowdonia wavepool in Wales ran its length. All things considered, it was a good-natured event and well furnished with non-WSL surfers.
These surfers included Jack Freestone, Mitch Crews, Ian Crane, Evan Geiselman, Zeke Lau, Kalani David, US Open winner Hiroto Arai, Kalani David and Albee Layer.
Let me tell you the result: the Hawaiian Albee Layer is no longer a goose but a swan!
In mostly identical two-ish foot waves, Albee worked a surprise act that showed his manifest intention to leave the judges (Pipe Master Jake Paterson, World number two Brad Gerlach and Alain Riou, the Tahitian once beaten by a girl in a heat) gasping.
Let's dip into the press release, momentarily.
"Layer was consistently the fan favourite, picking up on the nuances of the tricky waves early on and mixing up his manoeuvres to keep the crowd and judges entertained. His musical selections were as sharp as his surfing, and between his 80s metal and pop shuvits it was clear from the early rounds that Layer was the man to beat, despite being one of the bigger surfers in the draw. Aside from Layer and Jack Freestone the WaveGarden proved to be the domain of the lighter surfer this week, and Stairmand, Crane, Mitch Crews, Kai Hing, Ian Gouveia and Hiroto Arai were but a few of the fleet- footed ninjas who left their mark on Surf Snowdonia this week.
"In the semi finals Layer had to come from 2-0 down to beat Crews 3-2 on his final wave, in what will be remembered as the best duel of the event. In the second semi final Stairmand accounted for Freestone 3-0, before rolling on to the ultimate duel with Layer, who carried the momentum of his epic win over Crews into a 3-1 defeat of Stairmand.
"Sprayed with champagne on the podium, Layer, who notoriously does not compete, couldn't help but beam with pride. "I didn't know what to expect coming here," said the Maui local, "but it's been incredible. Surfing so close to so many people, music playing, heaps of energy in the air, to get the win is crazy. If more events were like this, I'd do them!"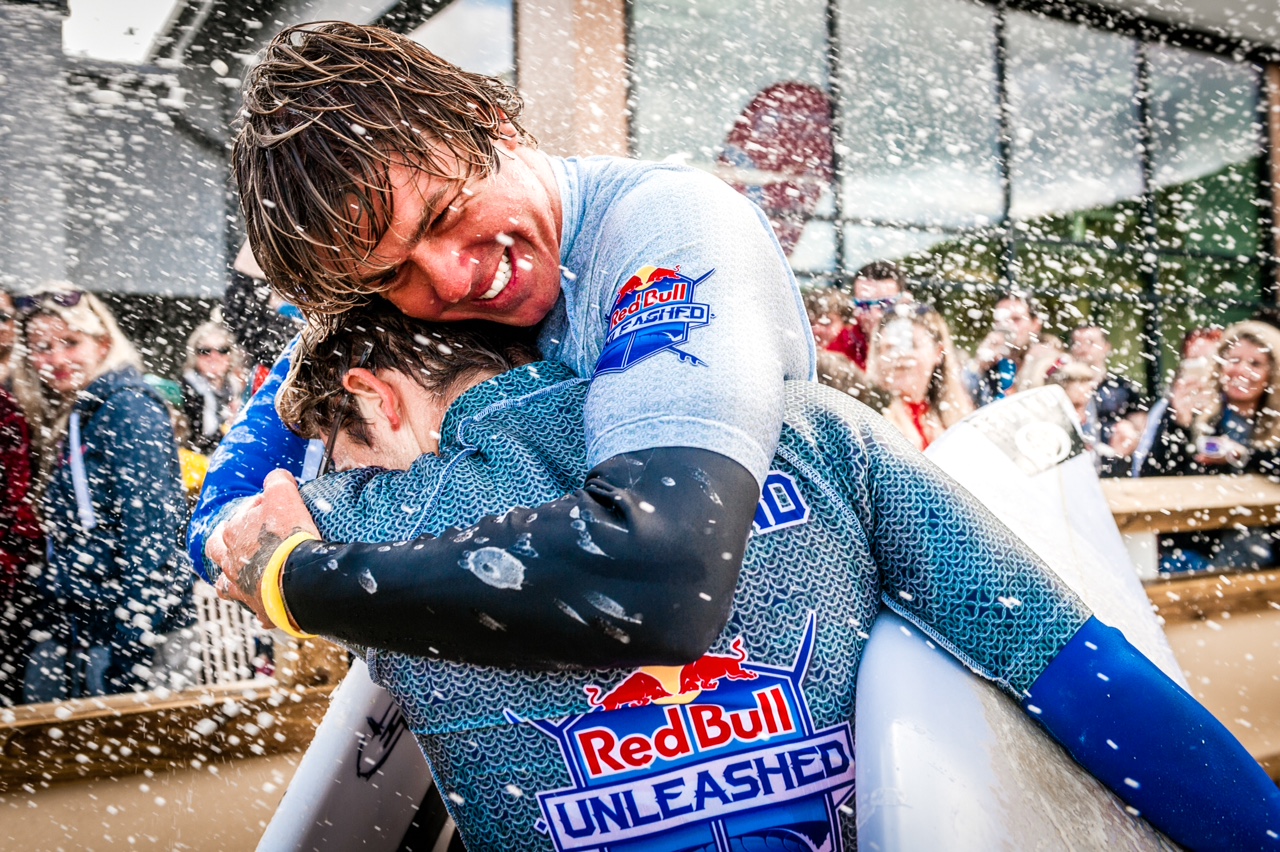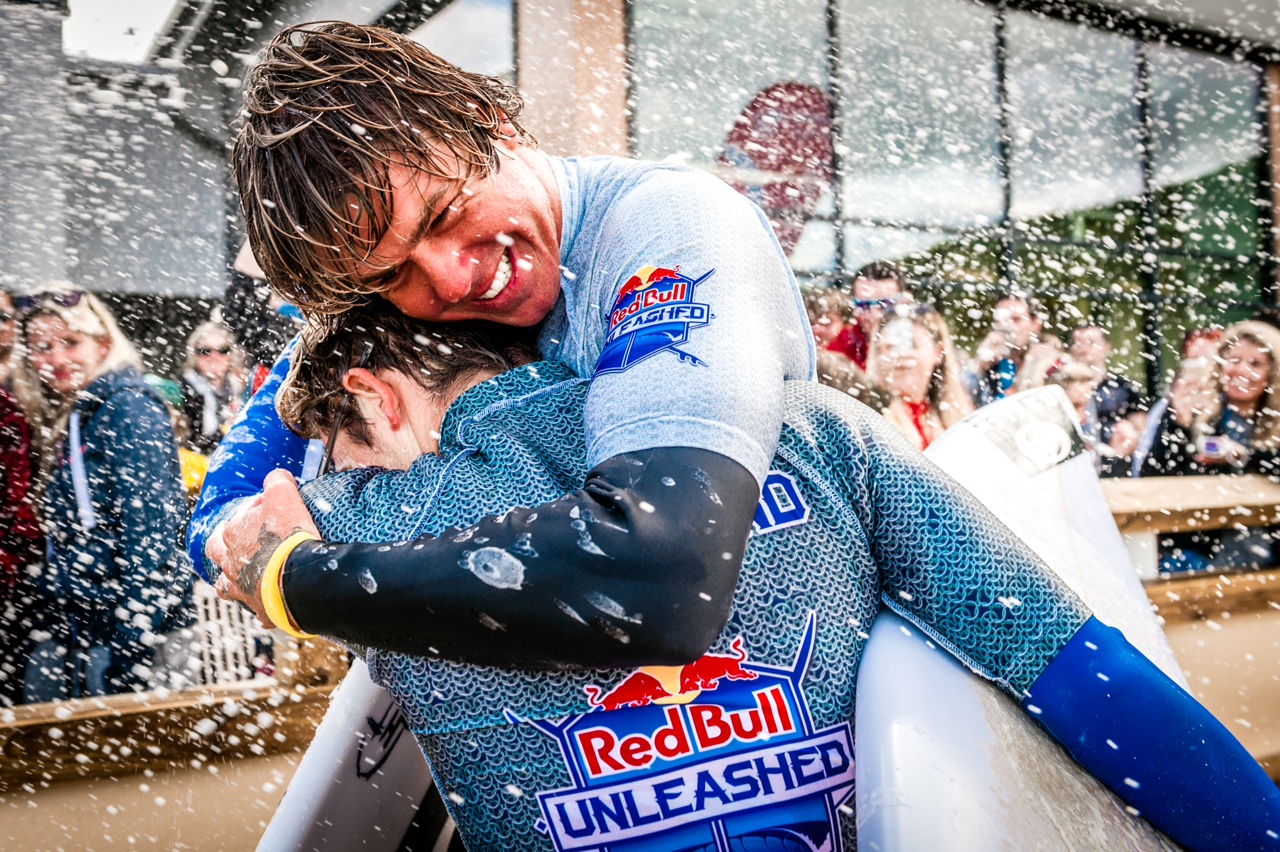 Can you feel the vibrations?
We'll take a little more of the press release to explain the event.
"As opposed to traditional half hour heats, there are no second chances at Red Bull Unleashed, every wave counts and falling is a curse. "It's cool!" said keen spectator Jordy Smith, "you both have an equal opportunity, and there's no two ways about it, the best surfer always wins. You can't afford to fall so you really have to walk the fine line between pushing it to the limit and pushing it too far."
"Throw in an audience 10-feet away and a DJ pumping out the surfer's chosen tracks, and you have a stadium-worthy spectacle. "The crowd's right above you, as close as you can possibly get to someone on a wave," said Smith, "some guys thrive off it, other don't. It's an arena for those who can feed off the energy of the crowd."
Final
Albee Layer (HAW) 3 def. Billy Stairmand (NZL) 1
Semi Finals
SF1. Billy Stairmand (NZL) 3 def. Jack Freestone (AUS) 0
SF2. Albee Layer (HAW) 3 def. Mitch Crews (AUS) 2
Quarter Finals
QF1. Billy Stairmand (NZL) 3 def. Ezekiel Lau (HAW) 1
QF2. Jack Freestone (AUS) 3 def. Kai Hing (AUS) 1
QF3. Albee Layer (HAW) 3 def. Jayce Robinson (GBR) 1
QF4. Mitch Crews (AUS) 3 def. Ian Crane (AUS) 1
Round One
H1. Ezekiel Lau (HAW) 3 def. Alan Stokes (GBR) 0
H2. Billy Stairmand (NZL) 3 def. Leo Fioravanti (ITA) 1
H3. Jack Freestone (AUS) 3 def. Evan Geiselman 0
H4. Kai Hing (AUS) 3 def. Kalani David (HAW) 0
H5. Jayce Robinson (GBR) 3 def. Hiroto Arai (JPN) 0
H6. Albee Layer (HAW) 3 def Ian Gouveia (BRA) 2
H7. Ian Crane (AUS) 3 def. Mikey Wright (AUS) 2
H8. Mitch Crews (AUS) 3 def. Reubyn Ash (GBR) 1