Stab joins forces with the lovable Minions for a very special beach lifestyle offering!
Collaborations are very exciting aren't they though? Who could ever forget 2009's Kanye West x Nike's Air Yeezy? Or 2011's Kanye West x Jay-Z's Ni**as in Paris? Supreme x Undercover? Opening Ceremony x Vans? The Standard x Quiksilver?
Stab x Minions?
That's right! Your favorite retail conglomerate (Surfstitch x Swell x Stab x Magic Seaweed) just announced an exclusive offering of Minions-inspired surfwear.
You know the Minions don't you? The lovable yellow creatures that first appeared in the films Despicable Me, Despicable Me 1 and Despicable Me 2 before getting their own stand alone film The Minions?
They are very funny and there was only a small controversy when it was revealed that their look might have been inspired by the children that Nazi's used in poisonous gas experiments.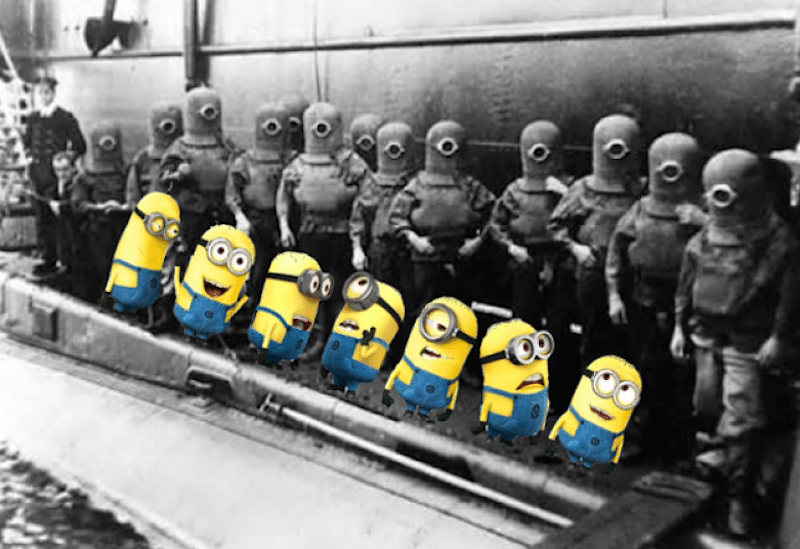 But do they surf? Apparently yes! Let's read about it from the industry blog Shop-Eat-Surf!
Celebrating the Minions' passion for the beach lifestyle as highlighted in the Minions Paradise mobile game, now available worldwide from EA, the Minions Lost in Paradise Collection will include t-shirts, denim and board shorts for men; and t-shirts, a midi dress, denim and swimwear, including a bikini and one-piece options, for women. Known for his iconic The Melty Misfit characters, Buff Monster interpreted key elements from the Minions Paradise game to design the core collection art. 
Style icons and models; filmmakers; innovators on Instagram, Snapchat and YouTube; and real-life couple Jay Alvarrez and Alexis Ren have been tapped to collaborate on the marketing campaign for the launch. Additionally, surfers, such as Rusty athlete Noa Deane, will appear in association with the collection. The influencers will be featured in a multi-layered digital campaign timed to the launch of the collection.
"Fans all over the world have embraced the Minions, and the popularity of the Minions Paradise EA game leading to the launch of an inspired apparel line is a real testament to the characters' broad appeal," said Manuel Torres, Executive Vice President, NBCUniversal Consumer Products. "Our partners at Illumination continue to inspire us to develop new creative opportunities for the Minions, and we look forward to the fans' reaction to the limited edition surf collection."
Available August 15, 2016, the collection will be sold exclusively by online action sports retailer Swell.com in North America and Europe and by Surfstitch.com in Australia.
The Minions' passion for the beach lifestyle! Wonderful! Also, maybe we can hope for a Blood Feud! Do you remember Minions' spokesman Jay Alvarrez's with Ethan someone? Ouch!
Something you certainly must own. Buy exclusively at Surfstitch x Swell x Stab x Magic Seaweed!