No biz plan, no company structure, nothing but dreams… 
Did you read my gross, but not entirely unexpected, misreading of the Billabong share price yesterday? One minute, I was convinced I had tripled my money; an hour later, I was down two thirds. 
But the sun sets every day, and people die every minute, and we mustn't be scared by rigours of business. If you don't roll the dice, or spin the wheel, how will you ever win?
Today, therefore, I announce my latest venture: a twenty per cent stake in Necro, a new deck-grip and wax company created by the two crudest and most savagely ambitious dreamers and doers in the world.
Let me introduce.
The first is Reiss Laurenson, currently, the menswear designer with the Perth-based surf company Rusty. Reiss is also well regarded for his expressive and soaring airs. Some years ago, Reiss placed well in the Quiksilver Air Show series and earned the nickname Quokka from Matt Hoy as Australia "needed its own Rat Boy."
The second founding daddy is the film director Luke Farquhar, whom you'll know from his ability to create WSL surf promos and whatever else for the cable station Fox with an unusual zeal.
Watch his piece for summer, here.
Luke and Reiss approached me with a deal that was very hard to ignore. No biz plan, no idea of how to sell, a category that was notoriously lean (how many tail pads do you buy a year?), so how about I shovel in a little cash and be a part-owner?
The pair were driven by a desire to emulate their heroes at Astrodeck, the American deck grip company still owned by the famous, and famously wonderful, Fletcher family.
This is consistent with Necro's inability to create a working business structure or of any coherent idea of moving the little company towards profitability.
Says Luke, "It's become so safe so it's good to set up a non-pro surfer owned company that still remains true to what we all got into it in the first place. "
Just, wax and grip that is exact as a knife.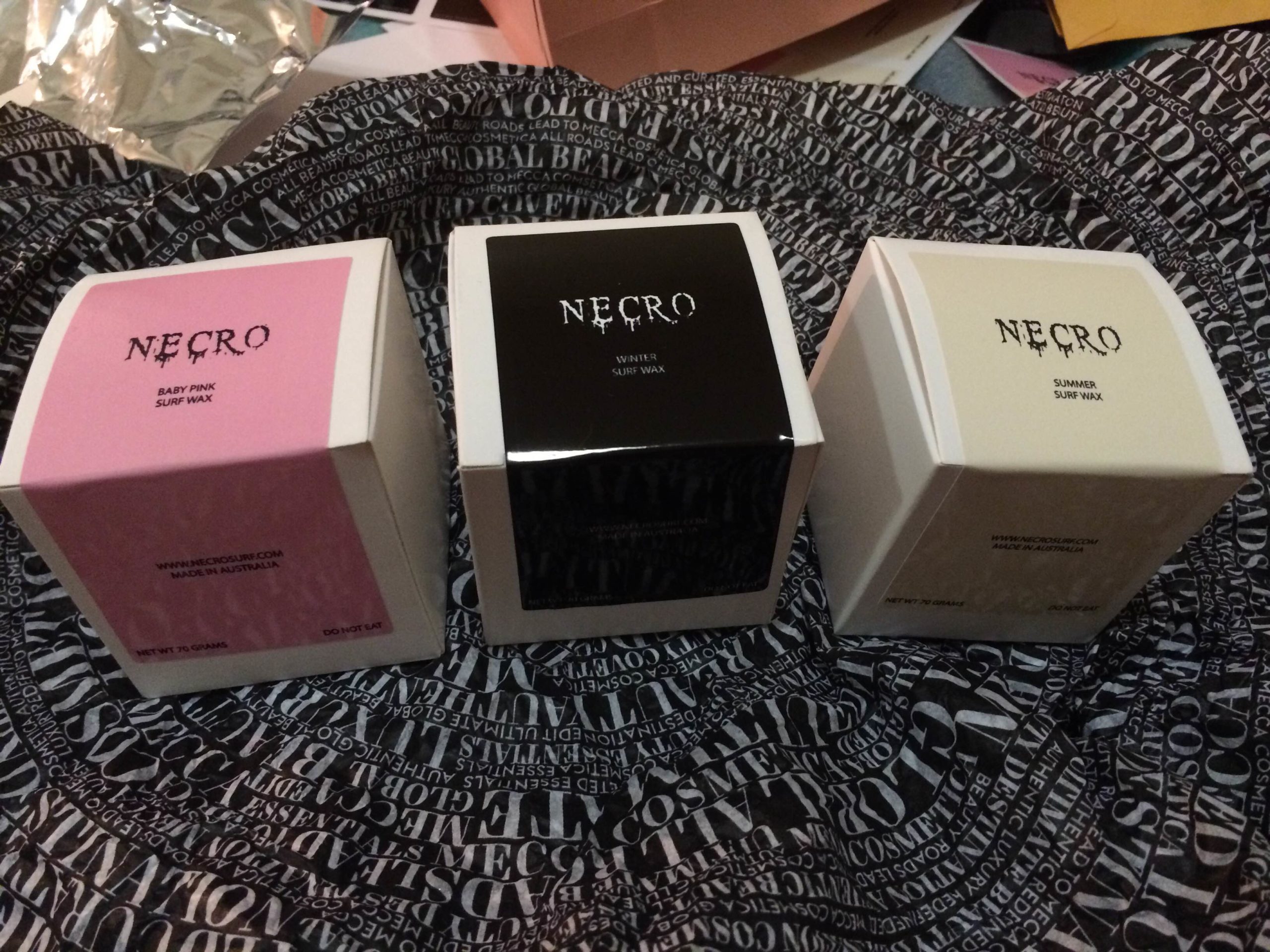 Stab magazine wrote a terrific profile on Necro a few months back, which you can read here. It covers Luke and Reiss' influences, and further reasons behind the creation of Necro.
The tail pads, which are made in the Communist utopia of China, are available in red, with black coming in a month. Pads cost sixty-six Australian dollars, and wax is six dollars and sixty-six cents. The devil imagery reflects Reiss' love of Deathwish skateboards. 
As a biz owner, I've got a few questions I'll throw to the audience: what kinda grips do you use? What do you like? What…don't… you like?
One-piece, three or five pieces?
Does the idea of expensive wax shaped as skulls and delivered in fancy boxes excite or repulse you?
Does a pro surfer riding for a certain brand make you want to ride it too?