Blunt syntax aside, is this a point well and fairly made? 
Australia's second most populous state Victoria, whose borders enclose Bells Beach and Winki Pop, has been getting hell from Corona nineteen. 
Seven dead overnight, troops roaming the streets, one hundred and sixty-six grand in fines written in the last twenty-four hours. 
But it ain't total lockdown in Vic, only the parts of the state hit by ol wheezy.
If you're in the red-zone, you're stuck in your little neighbourhood for six weeks. Bust out and it's a $1652 fine, min, up to twenty-gees if you take it to court. 
One gorgeous stretch of coast, south-east of the capital Melbourne, that has so far avoided lock-up is the Mornington Peninsula, among whose notable residents includes 1989 world champion Martin Potter. 
And locals would prefer it to stay that way. 
A sign erected at Gunnamatta Beach, one of the area's best beachbreaks, advises city surfers thus, "Fuck off Melbourne COVID dogs 'metro' kooks". (Photo from @triggerbrothers)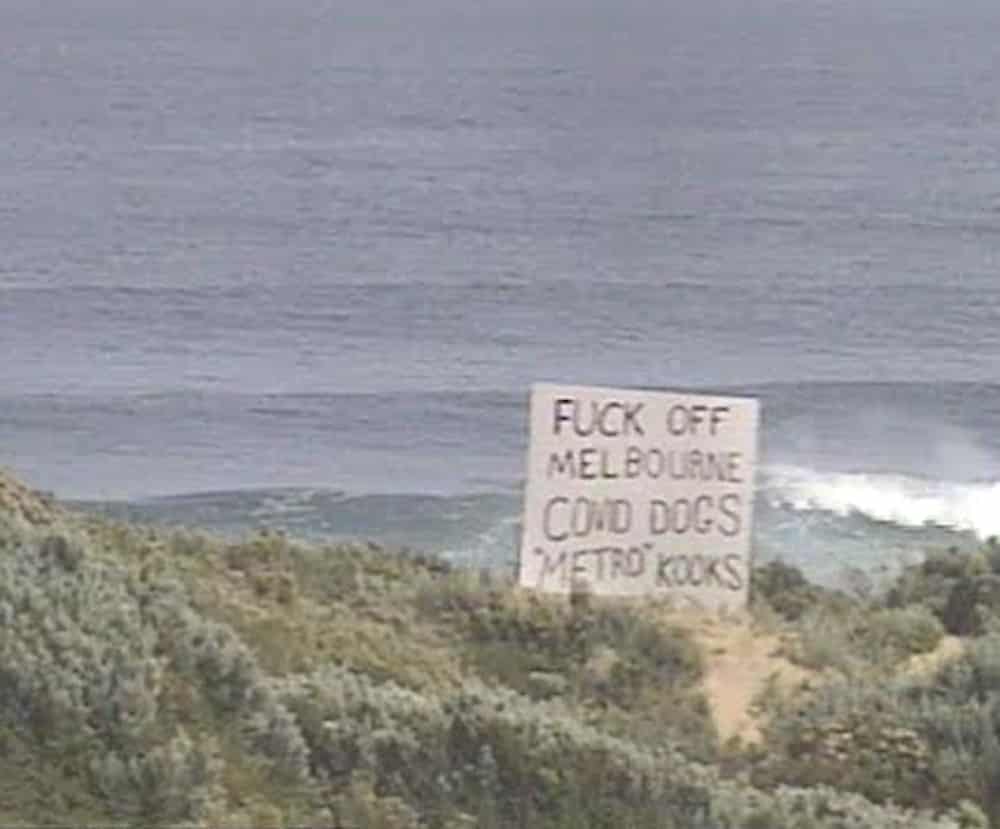 Nearby graffiti offers similar counsel: "FUCK OFF MELBOURNE DOGS COVID CUNT".
Australians, for the most, can never be accused of subtlety.
And when it comes to localism, the descendants of crooks and wicked colonialists, will spare no one's feels. 
Question: blunt syntax aside, is this a point well and fairly made?
Or the work of precious angels?