"Wearing knee leashes in 3ft Huntington…..y'all are embarrassing us!"
There are few things in this life as trustworthy as Joel Tudor growing irate on Instagram. The father of modern day old-fashioned longboarding will weigh with damning criticism of e-bikes, soft-tops, summer crowds, kooks and inequality. He is almost always, if not always, correct and today is no difference.
Tudor took to his social media tool of choice and posted a picture of Wile E. Coyote holding a sign reading "Stop in the name of humanity" and added, "Wearing knee leashes in 3ft Huntington…..y'all are embarrassing us!"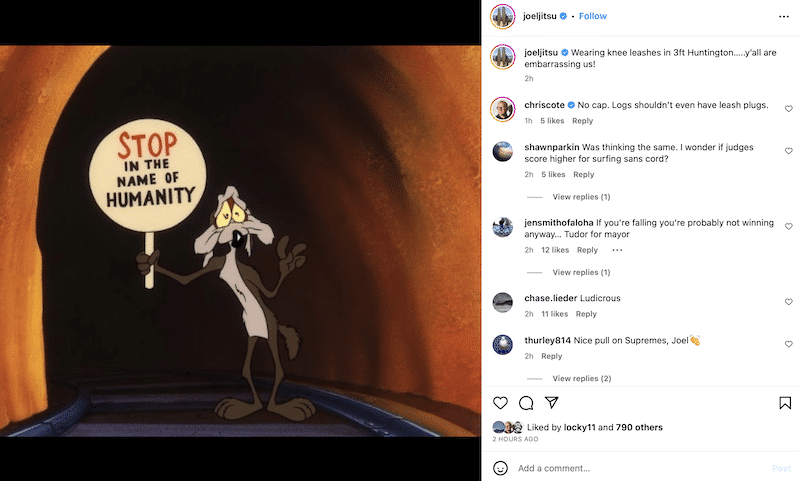 He was, of course, referring to the U.S. Open of Longboarding, currently in the water at Huntington Beach. Many of the competitors are, indeed, wearing leg ropes in a throwback to the middle 1990s. Agreement amongst Tudor's 187,000 followers was universal.
"No cap. Logs shouldn't even have leash plugs," Chris Cote declared in a rare bit of criticism leveled at his employer.
"Spreading straight facts!! we gotta get on this issue…i'm working on a post now," Nose Dodgers Anonymous threw in.
"So funny! Dork strap," Chris Ruddy Surfboards stated.
Surfing Colors might have agreed but took a gentler approach, penning, "Well, in a completion it makes sense no leash, but you have to remember surf is not about a sport that you do alone. Even in a competition, have more people in the ocean, some people just care about the others… Surfboards, specially longboards can be a gun like cars… Can you imagine if every surfer decide surfing without leash? Many surfers look to you as an idol, so be careful with something so important like this subject. I hope everybody who think that surf need to be practice without leash, haves the same words when they need to take someone to the hospital. Surfing is not only about to make myself happy…"
What is your take?
This story number 4989 has been brought to you by Torrey Holistics Dispensary and Weed Delivery which would like to remind you today is a good day to get high.