"This rhetoric is rooted in the misogynistic idea that women are weaker, smaller require protection…"
A terrific storm hit Mexico several days ago when a much-loved longboard contest there was throttled by trans-activists after including the rule, "There are only two divisions: natural born women and natural men."
Pretty silly to be so transparent for we live in an age of confected danger and outrage. Most people know to pull their heads in when it comes to dudes with dickies and the slightly rarer jock pussy.
After a post appeared with the controversial rule, contest organiser Izzy Preciado was slammed, first, by Fringe Surfers New England, which was quickly followed by Surf Equity, whom you've read about here, here, here, here and here. 
In the hysteria that followed, sponsors were urged, with varying success, to pull out the Mex Log Fest or else would be seen to be "condoning the perpetuation of bigotry and hate."
Oatly, a manufacturer of oat-based drinks whose charter reads "Everybody—regardless of spiritual beliefs, birth country, race, gender, sexual orientation, or color of their nail polish—is of equal worth" quickly threw their weight behind the boycott. 
"The bigotry mentioned in the screenshots is absolutely contrary to our values and our team has relayed this accordingly to the event founders," the company wrote in a DM to Fringe Surfers New England. 
Hydrophile Surf Craft, maker of fins for longboards, singles, experimental craft etc, were similarly aghast.
"I wanted to take a moment to be sure I made it clear how I stand on trans rights, gender equality, and human rights in general. The targeted exclusion of trans athletes from @mexilogfest by @surfinmexico is not okay. There is no room for hate in surfing and I implore you to stand against it as well."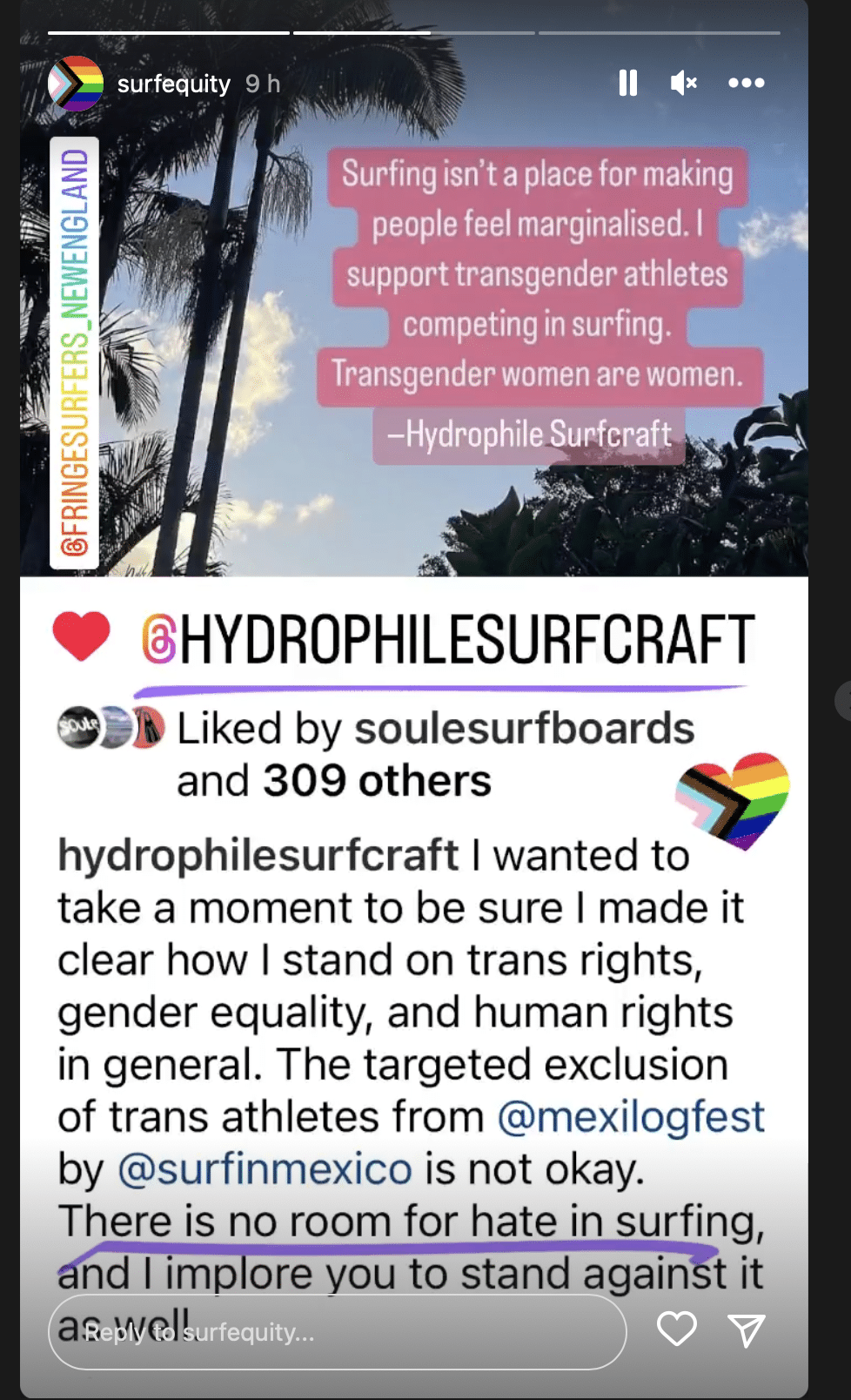 Someone calling 'emselves @sats_ko lit up on a "cis bro supporting a cis bro who is the founder and event direct of "Bigot Fest" with a lengthy screed., 
"Trans women's inclusion in surfing is a feminist issue and a human rights issue – and this vile exclusionary rhetoric harms ALL women. Obviously this is blatant transphobia – and he is not thinking/caring about the trans experience – but one thing that stands to me is: I imagine he thinks he is speaking in solidarity with cis women (?) – whereas, banning trans women hurts cis women too. 
"Because ppl come in all shapes and sizes – and this rhetoric is rooted in the misogynistic idea that women are weaker, smaller require protection etc. Would he prefer weight classes to make things 'fairer' amongst different sized ppl. No because it's not really about that. 
"But what banning trans women does it put scrutiny on cis women who may be taller, more muscular, more masc/butch/androgynous. I hope this can start a dialogue  to unpick get ppl reflecting how these arguments are rooted in misogyny." 
Powerful words although experience does tell me that, generally, women are weaker than men, although miles ahead when it comes to mind fucking, again, generally.
More importantly, take Eddie Rodrigues, below, a crossover gal.
Is the line blurring for you now?
View this post on Instagram