"I wish I could download my brain," says Slater.
Ain't nobody cleaner in sports than Kelly Slater, fifty-one, oldest, youngest-ever world champ, eleven tiaras balanced upon on his satin-skinned head. 
It came as a surprise, therefore, when an old interview that appeared in Montauk-based magazine Whalebone five years ago, Kelly and Bill Murray back and forthing while in a golf-cart together, suddenly started doin' the rounds again. 
View this post on Instagram
Yesterday Slater posted,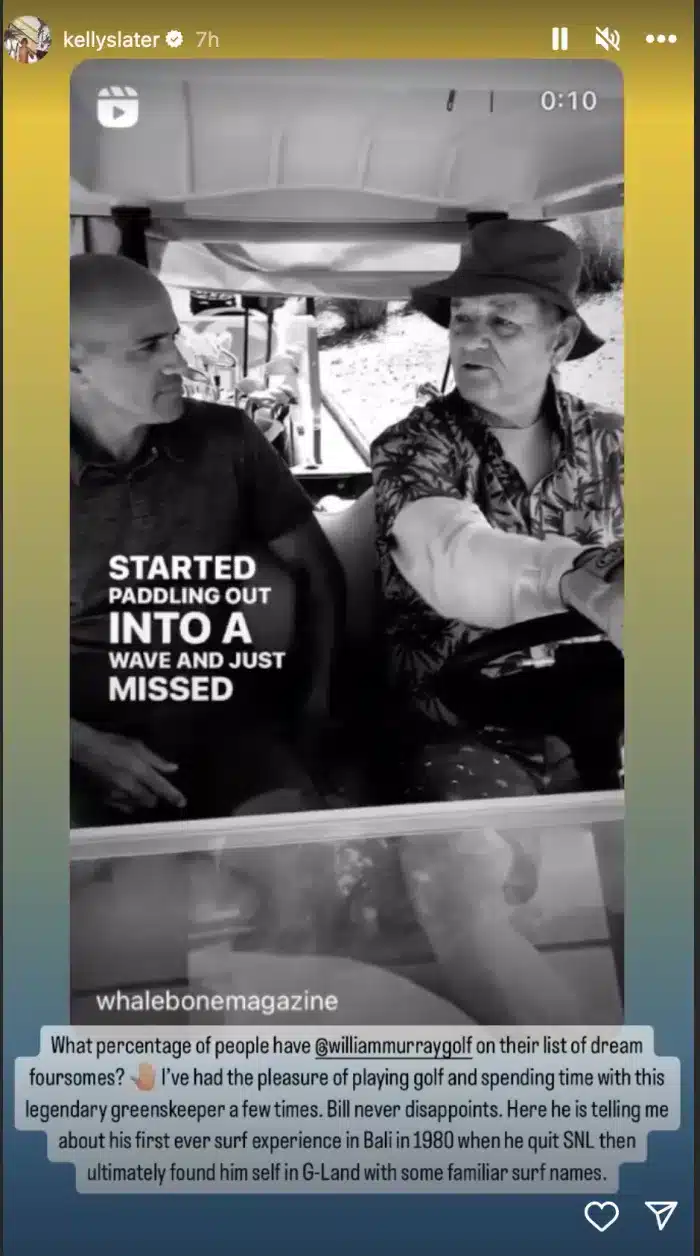 "What percentage of people have @williammurrarygolf on their list of dream foursomes? I've had the pleasure of playing golf and spending time with this legendary greenskeeper a few times.
"Bill never disappoints. Here he is telling me about his first ever surf experience in Bali in 1980 when he quit SNL then ultimately found himself in G-Land with some familiar surf names."
Better than that.
In their exchanges, Murray takes Slater on a tour of some hitherto unknown ports, including the fatal curse of eighties cult-comedy Caddyshack and the wild life of the long-dead comic Rodney Dangerfield. 
"There were a lot of fun people in (Caddyshack). That was a lot of fun. We lost some people on that," says Murray.
"What do you mean?" says Slater.
"We lost some people, some good people never were the same after that. It's so funny when you're with Rodney… he was wild," says Murray. 
"Rodney was wild huh?" says Kelly.
"Poppers and blow," says Murray.
"Jesus Christ," says Kelly. 
Later, Kelly tells Murray of his wish to examine the contents of his brain. 
Murray: You've probably seen, probably just so many amazing things in the ocean.
Slater: Yeah.
Murray: Many of which you were unable to document, right?
Slater: Yeah, I wish I could download my brain.
Murray: You know you could probably do a picture book. You could probably have someone draw it, ya know? You could have someone illustrate it, just from you telling them what it was, ya know?
Slater: Well I've read that they're coming up with this technology that can go in and see your visions or something and take a picture of it and put it into a holograph. Your brain is a holograph, just thoughts in your head, so nothing is the storage of anything solid… it's just a thought really. Weird.
Murray: Did you read this, that they discovered the largest organ in the body and they didn't even know it existed?
Slater: No! Really?
Murray Yeah it's just a interconnected, like a chain that goes through everything, it passes through everything.