You might know this duel citizen as Brandon "Laserwolf" Campbell…
As far as handles go, Laserwolf is one of the more ambitious. Are his tendencies wolf-like; is his stare as forceful as a laser beam?
"It's my spirit animal,' says Brandon.
Whatevs, Brandon is one of the more reliable shooters with game on the North Shore. You need some colour for your magazine or website? Give Brandon a hit and let him inflate your electronic mailbox. Water, mostly, 'cause he's a water baby, shooting for cash and kicks, surfing when necessary.
Brandon Campbell has fixed himself upon the North Shore for the past six years. He's a Florida transplant, but don't shoot a man for his non-indigenous background. If you really want f'reals, let me tell it like it is: Brandon's from Melbourne, that city that was founded by former slaves in the middle of the 19th c. An't much realer than that. The Hobgoods, Jimbo Morrison and model Kate Upton are from Melbourne, too, although like Brandon ain't much of that fine chocolate in their DNA. Yeah!
He's even picked himself up a a single-fin riding, yoga-teaching, non-cow eating "real conscious goddess" too so he's feeling real attached to the seven-click miracle.
I got some questions for Brandon…
(And if you want to see his photos, click here for his BeachGrit gallery.)
When did you first pick up a 10-foot wave? 
I'll never forget it. I was 14 and Hurricane Floyd came ripping up the Florida coast. There was a mandatory evacuation but my family stuck around and rode it out at our house just a block away from the beach. It was pretty heavy but as soon as the storm started to pass, the winds went offshore and the waves were the biggest I had seen. I grew up on a barrier island and because everyone had evacuated and the bridges to get on and off the island were closed off, I had the lineup all to myself. It took me forever to get out and there were palm trees and boardwalks floating buy  but I caught this bomb right away and I was so spooked that I went to kick out but before I could get to the top of the wave the thing just pitched this massive barrel over me. The whole thing's on video and you can hear my mom and a few other people gasp but then I got spit out of this thing and they all start hooting and whistling for me. I've been hooked ever since.
So tell me about your big-wave game now… 
I just like riding waves brother. Big or small, I'll take what I can get. Growing up in Florida, we only got overhead surf a few times a year so we were hungry for it. I'd been to Puerto Escondido a few times and some other spots that get pretty solid so I was comfortable in bigger surf by the time I moved to Hawaii. My first winter out here I was towing the outer reefs but kicked that habit a few years ago and got a 10'8″ shaped for paddling in. For a minute I thought it'd be cool to be the first guy from Florida to make the big-wave world tour but, I dunno, most of those guys are on another level and I ain't down with all the politics. I'm just stoked to surf.
Y'any good? What's your most profound big-wave experience thus far? 
I'm alright. My mind is good out there and that's just as important anything else. Maybe I haven't been sitting deep enough but I had a good track record of making all my waves to the channel up until this winter without any heavy wipeouts. I got smoked a couple times this year and this past swell I took a bomb on the head that completely annihilated me. I had been in the water for about eight hours with a couple breaks in the channel to refuel. It was a tough crowd and the big boys didn't want to share the bombs so I was only getting the leftovers. I was paddling back out after catching a medium size one when this 18-foot (Hawaiian scale) monster broke right on my head. It close out the whole channel and boats and skis were scattered.The impact was so heavy, it set off two of the air canisters in my inflatable vest, I got the wind knocked out of me and felt like my limbs were being ripped off. I tore some muscles in my back and haven't been able to surf for a couple weeks now.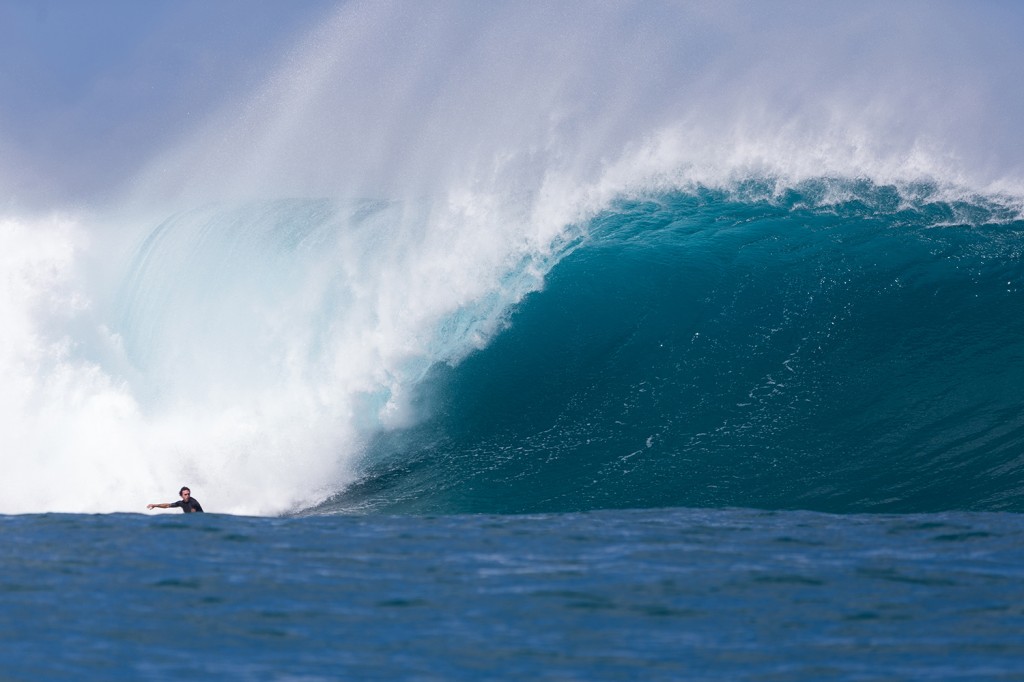 Y'got a dog, I know that. Bitch vicious? 
Bruce The Boss. Half French Bulldog, half American Bulldog. He's a gentleman and a scholar but don't get him too excited or he'll piss all over your feet.
What's the bravest thing you've done? 
What, like that time I ran into a burning orphanage to save a bunch of children, woman and kittens? I kid, I kid. Probably quitting my job to focus full time on surf photography while being a single dad. It was a scary roll of the dice and a lot of people  were pretty discouraging. "It's too late in the game", " You don't have any connections", "Surf photography is dead" blah, blah blah. I heard it all but I stuck with it and it all seems to be working out.
Cameras, when did they come into your life? 
My auntie is a photographer and I recently found out that my Quaker ancestors were some of the world's first photographers. I guess its in my blood. I've only been shooting surfing for three years though.
Why? Ain't no money in that game? 
Yeah you know I hear that a lot, especially from the OG's who were doing this back when surf photographers were raking it in, but fuck, I mean how much money do you need? I'm not stacking paper but my bills are paid, my kids taken care of and I'm travelling the world doing what I love while calling Hawaii base camp. I wake up every day and do whatever I want. Surf when I wanna surf, shoot when I wanna shoot. No one telling me to shave my face, tuck in my shirt, where and when to be. Life is good brother!
But then y'got some covers, tell me about 'em.
Yeah I got a few, hopefully more to come. My first cover was with Freesurf which is the local mag here in Hawaii. It's also the first mag to run one of my shots. I'm really grateful for all the support from them. I've got the cover of Stab this month as well. That one is a pretty big deal for me. Stab is the hottest surf mag on the planet right now, but I don't don't need to tell you that, you helped build that empire! Ghetto Juice's slapped one of my shots of Wardo on the cover of this year's Hawaii issue too. I couldn't be more stoked with the way 2015 has started off for me.
What's your money shot?
I got this shot of my friend Marcelo down in Tahiti. I've never seen anything like it. My camera was in the lip looking straight down on him. The water is so clear it looks like he's in a bubble. It's definitely my one the bests images I've captured.
What's your strength as a photographer?
Barrels, I love shooting barrels! Fisheye, 50mm, Long lens from the channel, whatever.
What's your weakness?
Motivation to shoot when the conditions are anything but perfect. If its cloudy, I'm going surfing but then I'll see someone else nailing sick shots and I get all down on myself for slacking.
As far as I know, you're one of the few photographers who hit a little juice? Why is that? 
Yeah, its weird. I know a lot of surf photogs that don't even surf. I guess if you're a surfer, the last thing you wanna do is watch your friend surf while you work. I'm getting barrelled either way, so I'm just stoked to be in the water. I've seen Hank Foto tow into some BOMBS though at the outer reefs. I might be the first photog to give Jaws a go but don't quote me on that. Besides, I was shitting myself out there. That place is heavy! You know who is a closet ripper? Jimmy Wilson a.k.a Jimiicane. I think he won a Volcom contest in Florida one time. Brent Bielman rips too!
Do you believe in Jesus, that he'll come and save you if you get stuck out there on some outer reef? 
Nah, I'm not into all that. Different strokes for different folks. I respect everyone's beliefs but I don't need to deal with the middle man when I can go straight to the source. I've got no doubt that there is something out there bigger then me and you and I make sure to keep the line of communication wide open and be grateful for life's blessing but I wouldn't feel right putting a label on it and telling everyone who doesn't share my belief that they are gonna spend eternity in a fiery pit or their next life as a cockroach. I don't have the answers but I think at the end of the day whether you pray to Jesus, Buddah, Allah or whoever, we're all acknowledging the same higher power, God, just in a different style. Religion is like surfing, you might bodysurf or ride a boogie board while I'm on a thruster and she's on a longboard or whatever but we're all really just riding waves right?
When you lie in bed, at night, alone in the dark, what do you think about?
Before I was 20 I probably had a dozen friends from my neighbourhood die. Now I can't even count them on all my fingers and toes but I think about them often. Car wrecks, drownings, overdose, murders, suicide, freak accidents, you name it. It's wild and I can't help but wonder when I'm next. Life is precious and you really gotta' live every day like its your last.
What is the key, you believe, to a good life? 
The universe is gonna serve you up some Karma casserole on a silver platter, good or bad. Its a round world and it all comes back. You gotta give everyone a chance but don't let anyone push you around either. Be kind, be grateful, be respectful, accept the path others chose for themselves, be righteous and be strong. Take care of the earth and it will take care of you. I don't always get it right but those are the basics I try to live by.
Anything else you wanna holla at me? 
I wanna keep the ball rolling and continue to learn and grow as a photographer. Hopefully get on a hand full of trips this year and maybe even knock the freelance hustle and land and staff gig with a good company.