"...I am well settled sexually..."
Alex Gray is a fine young-ish (27, maybe 28) man who grew up in a Los Angeles costal suburb and has carved a name for himself chasing monster swells. He is, in my experience, very pleasant and easy with all manner of small talk. I believe our last conversation was behind a curtain backstage somewhere. Maybe during a Brian Setzer x Mike Ness show? I can't be entirely certain. I only remember chuckling together. Apparently, though, not everyone feels the same.
World Surf League front-runner, and major part of The Brazilian Storm, (New York Times does piece today!) Filipe Toledo's father thinks poorly of Mr. Gray, posting the above picture on his Instagram account with the caption:
"hei alex gay…sorry, gray, I think you this wanting suck my dick! sorry but will not give, I am well settled sexually, and besides, my wife will kill you!!! Fuck yourself…(winky smiley face sticking out tongue)."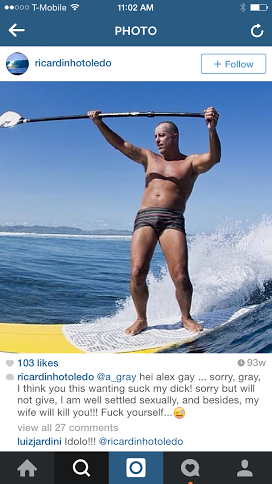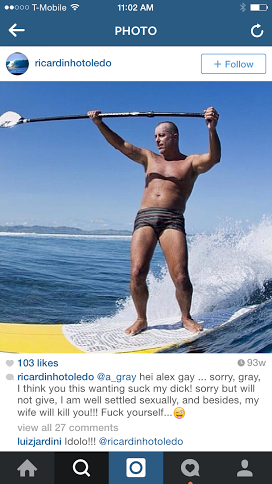 Granted, the missile was launched 93w ago, an eternity in social media, but it has newfound value with Filipe's rise to the top. Whatever could have transpired to cause such ire? Is it settled or does this blood feud stretch back generations? BeachGrit will not rest until we have answers, but until then you can ponder these other questions:
What is Mr. Toledo wearing whilst SUPping? Was Alex Gray SUPping too? Is it a SUP feud? If SUP feuds were televised as Mad Max meets Roman gladiator brawls (think beefy men with giant spikes on paddles, shields, etc. slowly meandering down the line toward each other…) would you watch? Who would be the WSL SUP FEUD WORLD CHAMPION?