A ten, a world title wrestle and a menopausal lesbian commentator at the Rip Curl Pro Portugal!
Back to Supertubos! Day five of competition. Starting with the remains of round five.
Almost exactly one year ago I wrote, Do you think Strider cruises into his hair stylist, sits down and says, "Give me the menopausal lesbian"?
Yesterday the question was firmly answered…
Shit…never mind. I went to sleep at two am, after roughing out a good portion of today's write-up. Had a great joke all ready to go for the intro. It was suuuuuuuper funny. You'd've loved it.
Then Chas had to go and steal the gag off my facebook page. Lame.
Chas doesn't even look like Ellen. He looks like that blonde vulture from The Jungle Book.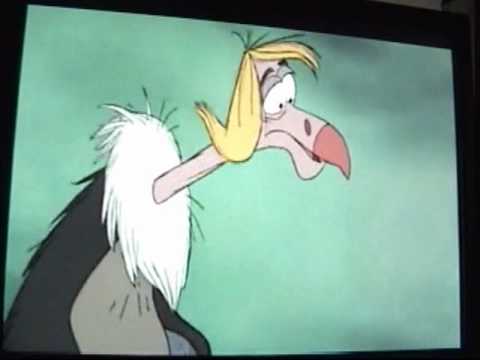 Instead of bursting your sides with my hard-won hilarity, let's get down to brass tacks.
Very surprised to see they'd be running. It did not look good. Logie's decision to go heat by heat was ballsy. Definitely some "diamonds in the rough" out there, but no one wants to watch hours of closeouts.
But being able to find crazy barrels in shifting hell lineups is a learned skill. Which makes the decision not-stupid. I won't go so far as to call it the right thing to do, but it's an educated gamble. Worse comes to worst there'd be some highlight reel wipe outs, the occasional stellar awesomeness.
The first heat, Bourez and Wilson, proved Logie right. Michel opened with a solid backhand tube, but from that point on it was The Julian Wilson Show.
Wilson's first wave was fucking sick. High line backdoor, million miles an hour. Thought for sure he'd been knocked off his feet by the crazy chandelier, but he threaded the needle and came flying out the end for an 8.5.
He paddled back out, immediately butt dragged his way through a good left. 5.83. Then found another fun tube, but not as good as the first two.
A break in action, Bourez still only had one wave. Then Julian found another unbelievable barrel.
Big and open double tube with a hideous clamping clamshell on the end. I don't know how the curly headed cutie managed to bulldoze his way through the final section, but he did. And it was amazing.
I thought it was better than his first wave, so did Ross Williams. But the judges disagreed. Still a solid score, 7.83. More than enough to make put Bourez in a 16.34 combo. Wilson had the heat won with eighteen minutes left.
Heading into Flores v Coffin, it looked like shit. Terrible heat. Neither guy could find anything, Conner ended up winning based on the merits of a 2.83 and a 4.43. Too bad for Flores.
One highlight, though. Flores's 2.67 keeper was really cool. Hard off the bottom, hit the brakes as hard as he could with a slashing snap-stall. Ended up on the foam ball, praying the lip would throw out in front of him. It didn't, so he didn't get a good score. But it was a great display of his high tier tube riding ability.
If I were Logie I'd have called it off then and there. Too much of a chance the rest of the day would drag. Then he'd have to hear from all the internet armchair quarterbacks complaining on their tabloid rag surf websites.
But he decided to roll the dice again.
StuKen/Seabass was a slight improvement over the prior heat. Kennedy's first wave was the best of the match up. Solid forehand barrel, great cutback, snap. Hopped across the flat section, then bonked a reo to seal the deal. Judges gave him a 5.83. I thought they'd go higher, just abased on the fact that there aren't many, if any, opportunities to mix it up like that.
Stu backed it up with an open right, did two okay turns. Only a 2.6.
Seabass won it on the merits of two frontside tubes. Both were good, deeper than Stu's first. No turns, but the judges just want barrels.
If I were judging Stu would have won. But rewatching I realize they're right. Seabass deserved the nod.
Flores is out, but Andino is still on fire. The kid from San Clemente stomped ADS to death.
Late drop deep backside barrel for a 7.83, then an even deeper and longer one roughly fifteen minutes later. Got a 9.67 for the follow-up.
With three minutes left Adriano had one wave under his belt, a worthless french fry 1.0. He caught a good frontside tube, whacked it twice after coming out. But turns aren't counting for much and his next wave, last chance, was a quick in and out followed by a fall on the reo. Buzzer sounded with ADS in combo.
John John/Julian was fire.
Double Jay started off with a frontside throater. Not super deep, but big and open and grinding. 5.67.
In these conditions it'd be easy to call each guy's win pure luck, but Double John always manages to show how much skill is involved. Proper positioning, the intuitive ability to know when to go, even when it looks like sure failure. Takes a lifetime to develop. John's been chasing ugly bombs since birth. He ain't just guessing.
Julian's first wave was better than John's five six seven. Late drop, barely squeaked under the lip. But he couldn't quite slow down enough. Only a 6.67.
Damn hard to beat Florence in a barrel-off. Next wave he came from so deep, going so fast. Spat out right before it shut down. Nine point three, heat winner for sure.
Julian followed with a long and deep double bubble, nothing floater at the end. But it was only half the size of John John's monster. 6.9, not enough to take the lead.
Florence was right behind him with a bigger and better. Double hand drag, multiple sections, a weird perpendicular sliding-on-his-fins end section hit that I don't know if he really made. 7.5 reward.
Heat was over at nineteen minutes left. Only one more wave caught, a 1.0 for Kolohe. Charged his way into a bomb, pull the eject when it lined up.
John John continues his way to a title.
Pupo and Coffin up next. It wasn't great.
Pupo finished up with a 5.94 total. Coffin got the only two good waves of the heat. 5.83 for a good tube to frontside layback hack. Then 6.83 on the next for another more gooder tuber.
Final heat of the day, Jordy and Seabass, might've been the best. Toss up between it and JJF/JW.
Seabass's first was steep and deep. Came flying out, heaved a double grab boost over a heavy section. Landed on the roof, rode out the rebound. 9.23. Backed it up with a smaller frontside cover, 4.23. Left Jordy combo'ed ten minutes in.
Should've been enough, based on the way conditions have playing out. But Jordy spoiled it, delivered a soul crushing come-from-behind.
Broke the combo with a 7.5 frontside tube with seventeen left. Then slammed the door on Sebastian's dong with the event's first ten point oh.
Good judging this heat. I thought Seabass's first wave was underscored. Maybe because I'm old enough to remember when a barrel to air combo was mind blowing. Kelly's back in '94 had me screaming, but it weren't shit by comparison.
Anyway, I was wrong. Jordy's ten was miles beyond. The men behind the scenes did good. Didn't get over-excited and drop a too-high score early on. Left room for the boys to improve. Jordy came through.
I did not care for the claim. What are we gonna call that one? "I'm a fancy ballerina."
Ten minutes left and Seabass needed a low eight. Not impossible, but it wasn't meant to be. Jordy's ten was the final wave of the day.
Finals day should be exciting. Kolohe and Florence, Coffin and Smith. The first one may be amazing. Then the rookie gets a chance to play spoiler.
I'm two minds about what I want to happen. It'd be rad to see John John win a title, but things are always so much more exciting when it comes down to Pipe.
Meo Rip Curl Pro Portugal Round 5 Results:
Heat 1: Adriano de Souza (BRA) 9.90 def. Joel Parkinson (AUS) 7.57
Heat 2: Julian Wilson (AUS) 16.33 def. Michel Bourez (PYF) 6.06
Heat 3: Conner Coffin (USA) 7.26 def. Jeremy Flores (FRA) 6.17
Heat 4: Sebastian Zietz (HAW) 8.80 def. Stuart Kennedy (AUS) 8.43
Meo Rip Curl Pro Portugal Quarterfinal Results:
QF 1: Kolohe Andino (USA) 17.34 def. Adriano de Souza (BRA) 8.10
QF 2: John John Florence (HAW) 16.90 def. Julian Wilson (AUS) 13.57
QF 3: Conner Coffin (USA) 12.66 def. Miguel Pupo (BRA) 5.94
QF 4: Jordy Smith (ZAF) 17.40 def. Sebastian Zietz (HAW) 13.56
Meo Rip Curl Pro Portugal Semifinal Match-Ups:
SF 1: Kolohe Andino (USA) vs. John John Florence (HAW)
SF 2: Conner Coffin (USA) vs. Jordy Smith (ZAF)