"If he had a wheelchair he'd still get out there and take off. He's nuts," says big-wave chasing filmer.
Last Wednesday, a troupe of big-wavers, which included the Australian Justen "Jughead" Allport and nine-time bodyboarding world champion Mike Stewart, threw 'emselves at a ten-to-fifteen-foot swell hitting Shipstern Bluff in Tasmania.
The action was to be captured as part of a new reality TV series called Swell Chasers, and created by the noted filmmaker Tim Bonython.
"The place turned on, that's for sure," says Bonython. "There were twenty-foot bombs. And Judghead, he's a hellman. He proved it, literally. He's a crazy motherfucker, as they say. Fuck, it doesn't matter what happens, if he had a wheelchair he'd still get out there and take off. He's nuts but that's what makes him unique. It's why we love him."
Bonython says a wipeout in his first session sent Jug back to the support boat, bleeding from the mouth and complaining of a terrible stiffness in his back.
"He got a twenty-footer straight off the bat, then a fifteen-footer and he fucking got annihilated," says Bonython.
After an hour-and-a-half on the boat, Jug wanted more.
"And he jumped off the boat, paddled into the line-up by himself, got a bomb and fucking got pitched."
As Jug, who works as a firefighter, recalls from his bed at Gosford hospital, tubes stuffed into the cavity between his lung and chest to drain the blood and wearing a neck brace, "I was watching from the boat and it looked like it was getting better and I thought, 'I'm not going to be here tomorrow.' You can't go all that one way for one surf. "
Jug, who is forty-five, says his fingers were freezing which made it difficult to paddle his six-four quad-fin Wizstix with any great speed, but he kept telling himself, keep it together, just paddle hard and get one.
"So I saw this and I knew it was going to be a good one. It had a ledge that lets you in. I put my head down, paddled hard, told myself, 'Even when you think you're on it, take three extra strokes', but then the wind got under me and I was held in the lip and free-fell. I got to my feet…just."
He was sent over the falls, could't pin drop 'cause the wind had hit him off-axis and got washed over the rocks.
The surfer Kip Caddy and Mike Stewart came with the ski.
"I knew I had done some serious damage," says Jug.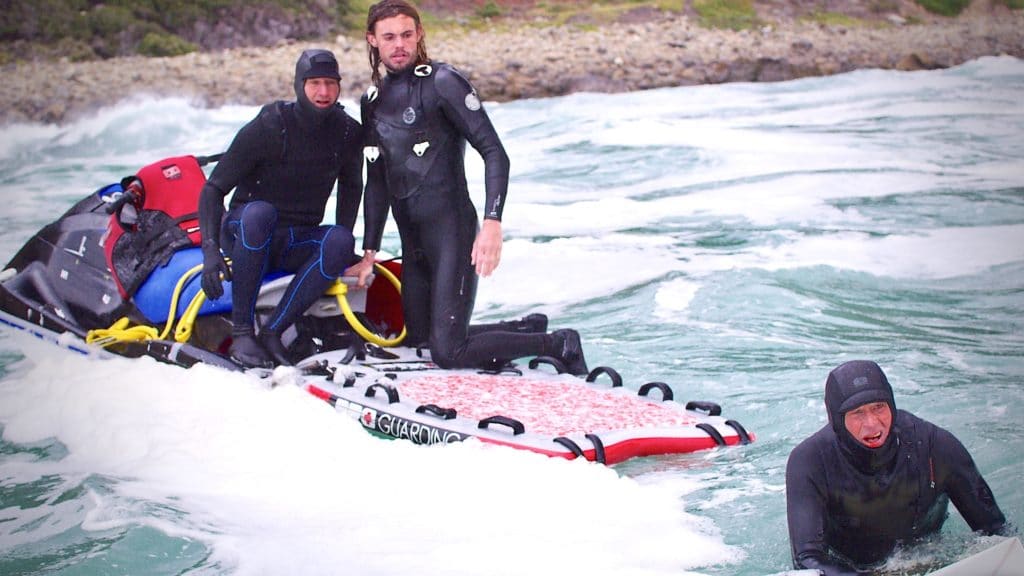 Still, he had to get back to base via a ninety-minute boat ride through four-foot chop while laying on a stash of board bags.
Jug ain't one for histrionics so he didn't go to the doc that night. Instead, he suffered, alone, in bed.
"It took me four hours to move position, to get the courage to put myself through the pain to get up, to get my brain to say, you can get through the pain."
The next morning he flew home to NSW's Central Coast via Sydney.
He took his kid to school, walked into hospital, was x-rayed, (busted T11 vertebrae), and admitted immediately.
"The doctor says he could've died easily on the flight with the blood in the collapsed lung," says Bonython.
When I call, I make a joke.
Through his busted lungs, and with breathless speech due to his one-functioning airbag and seven broken ribs, he wheezes,
"I'm trying not to laugh."
Jug added that he may take a few days off from work while he recovers.