Good times etc.
They don't mess around in the West, home to the great Kanga Cairns and waves that make the nostrils of even the hardiest big-waver dilate.
Four weeks ago, as reported here, "a scuba diver discovered buried in a shallow reef cave underneath stop number three on the World Surf League's Championship Tour Margaret River…Our source on the ground says, 'Some of the fishermen here are real cowboys. They carry guns when they go out in case of, uh, emergency.'"
BeachGrit commissioned divers to photograph and video the grisly discovery but by the time the swell had dropped enough to get into the cave, the shark was gone.
Now, according to Surf Life Saving WA there's been a report of another dead Great White found "wedged under reef between South side and Rifle Butt beach."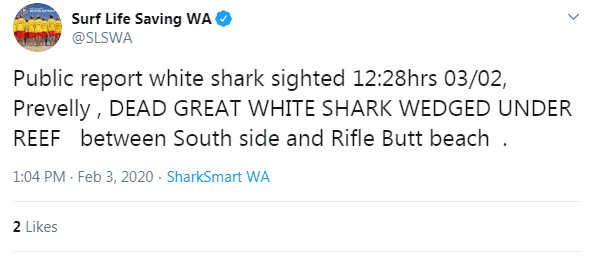 Two questions, I suppose.
Did the original dead shark get pushed deeper into its hole, giving the impression of its disappearance, before getting squeezed back out?
Or did the area's cowboy fishermen kill a second Great White and jam it under the ledge, if that was possible, as a grim warning to other sharks?
And, a caveat:
If Western Australia's healthy shark population causes you worry, don't go near the SLSWA twitter account, a sorta porn site for people who get off on hearing about sharks at their local surf spots.
Since Feb 1, they've reported the dead White at Margs, an eight-footer fifty metres off Rocky Point in Dunsborough, another eight-footer two hundred metres off Windmills in Dunsborough, two eight-footers circling near Margs main break, a ten-foot Tiger a hundred metres off a Busselton groyne, an hour north, an eight-foot Tiger caught, tagged and released near The Womb in Gracetown, two eight-foot Tigers just off Rocky Point in Dunsborough, the closure of Bunker Bay in Dunsborough because of sharks, an eight-foot Bronzie near The Farm in Dunsborough and thirty swimmers evacuated from the water at Yallingup 'cause of a "loitering" eight-footer. Species unknown."
Good times etc.