The Champ and his lil sis back together after family feud went nuclear following marriage to Yasmin Brunet.
The three-time world champ Gabriel Medina has posted his first photo with his half-sis and surf prodigy Sophia since his dramatic split with his mama Simone and step-daddy Charlie Serrano
Gabriel became estranged from his Simone and Charlie following his marriage to the Sports Illustrated model Yasmin Brunet.
The feud went nuclear shortly after with Simone's allegations of a wild sex tape of a real young Yasmin from a drunken party in Rio.
"She was really crazy at a party at her condo in Rio. Drunk, in the parking lot, doing this to a guy and then throwing up," Simone allegedly wrote to her son.
Yasmin, in turn, hit Simone with a defamation suit.
Gabriel then quit the tour only two weeks before the tour's opening gambit at Pipe amid rumours that he'd quit pro surfing for good.
"Last year was a very difficult year for me and Gabriel," Yasmin posted. "I've said many interviews that anyone else in his place wouldn't have been able to get where he did, in fact anyone in his place wouldn't even have gotten out of bed. I saw firsthand everything he suffered because I suffered along with him. I saw him hold back a lot that was extremely unfair to him. Many times we were slaughtered needlessly without even knowing the truth of what they were publishing. 
Shortly after, Gabriel announced that he and Yasmin had drawn the curtain on their year-long marriage.
And here we are, Gabriel and lil sis, daughter of Simone and Charlie, on the beach, post-shred at Maresias on the north coast of São Paulo where Gabriel is currently selling his swank beachfront mansion, complete with swimming pool and sauna.
"My little one," writes Gabriel.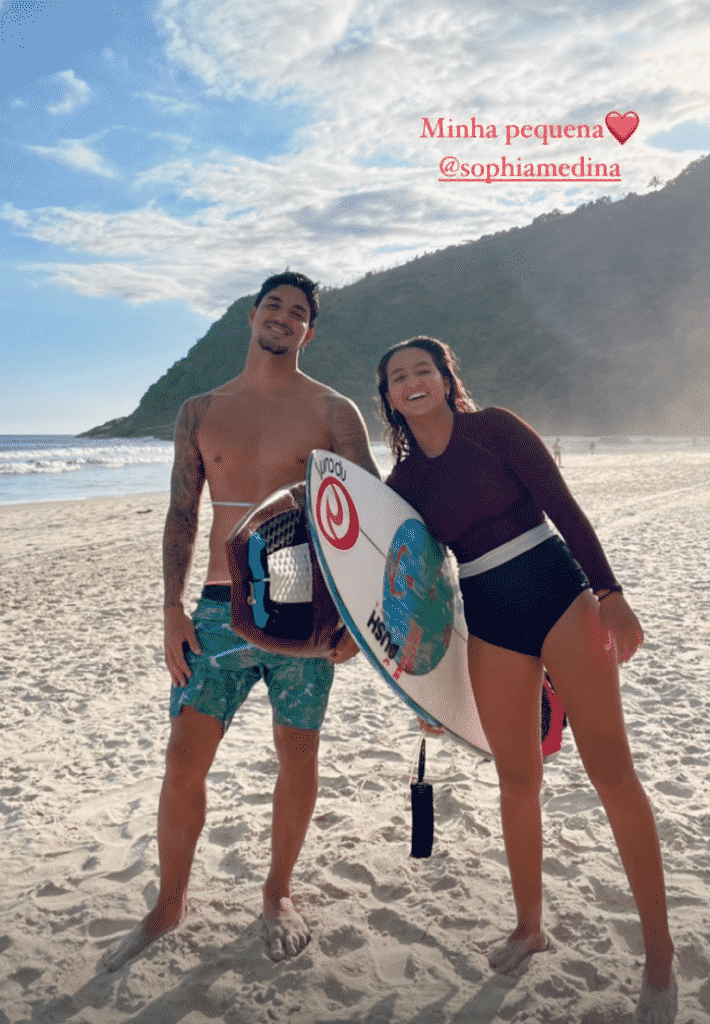 The apparent rapprochement follows a moving post from his mama one week ago,
"This morning I prayed, getting ready to leave, end of vacation!!!!! This photo appeared in my Google photos memories of a very cold day in Trestles, I almost became a penguin lol but even with cold every mother is ready to warm her children. A lot of training day at Trestles. As always rain, shine, wind or hurricane, big waves, shark we are always there as a resting place. God bless you in this new cycle son. gabrielmedina felipemedina_17 @sophiamedina @charlaomedina100 you are my resting place. Love you"
View this post on Instagram
Since the split with Gabriel, surfing power couple Simone and Charlie concentrated on Sophia's burgeoning career.
To manage the kid, a sports agency, SoMedina Sports, was formed as a partnership between Charlie and Sophie, Charlie taking ninety percent, Sophia, ten.