Keep my name outta your mouth.
In my time here on this earth, I have noticed a general pattern when it comes to announcements of very unpopular things. The public initially revolts and screams extremely angry words. After a few days, a counter-narrative begins to take hold with silver linings, other perspectives finding purchase. The extremely angry words soften to a low grumble. The rose colored lens-wearers smugly nod and everyone waits for the next bit of outrage.
The World Surf League's recently-announced 2023 Championship Tour, however, has bucked this trend, the fury growing, growing, growing with no end in sight. The bitterness, exasperation bouncing back and forth between the crown being decided at Lower Trestles, again, and Surf Ranch being pulled from its shallow grave.
Pure vitriol.
Now, I don't know how this deluge is being dealt with beyond the World Surf League's patented Wall of Positive Noise. I'd image the early hours of frenzy were met with paternal "understanding" but its unrelentingness must now be disquieting.
Or maybe not.
CEO Erik Logan has taken the proactive step of limiting those who can speak his name in Instagram comments.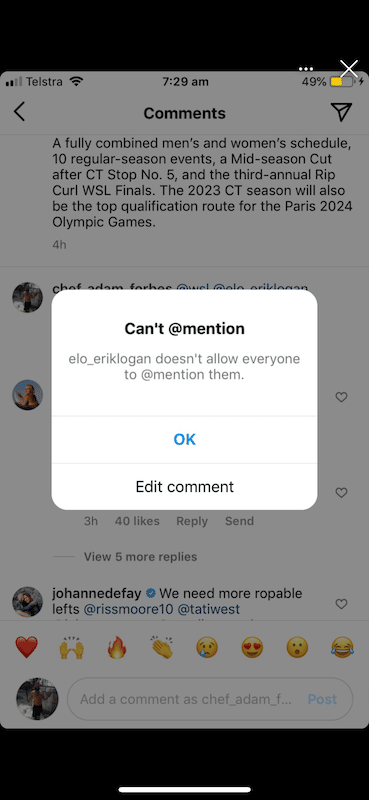 Will this turn the tide? Allow the counter-narrative to finally take hold? The Best of Maroon 5 once again re-filling the heretofore sad spaces of Logan's mind?
Or maybe not?
Currently more questions than answers.