"Sparring got a little out of hand," Zuckerberg wrote. "May need to update my avatar." 
Yesterday morning, the surfer-turned-combatant and government mandated censor Mark Zuckerberg blew his ACL out in a fight simulation gone horribly wrong, likely a Muay Thai kick caught or given.
Sparring is a sorta dance between two martial artists where the intensity is dialled up or down depending on your partner. Sometimes, and particularly with beginners to the sport who ain't familiar with the dial or the protocols, it gets out of hand. An ego gets bruised, a loose knee finds a beak or an eye socket.
"Tore my ACL sparring and just got out of surgery to replace it," Zuckerberg wrote to his twelve-million fans. "I was training for a competitive MMA fight early next year."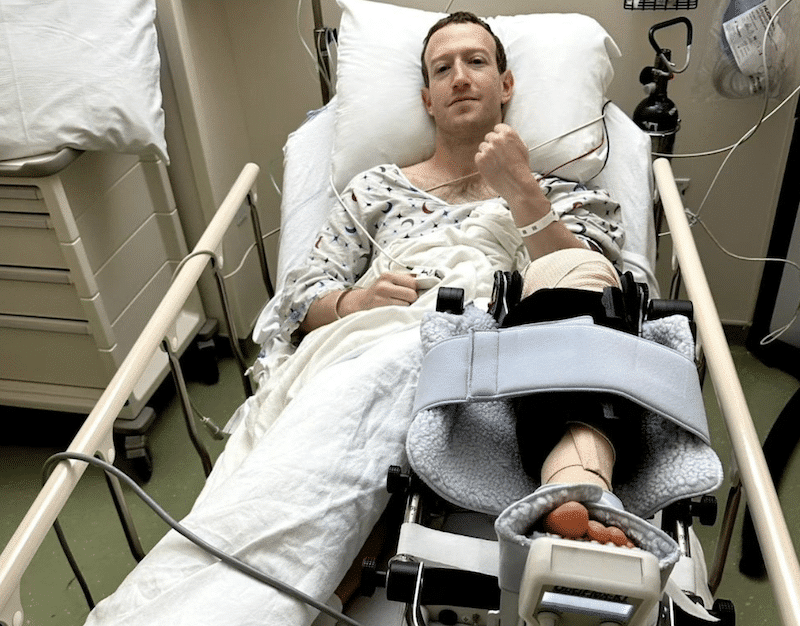 The Anterior Cruciate Ligament is an elastic band of, dunno, maybe connective tissue or something, that connects your thigh bone to your shin bone. It keeps the knee stable and prevents it from twisting or slide out of control. 
Blowing it out is real common. Twist and she pops. 
Zuckerberg, who is thirty-nine, revealed he'd ordered surgeons to replace the damaged item, likely with a piece taken from a cadaver similar to Kelly Slater being nursed back to health with a dead man's labrum two months ago. 
"(The surgeon) said my Labrum was basically shredded from end to end," explained Slater. "There were bone spurs on the femur head…I also had a lot of scar tissue. He got in there and said it looked like a war zone, said he had to get in there and chop through the woods." 
But it's not Zuckerberg's first taste of a fist or elbow or knee gone awry.
Only four weeks ago, Zuckerberg posted a photo of himself looking like a wanderer who lives on the margins of the law and frequently wakes up a couple of hundred miles from where he started in the evening without any recollection of how he got there. 
"Sparring got a little out of hand," Zuckerberg wrote. "May need to update my avatar." 
"Surfing is dangerous," quipped 2019 world surfing champion Italo Ferreira to which Zuckerberg replied,
"This was Muay Thai sparring, but plenty of surfing injuries too…"
By my reckoning, Mark Zuckerberg has maybe two years in the martial arts game and three, tops, in surfing.
Jiujitsu, kickboxing, yeah, I get it, we break easily.
But surfing?
Y'ever hear of a man getting so beat up by the most un-extreme sport in the world?
Multiple injuries?
Worst thing that happen to most of us is a sore ear from the cunt in the lineup who won't zip his beak.