Outrageous acts of bravery fail to save surfer hit by shark…
A sixty-year-old Queensland surfer has died after being attacked by a ten-foot shark at Salt Beach, in front of popular holiday resorts Peppers Salt Resort and Spa and Mantra on Salt, and forty miles north of shark-attack hotspot Byron Bay.
NSW police confirmed the death after it was reported a 10-foot shark had hit the surfer on the leg.
Great Whites and a Bull shark had recently been spotted in the area.
The surfer died on the beach at 10:40am.
Witnesses report two other surfers fought off the shark before dragging the injured man to the beach where paramedics fought, unsuccessfully, to save his life.
"Those two males had to fight off the shark and we'll certainly be recognising their actions at a later stage for their heroic nature," said Tweed-Byron police inspector Matt Kehoe. "It was a catastrophic injury and was deceased when he was brought to shore, despite the efforts of those two gentlemen. They did everything they could to save him.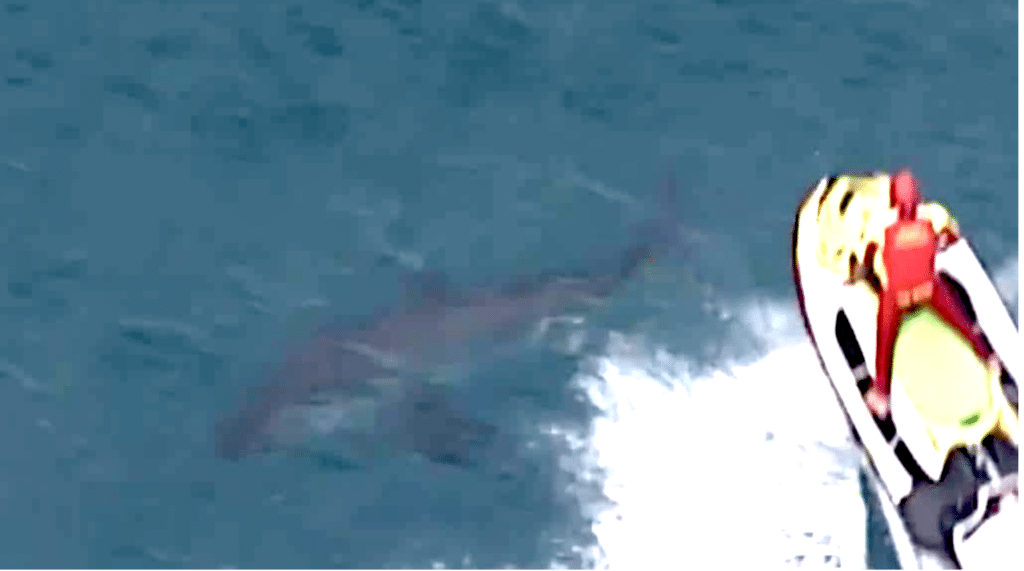 All beaches between Kingscliff and Cabarita have been cleared of swimmers and surfers and will remain closed for 24 hours.
Given shark attacks on surfers are the new normal, it makes a helluva lot of sense, particularly in areas where hits have become common, Byron Bay, WA, Santa Cruz, South Africa, to carry purpose-built tourniquets.
As reported six months ago, a shark attack, even by a monster White, doesn't necessarily mean a death sentence.
Once you've stopped the blood flow using a tourniquet you've got four hours before the leg, or arm, is choked off and dies. It means if you're at a remote beach with no phone redemption, you can tourniquet the wound and take off for an ambulance or chopper without your buddy dying.
Surf Doc Jon Cohen runs classes on how to treat shark attack wounds and sells repurposed military tourniquets on his site bettersurf.com.au for thirty bucks apiece or sixty if you want a version built into a legrope.
"All it takes is one person to squeeze the leg in the right spot," says Cohen. "You only die from bleeding to death. Stop the bleeding, you stop the death. It's the same as what soldiers in Iraq do. Their buddy gets shot in the leg, they put a tourniquet above the bleeding point, and they live."
It ain't complicated.
"You just have to step up and act," he says.