Coastal hamlet braces for legions of paparazzi…
Pretty little Carpinteria, a coastal town of thirteen thousand souls including the go-for-broke surfer Dane Reynolds, is bracing for legions of paparazzi following the sale of Conan O'Brien's old joint on Padaro Lane there in Serena Cove to Travis and Kourtney Barker-Kardashian.
Travis, you may remember if you old; he was the little drummer boy in Blink 182, a pint-sized jack-in-the-box dressed up in grown-man tattoos.
Kourtney Kardashian is the eldest daughter of Robert Kardashian, the legal gun who got OJ Simpson off an impossible to defend double-murder charge.
The late-night talkshow host Conan O'Brien bought the 0.41-acre oceanside parcel for $7.9 million in 2015, riding the property boom long enough to almost double his money with the sale.
Dirt describes the joint,
The property features a two-bedroom, one-bath main house with just over 990 square feet of living space up top, and a nearly 400-square-foot playroom/gym down below with access to a changing room/shower, half-bath and surfboard storage.
Attached to the two-car, Tesla charging station-equipped garage fronting the spread is an approximately 1,151-square-foot guesthouse offering two distinct accommodations — one an upstairs penthouse-style setup holding a living room, kitchenette, full bath and bedroom boasting a wraparound deck overlooking mountain vistas, and another on the lower level hosting a bedroom and bath.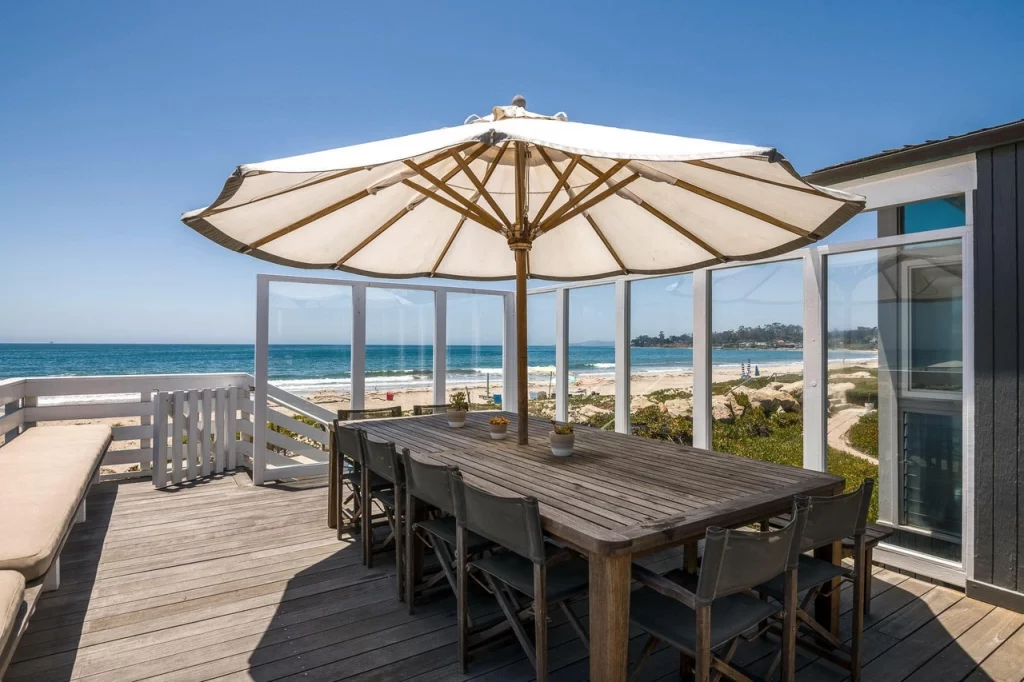 (All photos Berkshire Hathaway)
A gated gravel driveway off to the side of the garage leads to the main house, which rests adjacent to a carport with room for two vehicles and additional parking for several guests. Inside, a soaring great room displays a contemporary wood-burning stove and bi-folding glass doors spilling out to an ocean-view deck adorned with a barbecue, built-in seating and plenty of room for al fresco dining, plus two sets of steps leading down to a small grassy lawn and the beach beyond.
Back inside, a galley-style kitchen is outfitted with open shelving, granite countertops, high-end stainless appliances and an eat-in peninsula; and two bedrooms share a balcony, as well as a windowed bath equipped with dual vanities and a glass-encased shower.
Fancy, yes?
Waves out front on that are ordinary, but the proximity to father of three Dane Reynolds, who is surfing's rampart against the milquetoast horror of the WSL's "pandering bullshit that's exploiting surfing", is priceless.
No response from the notoriously camera-shy Reynolds camp, yet.