"A gaping hole near the limb's brachial artery, the arm's flexor muscle exposed."
Here's a little reminder of what can happen when you're wrangling twelve-to-fifteen foot waves at a wild offshore reef.
Russell Bierke, twenty-three, is the diminutive and deceptively fragile looking son of noted Californian-born shaper Kirk Bierke whose boards are sold under the label KB Surf and made in Ulladulla, three hours south of Sydney.
On Thursday, Jan 21, much of Australia's east coast was raked by a powerful south swell, igniting a bonfire in the loins of Russ who planned on cavorting at a reef nearish to home.
This is his second wave, paddled into on his seven-eight at seven-thirty am. Russ swung for a double-up, hit a little backwash from the previous wave and, as Russ explains, "bodysurfed straight onto the bottom on my elbows with arms out in front of me."
Russ, wearing an impact suit, figured it wasn't too bad. He'd been dragged along the bottom before, which is mostly barnacles and cungeboi, and figured he'd have a little reef rash.
Then he saw the blood pouring out of his wetsuit.
"I pulled it off and got a shock," he says.
A gaping hole near the limb's brachial artery, the arm's flexor muscle exposed.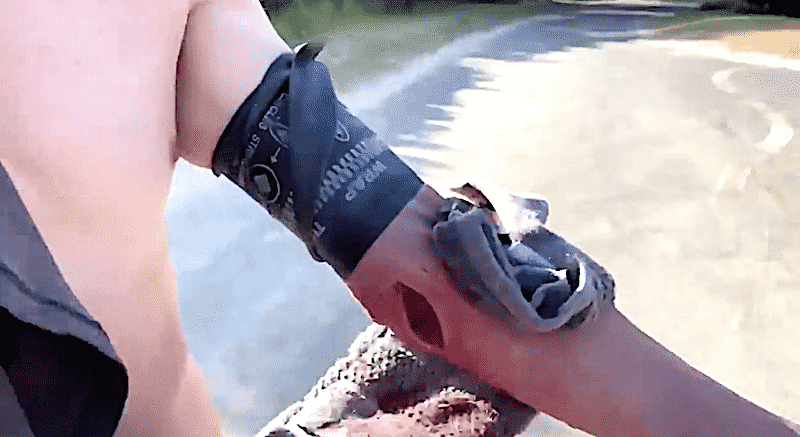 Russ is a practical sorta cat and had a stretch tourniquet handy.
Immediately, Russ was thinking about nerve damage or muscle that could keep him out of the big-wave game for months.
In the clip, here, we see the moment, upon his return to shore, where he examines the wound with his friend Sean Mawson and filmer Andrew Kaineder.
At a nearby hospital, Russ was relieved to learn he'd avoided nerve or muscle damage and, after eleven stitches and a couple of weeks kept dry, he'd be back in the ocean.
Still, ask him what he hit and he still doesn't know, definitely wasn't a fin, he says, and theorises that it might've been a pressure split, where the skin splits upon impact.
Russ is no stranger to injury, of course.
He is one surfer who is prepared to pay, what Hawaiians call, "the ultimate price."
In 2017, he was "blue as a Smurf" and "on all fours spewing" after a wipeout in fifteen waves in Victoria, an injury that put him in intensive care.