A passion for photography meets accoutrements of death.
A Gold Coast funeral company has released a series of wave-themed coffins, including a "Waves of Snapper Rocks" and "Snapper Rock Sunrise" casket, the catalogue also including a Burleigh Heads and a Byron Bay model. 
Keen photographer and undertaker Mark Hobson, who is a part-owner of the family biz A Gentle Touch Funerals, has married a passion for photography with the accoutrements of death, coffins and urns built to hold the cindered remains of loved ones, as well as unloved ones, I suppose. 
"Snapper is the home and backyard playground too (sic) many aspiring young surfers from today's grommets to the current World Surfing Champions. The Roxy Pro World Surfing Titles has put Snapper Rock on the world stage, show casing our magnificent beaches, surfing and our laid back lifestyle."
The wave on the box doesn't look like Snapper to me, but what do I know?
And, is there any only one Snapper Rock?
Or is it plural?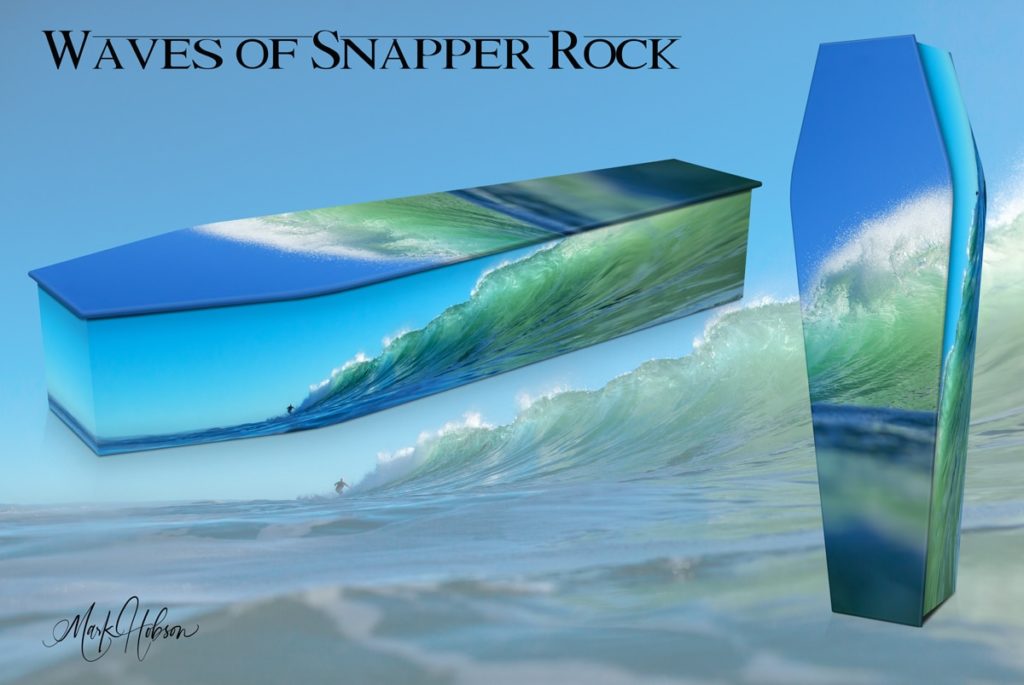 The price of the colourful coffin is undisclosed although the urn will cost $A489. 
I often reflect on the manner of my death and the funeral that might follow.
As a child, fearing burial while still alive, little fingernails tearing at the mahogany lid, breath becoming more laboured as the available oxygen evaporates, face frozen in a mask of terror at moment of death, I requested that my parents stuff my corpse into a box, drive to a quarry and dynamite me.
Or, and at the very least, arrange for a safety coffin to be built. 
Now, I lean towards a burial at sea. 
The body is anointed in oils with pleasing vanilla aromas, wrapped in an off-white cotton shroud before being shoved over the side a few clicks out to sea, where I might be eaten by sea creatures, animals whose descendants often filled my own plate.